---
René Jacobs, Akademie für Alte Musik Berlin
---
Biography René Jacobs, Akademie für Alte Musik Berlin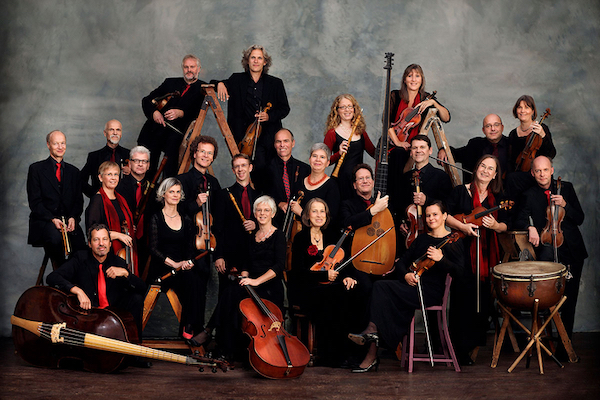 RIAS Chamber Choir
The RIAS Kammerchor is one of the world's leading professional choirs. 35 professionally trained singers make up the ensemble, which specialises in both historical performance practice and contemporary repertoire.
Founded almost 70 years ago, the RIAS Kammerchor today sets standards in almost all areas of musical culture - from celebrated historically informed interpretations of the Renaissance and Baroque, to works of the Romantic period that often lead listeners to a new conception of the sound of the 19th century, to the most demanding world premieres in which the possibilities of contemporary vocal music are explored and redefined. Together with the "Verein der Förderer und Freunde des RIAS Kammerchores" (Association of Patrons and Friends of the RIAS Chamber Choir), he develops new concert forms and concepts of intermedial music-making in the "Forumkonzert" series at unusual venues in Berlin. The Forum Concerts have long since ceased to be an insider tip - they enjoy cult status.
The RIAS Kammerchor's pioneering role in music has given rise to a cultural and social responsibility that it takes on passionately and intensively. "Class Sounds", school choir sponsorships, concert introductions by schoolchildren, support in the Conductors' Forum or in the Academy for advanced voice students are just a few aspects of an extensive education and outreach programme. On concert tours through Europe and to major music centres worldwide, the RIAS Kammerchor acts as a cultural ambassador for Germany and brings the valuable heritage of German choral culture into the 21st century with its guest performances.
René Jacobs
With more than 260 recordings and a busy career as a singer, conductor, scholar and teacher, René Jacobs has distinguished himself as a major figure in Baroque and Classical music.He received his first musical training as a choirboy in the cathedral of his native Ghent. Parallel to his extensive studies in classical philology at university, he studied singing. His encounters with Alfred Deller, the Kuijken brothers and Gustav Leonhardt were decisive for his orientation towards baroque music and the turn to countertenor repertoire, with which he quickly established himself as one of the most influential singers of his time. In 1977 he founded the ensemble Concerto Vocale, with which he explored the repertoire of chamber music and baroque opera. He made a series of innovative recordings for harmonia mundi dedicated to works of a long-forgotten repertoire, which were acclaimed by the international press. The year 1983 marked his debut as opera conductor of a production of Cesti's "L'Orontea" at the Innsbruck Festival of Early Music. As part of his responsibilities as Artistic Director at this festival and in the course of his engagements at the Staatsoper Unter den Linden Berlin as a guest conductor from 1992, at the Brussels opera house La Monnaie from 1993, at the Theater an der Wien as a regular conductor from 2006, at the Paris Théâtre des Champs-Élysées, at the Salzburg Festival, at the Festival d'Aix-en-Provence and at other international venues, he conducted operas from the early Baroque to Rossini, both works from the familiar repertoire and more obscure pieces. Parallel to this impressive operatic career, sacred music has never ceased to occupy a significant place in René Jacobs' musical activities. In addition to receiving an honorary doctorate from the University of Ghent, René Jacobs has been honoured with a number of major awards and international prizes for both his recordings and his life's work by music critics in Europe and America. These include the Grammy Award for his recording of Mozart's "Le nozze di Figaro", the Edison Prize (Netherlands), the German Record Prize, Caecilia (Belgium), Classica, Académie Charles Cros and Midem Classique International (France). His CD recording of Johann Sebastian Bach's "St Matthew Passion", awarded the Choc de l'année 2013 and the ECHO Klassik 2014, is considered by critics to be a reference recording alongside numerous acclaimed CD recordings of this monumental work. Any of his recordings of Mozart's operas have been hailed as the most remarkable of his generation for his unconventional approach - a special blend of scholarly seriousness and musical instinct. His recording of Mozart's Abduction from the Seraglio, released in September 2015 and awarded the Caecilia award and an Edison Klassik for Best Opera Recording, completes the cycle of seven operas from the composer's late career. His last CD recording (J.S. Bach: "St. John Passion") also received an Edison award. René Jacobs was Artistic Director of the Innsbruck Early Music Festival from 1996 to 2009.