---
The Consort of Melbourne, Janáček Philharmonic Orchestra & Stanislav Vavřínek
---
Biography The Consort of Melbourne, Janáček Philharmonic Orchestra & Stanislav Vavřínek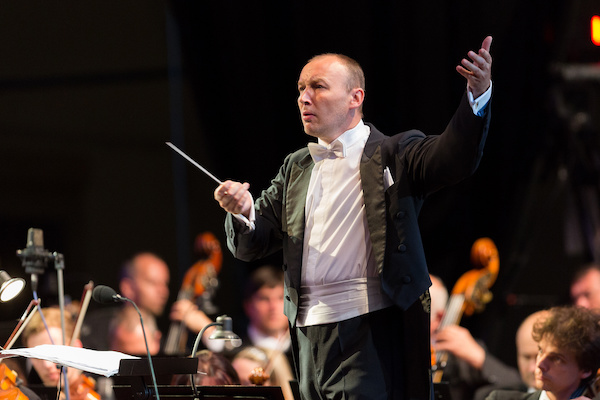 The Consort of Melbourne
is an elite vocal ensemble that champions both historic and contemporary repertoire, comprising a core membership of eight of Melbourne's finest chamber singers under the artistic direction of Steven Hodgson.
Typically performing a capella (unaccompanied) with one singer per part, The Consort of Melbourne brings 1000 years of vocal music to life with an intimacy and verve that leaves audiences spellbound. Our concert programmes include celebrated masterpieces heard alongside rarely-heard musical gems, exploring the full expressive potential of the human voice.
The Consort is an extremely versatile ensemble and, although we usually appear as an octet, we have performed at smaller venues and functions as a vocal quartet and at larger venues as a choir of up to 30 singers. The Consort has presented a regular concert series at Melbourne Recital Centre for many years, and has also been invited to collaborate with groups such as the Rolling Stones, Australian Chamber Orchestra, Melbourne Symphony Orchestra, Australian Youth Orchestra, Melbourne Youth Orchestra, the Song Company, La Compañia and Spiritualized.
Since its establishment in 2008, The Consort of Melbourne has continued to engage the concert-going public with fresh and exciting performances in a wide range of genres. It has featured on ABC Classic FM on frequent occasions, including a broadcast of works by Percy Grainger and also Claudio Monteverdi's famous Vespers of 1610.
Janáček Philharmonic Orchestra
Together with a Czech opera company, a permanent symphony orchestra represented the most important activity in the area of music in Ostrava after the First World War. The orchestra was founded in 1929 as a radio orchestra, and it became an important part of Czechoslovak musical life. When working on some larger contemporary musical scores (Bartók, Schönberg) the orchestra collaborated with an opera orchestra; this was also the case during the guest appearances of some major conductors and composers, including e.g. Igor Stravinsky, Sergei Prokofiev or Paul Hindemith. Indeed, Hindemith grew fond of Ostrava and came back repeatedly.
However, it is 1954 should be considered the real beginning of the orchestra that we know today. In this year the Ostrava Symphony Orchestra was created, led by Otakar Pařík. From 1962 it performed as the Ostrava State Philharmonic Orchestra (then led by Václav Jiráček), and in 1971, under the leadership of the long-time chief conductor Otakar Trhlík, its name was finally changed to the current form: the Janáček Philharmonic Ostrava.
At present, the orchestra's performance style shows signs of influence from its two outstanding chief conductors of the recent years, Christian Arming and Theodore Kuchar; Petr Vronský should be mentioned as well.
The artistic profile of the orchestra was also formed by distinguished guest conductors – V. Neumann, V. Smetáček, J. Bělohlávek, L. Pešek, Z. Mácal, C. Mackerras, S. Baudo, H. Rilling, J. Valčuha and M. Jurowski. In the 2020/2021 season, their work has been taken up by the current chief conductor Vassily Sinaisky.
A number of well-known soloists made an appearance with the Philharmonic including J. Suk, A. Navarra, J. Carreras, P. Domingo, D. Pecková, E. Urbanová, J. Calleja, P. Burchuladze, P. Šporcl, I. Ženatý, S. Babayan, D. Ishizaka, K., Gerstein, A. Ghindin and many more.
The JPO is the leading Czech orchestra for commissioning contemporary music, often premiering it in the Czech Republic. The main credit for this has to be given to the conductor and composer Petr Kotík. For example, the guest appearance of the JPO performing Stockhausen's giant Gruppen for three orchestras in the Prague Spring Festival of 1999 has become legendary.
Stanislav Vavřínek
born 26 February 1972, in Uherské Hradiště, is a Czech conductor and teacher at the department of conducting at the Faculty of Music of the Academy of Music and Dramatic Art in Prague.
Vavřínek first studied flute and conducting at the Brno Conservatory, then he continued his studies at the department of conducting at the Academy of Music and Dramatic Art in Prague (with Eliška, Vajnar, Štych) and afterward he attended courses by Roberto Benzi in Switzerland. He started his profession in 1994 as the Chief Conductor of the Prague Student Orchestra. Since the beginning of his career he has worked with orchestras including for example the Czech Philharmonic Orchestra, Brno Philharmonic Orchestra, Prague Philharmonia, Prague Symphony Orchestra, Slovak Philharmonic and with exceptional soloists like Ivan Moravec, Igor Ardašev, Eugen Indjic, Gabriela Beňačková, Eva Urbanová, Dagmar Pecková, Ivan Kusnjer, Radek Baborák, Václav Hudeček, Bohuslav Matoušek, Sophia Jaffé, Jiří Bárta, Milan Svoboda etc. He also appeared as a guest conductor in many European countries and Japan and was a guest at many international music festivals (Prague Autumn, Prague Spring etc.). Between 1999 and 2008 he was the Chief Conductor of the Chamber Philharmonic Orchestra of South Bohemia. Since 2008, he has been the Chief Conductor of the Bohuslav Martinů Philharmonic Orchestra and since 2006, a professor at the department of conducting at the Faculty of Music of the Academy of Music and Dramatic Art in Prague.