---
Sissoko, Segal, Parisien, Peirani
---
Biography Sissoko, Segal, Parisien, Peirani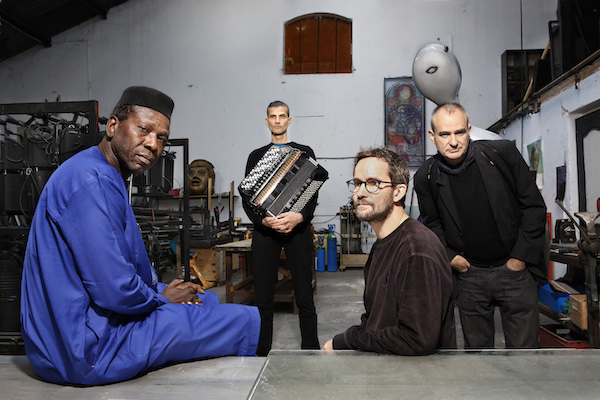 Sissoko Segal
After the success of Djourou, the Malian virtuoso returns for an intimate tête à tête with his kora – intimate yet simple and majestic. On his last album Djourou, Ballaké Sissoko explored new horizons by inviting musicians as varied as Salif Keita, Arthur Teboul (Feu! Chatterton), Camille, Oxmo Puccino, Vincent Segal and Patrick Messina, Piers Faccini to collaborate with him. The highly praised release was a demonstration of the art of musical conversation, Ballaké style, that plaited new strands into the long cord or 'djourou' that links him to other musicians and to the history of the kora. There's no doubt that Ballaké owes his taste and talent for the musical encounter to his consummate listening skills. But they're also the fruit of the long conservations he never tires of having with his own instrument.
During these strange and paradoxical 'solitary dialogues', he makes his kora speak and reacts to the emotions it arouses in him, letting his imagination and his fingers fly off to landscapes that are both magnificent and unknown. It's there that his qualities as an improviser can be accurately measured, qualities that he began cultivating long ago in the shadow of the venerable elders of the Instrumental Ensemble of Mali, when he was still a young boy. Taking time off from the Djourou sessions, Ballaké recorded these eight instrumental pieces in the intimate confines of the Chapelle Sainte-Apolline in Belgium. Together they proclaim, without need for further evidence, the heights of mastery and freedom that this discreet giant of global music has scaled in his forty-year-long career.
Though two of the pieces also feature on Djourou, the new album gathers together all eight of them in a musical conversation between a master, made of flesh and spirit, and his 'double', made of string and wood. It's a captivating, intimate and authentic testament, recorded in one afternoon, in which Ballaké takes us on a journey, a meandering trip full of majesty that borders on the sacred and touches serene meditative uplands as well as plains criss-crossed by Manding warriors straight out of the epics of a country of whom they are the pride. Ballaké is that country's best ambassador. He was recently invited by the famous COLORS studio in Berlin to play 'Nan Sira Madi', the song that opens the new album. As for the title 'A Touma', take it to mean 'this is the moment': the moment for Ballaké to share the fruits of his maturity, and for us to discover and be blown away.
Parisien Peirani
Like all popular music, jazz is associated with strong personalities. International recognition of accordionist Vincent Peirani rests on that essential, fundamental quality. His musical charisma, his very distinctive creative skills, his unique approach to his art – all of which are the fruit of a very open, unblinkered attitude – strike the listener immediately.
After brilliant studies in classical music (many international awards), his dive into the world of jazz received the seal of success from the start and was crowned at the Victoires du Jazz in 2014 ("Revelation") and 2015 ("Artist of the Year"). Vincent Peirani has the ability to turn everything he touches into gold: in jazz, of course (his own projects, but also collaborations with Daniel Humair, Michel Portal, and others), but also in chanson (Sanseverino, Les Yeux Noirs), film music (composer for Mathieu Almaric's Barbara in 2017), and so on. Whatever the style, the public follows: in his performances, he creates a balance between the relatively straightforward (inventive revivals of well-known themes) and a blessed unexpectedness, with art music and popular music very close to each other, a sign of great artistry.
The man who, ten years ago, completely renewed the language of the accordion (and continues to do so) has become a major artist, whose uninhibited, cosmopolitan view of music and sense of instrumental combination and colour, enable him to bring that rare and precious magical touch to everything he does.