---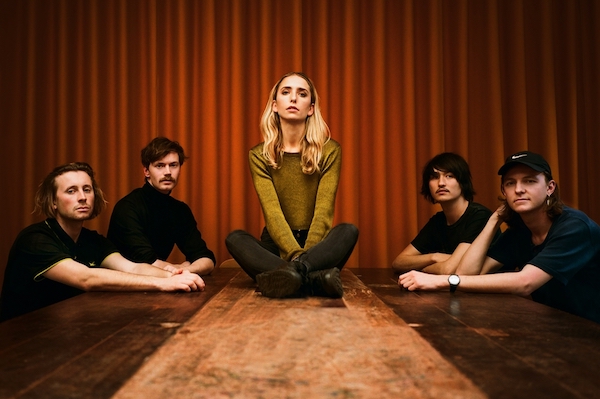 Pumarosa
Pumarosa's early existence has been defined by strange, distinctly different spaces. There's the half-knocked down house in Peckham they played, where the band carried on performing despite a gas leak and an electricity shut down. A packed-out crowd watched through gaps in the walls and the landlords swore after they'd never allow a band to play there ever again. There's also the old Italian cinema they were invited to write and record in by a local surrealist, early songs being developed in the company of dramatic clifftops on the Calabrian coast, local villagers coming to the cinema to witness night-time improvisation sessions. And there's the Streatham studio of eccentric producer Dan Carey (Kate Tempest, Bat For Lashes, TOY), the place where their debut album is beginning to take shape.
Live, they give the impression of a band with decades of experience playing together. Strange spaces again play a part, whether it's a stirring gig at Shakespeare's Globe, or one of the warehouse parties they played in their early days. It doesn't matter where the stage is – Pumarosa know how to make their mark. Commanding from the front, Isabel Muñoz-Newsome throws shapes and bends notes with the same spirit, always finding new places for the band's music to explore. Bassist Henry Brown and drummer Nicholas Owen seem to share a natural instinct as the rhythm section, while guitarist Jamie Neville and multi-instrumentalist Tomoya Sukuzi explore their own worlds. The latter splits duties between the saxophone, keys, and distorting Isabel's vocals into strange abstractions. Everyone has their own distinct role, and it's incredible to watch unfold.
It's two years since Pumarosa formed, but you'd be forgiven for thinking they hadn't spent a day apart. Razor-sharp and accomplished, they play like they've rehearsed for years without pause. Isabel and Nicholas started the band by chance. A friend was eager to start a new music project and invited the two to come and play, but said friend never showed up. Instead, the pair were left to lay the foundations of what would become Pumarosa, and they then sought "serious" musicians, people willing to give up everything for music. "''Oh you've got a full-time job? Sorry, we're not interested!'" Nicholas jokes. They wanted to make a "solid band", Isabel says. "You'd usually get a group together and then people's lives would get in the way." But from the beginning, the stars aligned and everyone in Pumarosa was ready to commit.
There has been a level of sacrifice required to make this work. Pumarosa rehearse relentlessly each week in a Dalston space, although they're already trying to avoid a habit of "over-thinking" songs. Spontaneity is fundamental to the process. This is owed in part to sessions with Dan Carey, a man renowned for filling his studio with smoke and lasers, even starving bands in a creative pursuit. Far from torturous, the experience is actually enlightening, an all-consuming trip where everyone shares the same emotional investment. Jamie says he "couldn't imagine" working with anyone else right now. "And he just has such nice guitars!"
Every so often, something in the studio clicks. "There's excitement," says Nicholas, describing a scene where "[Dan] feels it, and I think it goes round the room." Rough takes don't matter. "It's just about the feeling. And when that happens, I think everybody knows." Instead of taking it in turns to record, everyone's in the studio at the same time. Isabel summarises the atmosphere as being "very intense," adding. "You wouldn't start reading. If people go on their phones – he wouldn't say it – but you shouldn't. It's very focused. And when you track the songs, you'll track all together. You'll do the keys, drums and the bass, often all together. So you're all in this mode." "We're trying to get the sweet spot," Tomoya adds. "Then we can have a five-minute break!"
It's too early to completely piece together a full-length, tentatively due out in early 2017. But on the basis of Pumarosa's early singles – the ever-evolving epic 'Priestess', the pristine synth wash of 'Cecile' – they're impossible to contain, both in terms of genre and song length ( 'Priestess' is 7 minutes 44 seconds at full length, but that didn't stop radio stations from giving it a full airing). 'Honey', their new single, is a bold and spirited stampede, marrying raw, unspoiled guitars with Isabel's chants of "you stupid son of a bitch!" The song stems from a place of anger, because "there's a lot to be angry about," she says. It was partly inspired by Adam Curtis' documentary Bitter Lake, a brutally uncompromising portrait of how the West have misunderstood other cultures, leading to some of the world's most pressing issues. They might have an otherworldly sense of exploration, but Pumarosa's songs are rooted in reality. They're wide awake, aware of what's unravelling around us. "This country is getting more and more right-wing," says Isabel. "We are not dreaming." So instead of sitting back, the band write music with "an energy to change", a sense of progression steering every move.
Pumarosa don't define themselves simply through the music they make, however. The band's visual identity is just as strong as these initial releases, and Isabel is responsible for artwork, ensuring everything is kept personal and rooted to the group. In the video for 'Priestess', Isabel's sister Fernanda, a dancer and choreographer, takes centre stage. 'Cecile''s accompanying video is one of the first musical uses of VR (Virtual Reality) that avoids gimmicks, instead creating artful, artificial images as if seen through a headset. Besides Carey, there isn't a single influence on how Pumarosa operate that doesn't come from within the band. Outside of live and recording duties, Nicholas puts together potential beats for new songs. Tomoya shadows as a mixer and engineer, shaping the band's sound beyond the traditional routes.
And you get the sense that if Pumarosa didn't exist, every member would be exploring creativity in some way, whether that's through music, performance art or a different strand. Isabel emphasises how "considered" everything needs to be within the group, whether that's on stage or off, through music and visuals. Right through to their press shots, everything is exact – everything belongs to them.