---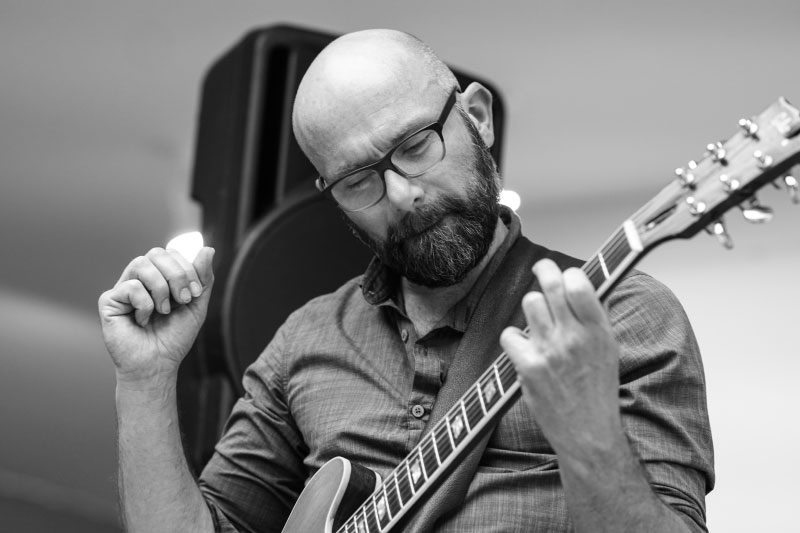 Mark Solborg
I strive to create contemporary music that require presence, and in different ways – with respect – challenges tradition, listener and musician. Music where the sum of the collective efforts is greater than the individual performance. A personal and unpolished approach is a key ambition.
I have since 2000 as composer, leader or co-leader released 19 albums with original works. Besides that a substantial amount of music for plays and film. Awards, prizes and nominations include Danish Arts Agency, The Spanish Cultural Ministry, Danish Music Awards Jazz, CPH Dox, a.o. See reviews and info elsewhere on these pages.
From 2000 and onwards I have written and developed music for the groups and projects Mark Solborg 4, ON DOG (ITA/DK/LUX), Solborg/Skjødt – Omdrejninger feat. Axel Dörner and Ingar Zach (DK/DE/NO), Herb Robertson/Mark Solborg duo (DK/US), Maniscalco/Bigoni/Solborg (DK/ITA), Solborg 4+4+1 feat. Chris Speed and Hank Roberts (DK/N/US), Mark Solborg & Simon Toldam Duo , Solborg/Dörner/Toldam/Yoshigaki (DK/DE/JP), Polyfonias (DK/E), moLd (DK/D), Mark Solborg Trio feat. Evan Parker & Herb Robertson (DK/UK/N/US), Solborg/Banke Duo, Short Story Compositions (Banke/Solborg duo with various poets. Jan Sonnergaard, Kristina Stolze, Pia Juul, a.o), Hopscotch (ITA/DK/CAN), Anderskov/Solborg Duo, poetry by Peter Wessel og Adda Djørup, Revolver (DK/N/L), Ventilator, a.o.. The music has been performed at venues and festivals in Denmark, Sweden, Norway, Finland, Faroe Islands, Lithuania, Latvia, Estonia, Wales, Ireland, France, Germany, UK, Luxembourg, Netherlands, Malta, Spain, Italy, Poland, Syria, USA, China, Brazil, Japan, a.o. by musicians from 15 different nations.