---
The Kyle Asche Organ Trio
---
Biography The Kyle Asche Organ Trio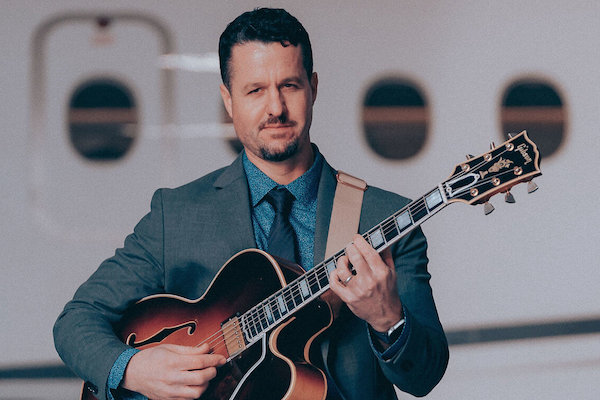 Kyle Asche
Beginning his professional career in Chicago in 2001, Kyle has appeared extensively throughout the city and beyond.
He has performed with Wynton Marsalis and Jazz at Lincoln Center, Melvin Rhyne, "Killer" Ray Appelton, Chris Foreman, Victor Goines, George Fludas, Ben Paterson and many others. While Asche is a versatile guitarist adept and comfortable in many different genres, the tenets of his style often find him in the company of many of Chicago's premier jazz vocalists and Hammond organ bands.
Now nearly 20 years into his tenure in Chicago, Asche continues to perform around the city on a weekly basis and can be found at many of the city's jazz rooms regularly. As an active and caring music educator, he has held the jazz guitar faculty position at Loyola University Chicago since 2010.
Pete Benson
As one of Chicago's premiere Hammond B3 jazz organists, Pete Benson has been praised by renowned organ greats, Joey DeFrancesco and Chris Foreman. Many will recognize Pete as the organist in the late- night band Sabertooth, a long running staple at the legendary Green Mill Lounge. Led by saxophonists Pat Mallinger and Cameron Pfiffner, with Ted Sirota on drums, Sabertooth has been a long time after hours favorite for nearly 15 years.
Pete has made a name for himself as both leader and sideman and can be seen regularly at Chicago jazz hot spots: Andy's Jazz Club, Pete Miller's Steakhouse, The Pump Room, Pops for Champagne, among a variety of other venues.
Pete frequently plays with The Andrew Distel Quartet, The Skinny, Kyle Asche, Scott Burns, and Jeff Parker. Having performed with the Chicago Jazz Orchestra, Pete had the opportunity to give a concert with saxophonist, Phil Woods in 2006. He has also shared the bandstand with Von Freeman, Ira Sullivan, Joe Lovano and Roy Hargrove.
Besides working extensively in Chicago, Pete has performed for enthusiastic audiences across the United States and Europe. He is featured on recordings by Kyle Asche, Andrew Distel, The Mighty Blue Kings, and the Typhanie Monique/Neal Alger duo.
Born in Sycamore, Illinois, Pete developed a love for music at an early age. He began his studies at the age of eight after his family was given a piano by his grandfather, a designer for Wurlitzer. With the support of his family, Pete decided to pursue a career in music as a pianist and organist. Since then, he has been on the forefront of the Chicago jazz scene for almost 10 years.
George Fludas
Chicago drummer George Fludas was born in Chicago on October 10, 1966. He was inspired to play drums by his father, who was also a drummer, and who exposed him to great jazz drummers such as Art Blakey, Max Roach, and "Philly" Joe Jones.
"Adept, with a pulse of swinging ease." - Nate Chinen, New York Times
He attended Lane Tech High School where he majored in music and played percussion in their concert band and orchestra. After briefly attending Roosevelt University's music school in 1985-86, he began freelancing with Chicago greats Von Freeman, Jodie Christian and Lin Halliday, as well as playing in groups with guitarist Bobby Broom, and saxophonists Ron Blake and Eric Alexander. He has subsequently played with many stellar musicians such as Ira Sullivan, Buddy Montgomery, Lou Donaldson, Frank Wess, Kenny Burrell, Betty Carter, Johnny Griffin, Benny Green, Roy Hargrove, Tommy Flanagan, Hank Jones, Cedar Walton, Diana Krall, Benny Carter, Phil Woods, Junior Cook, Slide Hampton, and Bobby Hutcherson.
"George Fludas is one of the greatest drummers ever to come out of Chicago, an impeccable swinger with imagination, class, moxie, and a clear sense of the full span of jazz tradition." - John Corbett, The Chicago Reader
George has performed at numerous jazz venues in the U.S. such as the Jazz Showcase in Chicago, Yoshi's in Oakland, the Blue Note, Village Vanguard, Smoke and the Jazz Standard in New York and Catalina's in Hollywood, as well as many international Jazz Festivals, including Montreal Festival du Jazz, Bern Jazz Fest in Switzerland, Glasgow and Edinburgh Jazz Fests, Vitoria Jazz Fest, San Sebastian Fest in Spain and the USS Norway Jazz Cruise. He toured Europe and Japan extensively as a member of Ray Brown's Trio, and with groups led by Hank Jones, Diana Krall, Monty Alexander, Cedar Walton and Joey Defrancesco.
"Fludas brings a combination of focused swing, and sensitivity." Mark Stryker, Detroit Free Press
George lives in Chicago with his wife and two sons and performs regularly with local artists and visiting headliners at clubs and concert venues throughout the city. He continues to tour often with many of the top names in jazz. He can be heard on numerous CDs as a sideman with Ray Brown, Eric Alexander, Monty Alexander, Kyle Asche, Geof Bradfield, Scott Burns, Bobby Broom, Lin Halliday and The Chicago Jazz Orchestra.