---
Simon Richmond & John Metcalfe
---
Biography Simon Richmond & John Metcalfe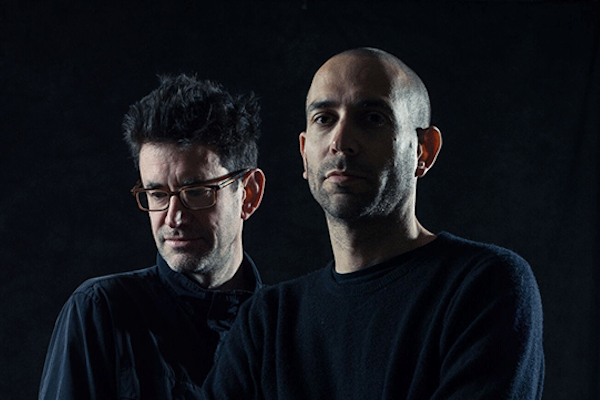 John Metcalfe
From his early days in New Zealand listening to his father sing opera, John Metcalfe has become one the most exciting and versatile musicians in the UK. From giving string quartet recitals in prestigious venues world-wide to composing for radio and TV, arranging for leading rock/pop artists and releasing his own genre-defying music, Metcalfe has gained wide recognition for his unique brand of music-making.
Metcalfe released his debut cd over a decade ago. 'The Inner Line' received glowing reviews with Billboard magazine describing it as '..a solo debut that crosses all manner of boundaries. Melding avant-pop and electronica, film music and contemporary classical 'The Inner Line' is the ideal item for classical fans wanting to investigate a pop-leaning, contemporary sound world or for electronica fans who crave far more musicality than they're used to getting.' His most recent album, 'The Appearance Of Colour',out on Real World Records, epitomises music currently dissolving boundaries between electronic and post-classical styles and was highly acclaimed in the press. Recent live shows with his band have received equally rave reviews.
Moving to England from New Zealand he took up the viola and joined his first band at school playing drums. Raised on a dual-mono diet of Kraftwerk and Joy Division this band influenced his move north-west where he joined cult band The Durutti Column on Manchester's legendary Factory label. He stayed for three years adding his own unique sound and flavour to the enigmatic style of guitarist Vini Reilly.
Hard classical study continued along with hard dancing at the now defunct Hacienda and scholarships took him to London and Berlin to finish his training. His distaste for standard classical recording industry practices led him to persuade Factory boss Tony Wilson to launch the ground-breaking Factory Classical label aimed at bringing young British talent and music to a truly new audience. His talents at A+R led to debuts for now major artists such as Rolf Hind, the late Steve Martland and his own Duke Quartet.
Metcalfe is one of the UK's most sought-after arrangers. Since his work on Morrissey's no.1 solo album Viva Hate, he has worked for artists such as Coldplay, Bat For Lashes and Blur, George Michael, Johnny Marr and Tom Jones. After hearing his arrangement of 'Angel in The Morning' for the 'Friends' soundtrack, the Pretender's Chrissie Hynde asked John to arrange some of her most famous songs for the Isle of View album which featured John's string quartet, the Duke. Metcalfe was the arranger, Musical Director and co-producer of Peter Gabriel's orchestral albums, 'Scratch My Back' and 'New Blood' being closely involved with Gabriel re-interpreting covers of major artists ranging from David Bowie to Paul Simon using only orchestral instruments. Mojo magazine called it "A profound re-imagining made manifest in an orchestral soundworld as rich and thrilling as ever recorded at Air, the studio founded by George Martin". Touring was worldwide visiting renown venues such as Radio City in New York and the Hollywood Bowl.
Metcalfe is currently working on his fifth studio album due for release in Autumn 2017.