---
Constantin Macherel, London Mozart Players & Sebastian Comberti
---
Biography Constantin Macherel, London Mozart Players & Sebastian Comberti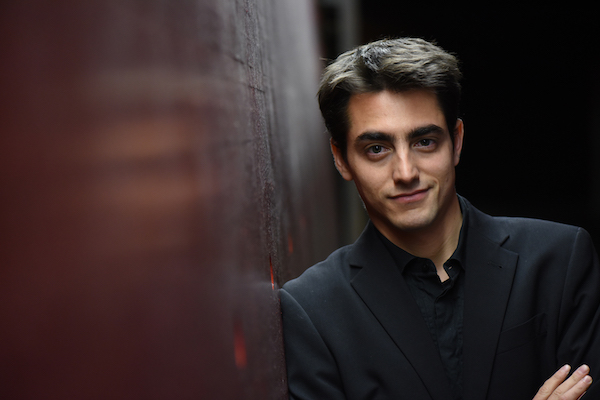 Constantin Macherel
Born in 1991 in Lausanne, Switzerland, Constantin Macherel started playing cello at age 6 and studied first with M. Jaermann, S. Rybicki-Varga at the « Conservatoire de Lausanne » and obtained his Bachelor in arts in 2012. The same year, he met Ivan Monighetti with who he studied further at the Musik-Akademie Basel getting a Master Performance. ​
From 2014 to 2018 he studied with Raphael Wallfisch at the Zürcher Hochschule der Künste where he accomplished a Master specialized soloist in 2016 and a CAS certificate 2018. He also attended masterclasses with David Geringas, Karina Georgian, Giovanni Sollima, Natalia Gutman and France Springuel. ​
Constantin Macherel is a prizewinner of many competitions including consecutive 1st prizes at the Schweizer Musik-Wettbewerb für Jugendliche as well as the SUISA Prize. In November 2012, he wins the 1st prize of the Schweizer Solisten Vorspiel for his interpretation of Schumann's cello concerto with the Aargauer Sinfonie Orchester. In 2013, he is awarded with the prize of Leenaards Foundation for his skills as an individual artist and musician. Recently, in january 2018, he takes the 2nd prize of the quadrennial competition Rahn Musik Preis für Streicher. In May 2019, Constantin Macherel wins the special prize of the « Klaipeda International cello competition ». He has also been supported by foundations for young artists such as Fondation Irène Dénéréaz, Fondation Casino Barrière de Montreux, Concours Nicati-de-Luze, Fritz Gerber Stiftung, Schenk Stiftung für junge Solisten. ​
As an active soloist he played concertos and recitals in Switzerland, Belgium, Austria, Italy, Great Britain, Germany, Czek republic, Holland, Lithuania. Some of his concerts were broadcast live on the swiss radio and television (RTS). Constantin Macherel performed as a soloist with orchestras such as Carlsbad Symphony Orchestra, London Mozart Players, St-Petersburg Taurida State Symphony Orchestra, Orchestre oqpl, Geringas Chamber Orchestra, Aarau Symphony Orchestra among others. We can count numerous appearances on Lavaux Classic, Apeldoorn Chamber music Festival, Musique et Prodige, Crystal Palace Festival, WEMP Festival, Ensemble enscène, Rencontres musicales d'Enghien, Tribune des jeunes musiciens RTS etc. On September 20th 2019, he is releasing a first CD with the London Mozart Players featuring concerti and rare virtuoso pieces for cello and string orchestra on the label 'Claves Records'.
Appreciated also as a chamber musician, Constantin is playing with musicians such as Cédric Pescia, Gérard Wyss, Frederic Bager, Işıl Bengi, Guillaume Hersperger, Martijn Willers, Ilan Gronich, Caroline Melzer, François Benda, Nurit Stark. ​
His instrument is an english historical cello by Joseph Hill dating from ca. 1765.