---
Magdalena Consort, Fretwork, His Majestys Sagbutts & Cornetts, Silas Wollston
---
Biography Magdalena Consort, Fretwork, His Majestys Sagbutts & Cornetts, Silas Wollston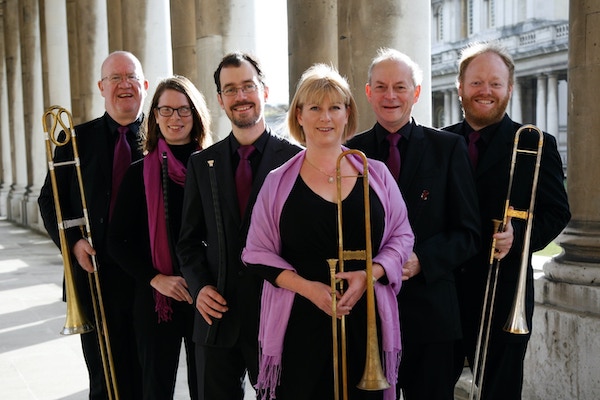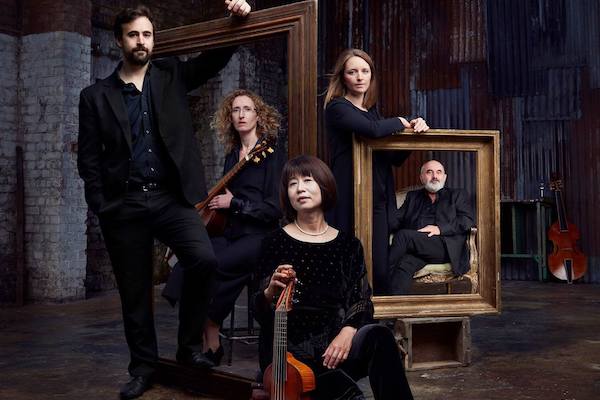 Magdalena Consort
founded in 2008 by baritone Peter Harvey, is acclaimed for its virtuoso chamber performances of sacred vocal music from Monteverdi to Bach, and more recently for its vivid interpretations of English verse music of the 'golden age' from Byrd to Gibbons. The group aims to use the vocal and instrumental forces for which this music was originally written; the instrumental band varies in size from single strings to a small chamber orchestra, while choral movements are frequently sung by the soloists alone - 'one voice per part'. It is this which gives the Magdalena Consort its distinctive sound: an intense choral texture with strong contours in the individual musical lines.
Fretwork
In 2016, Fretwork celebrated 30 years of performing music old and new, and looks forward to a challenging and exciting future as the world's leading consort of viols.
In these last three decades, they have explored the core repertory of great English consort music, from Taverner to Purcell, and made classic recordings against which others are judged. Their series of discs for Virgin Classics included CDs devoted to William Lawes, Henry Purcell, William Byrd, Matthew Locke, John Dowland and Orlando Gibbons; while their more recent work for Harmonia Mundi USA has produced three discs of J.S.Bach — The Art of Fugue, Alio Modo and The Goldberg Variations — which have been exuberantly praised; and discs of the earliest instrumental music (Petrucci); Sir John Tavener's The Hidden Face; Thomas Tomkins; Alexander Agricola & Fabrice Fitch; Ludwig Senfl with Charles Daniels and two collaborations with the choir of Magdalen College, Oxford. Their recording of concert songs by William Byrd with Emma Kirkby has received particular praise.
In addition to this, Fretwork have become known as pioneers of contemporary music for viols, having commissioned over 40 new works. The list of composers is like the role call of the most prominent writers of our time: George Benjamin, Michael Nyman, Sir John Tavener, Gavin Bryars, Elvis Costello, Nico Muhly, John Woolrich, Orlando Gough, Sally Beamish, Tan Dun, Barry Guy, Thea Musgrave - to name but a few.
The group now frequently presents programmes consisting entirely of contemporary music, though most audiences find that the creative tension of juxtaposing old and new leads to a thrilling experience.
Another major area of interest is J. S. Bach. Initially, they performed and recorded 'The Art of Fugue' to rapturous notices; and more recently they have arranged many of his keyboard works, including 'The Well Tempered Clavier' and the 'Clavierübung', recently released on the HMU label under the title 'Alio Modo'. Their arrangement of the Goldberg Variations was released in November 2011.
In 2001 they created something entirely new in the consort repertory: with the aid of the Contemporary Music Network they constructed a performance involving two dancers, choreographer Ian Spink, lighting, Michael Chance and music by Gibbons, Dun, Gough, Nyman, Woolrich and Keeling. This extraordinary event was toured around the cathedrals of Britain to great wonderment and applause.
2007 saw them visiting Russia (twice), Spain, France & Ireland, with visits to the Edinburgh International Festival, the Lufthansa, Spitalfields, and Aldeburgh Festivals. They also took part in a Festival of Evensong at five Cambridge Colleges — King's, Trinity, St. John's, Gonville & Caius and Sidney Sussex — as part of a residency at Sidney Sussex College, which included teaching and recording a CD of Tomkins. Another recording, of Gibbons, Tomkins and Weelkes with King's College Choir, directed by Stephen Cleobury, has recently appeared on EMI. ...
His Majestys Sagbutts & Cornetts
Having celebrated its 30th birthday in 2012, His Majestys Sagbutts & Cornetts ("the pre-eminent group of its kind" born 1982) continues in the same spirit as always: aiming to bring the sound of its noble instruments, through pan-European repertoire from the 16th and 17th centuries to the 21st century, attracting new audiences via recordings, radio, television and (best of the lot!) live performance.
The group's illustrious-sounding name is taken from Matthew Locke's "five-part things for His Majestys Sagbutts and Cornetts" that were probably played during the coronation celebrations for King Charles II in 1661. Essentially a recital group comprising three cornets, four sackbuts and chamber organ / harpsichord, HMSC often joins with singers and string players, and is frequently asked to take part in projects with choirs: Sir John Eliot Gardiner's Monteverdi Choir, the BBC Singers, Ex Cathedra, the choirs of Trinity, King's and St John's Colleges, Cambridge, as well as those of Westminster Abbey, St Paul's and Westminster Cathedrals, London.
Activities over the group's thirty year history have been diverse, ranging from sound and vision recordings for the BBC comedy The Two Ronnies, to appearances in the Salzburg Festival, St. Mark's, Venice, the Sydney Opera House and at the BBC Proms in the Royal Albert Hall.
Individual members of HMSC teach at conservatoires and universities throughout the UK and Europe and the group is often invited to give masterclasses and workshops as a part of its educational activities.
His Majestys Sagbutts & Cornetts has more than twenty recordings to its credit, among them A Bach Album (Hyperion) which was honoured "recording of the year" in Gramophone Magazine, December 2002; and 2007 marked the launch of the group's own recording label, sfzmusic. HMSC's first recording with this new and exciting label, to most encouraging critical acclaim, was the complete instrumental works of Giovanni Battista Grillo; The Twelve Days of Christmas, Buccaneer, an Anglo-Spanish celebration, and Canzone per sonare, a collection of music by Giovanni Gabrieli and his contemporaries, have since followed. "For His Majestys Pleasure", a 65 minute opera without words by the English composer Martyn Harry, was released in 2012.
In 2012 His Majestys Sagbutts & Cornetts celebrated the life and inspirational work of Giovanni Gabrieli (died 1612) in a unique collaboration with Concerto Palatino and Ex Cathedra. This was marked with a new recording on Hyperion as well as performances in England and Germany and at the Edinburgh International Festival.
As a true and lasting celebration of HMSC's first 30 years,"For His Majestys Pleasure" is the group's first ever commission from a living composer, made possible by funding from the Performing Rights Society (UK). University of Oxford-based composer, Martyn Harry, has written this full-length work (c.65 minutes) for the group and playing it is, to quote founder member Jeremy West, "the most exciting single project that His Majestys has undertaken in its 30 year history".
Silas Wollston
Recognised as a leading early music specialist, Silas Wollston has combined performance and scholarship in a varied career. A longstanding member of the English Baroque Soloists and The Bach Players, he performs on harpsichord and organ with early music orchestras and ensembles, as well as in duo partnerships and as a soloist. A former chorister, he studied the organ with John Scott before taking up an organ scholarship at Trinity College, Cambridge. He then went on to study harpsichord and early piano at the Guildhall School of Music and Drama and the Conservatoire Royale in Brussels.
Beyond his career a performer on keyboard instruments, Silas also has much experience as a choral director and an academic lecturer. As Director of Music at Queens' College, Cambridge, between 2011and 2015, he greatly enhanced the profile and reputation of the choir, issuing recordings with Orchid Classics. He is now part of the choral directing team at the Royal School of Church Music. He lectures in fugue and stylistic composition at Cambridge University and is a council member of the Handel Institute. His research interests include 17th-century violin-band music, especially the music of Matthew Locke, and Handel's compositional process.