---
Marco Schiavo, Sergio Marchegiani, Royal Philharmonic Orchestra & Gudni A. Emilsson
---
Biography Marco Schiavo, Sergio Marchegiani, Royal Philharmonic Orchestra & Gudni A. Emilsson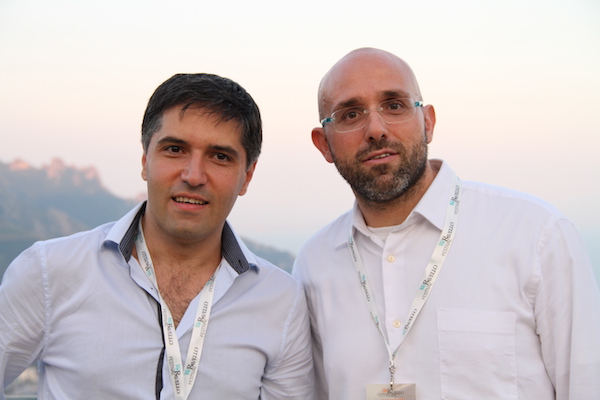 Duo Schiavo Marchegiani
"Schiavo-Marchegiani piano duet shows how exciting is to make music together"; "They offered a perfect musical night"; "Two Italian pianists moved audience with their performance of Mozart music"; "They are pianists with amazing sound culture… their performance of Schubert's pieces was brilliant, noble and extraordinarily original".
Mr. Schiavo and Mr. Marchegiani are highly appreciated by the audience and critics for their musical personality, great expressiveness and naturalness, beauty of sound, intensity and overwhelming energy of their performances.
At the same time as their solo concert international activity, since 2006 they play together all over the world performing hundreds of concerts in the most prestigious venues and festivals including Carnegie Hall in New York, Goldener Saal at Musikverein and Konzerthaus in Vienna, Mozarteum in Salzburg, Philharmonie (Grosser Saal) and Konzerthaus in Berlin, Laeiszhalle in Hamburg, Beethoven-Haus in Bonn, Rudolfinum and Smetana Hall in Prague, Bulgaria Hall in Sofia, Hermitage Theater in St. Petersburg, Sala Verdi in Milan, Suntory Hall in Tokyo, Solis Theatre in Montevideo, Sao Paulo Hall in Brazil as well as in Rome, Paris, Zurich, London, Sofia, Istanbul, Helsinki, Moskow, Toronto, Montreal, Washington, Mexico City, Baku, Astana, Hong Kong, Bangkok, Singapore, etc.
Their dazzling career has made them regular guests with the most prestigious orchestras such as Berliner Symphoniker, Budapest Symphony Orchestra, Prague Radio Symphony Orchestra, Sofia Philharmonic Orchestra, New York Symphonic Orchestra, Mexico State Symphony Orchestra, Istanbul Symphony Orchestra, Prague Chamber Orchestra, Madrid and Prague Chamber Orchestra, Azerbaijan State Symphony Orchestra.
They recorded for important National TV and Radio channels in Italy (RAI Radio3), Czech Republic (live from the Dvořák Hall), Germany, Bulgaria, Russia, Mexico, Hong Kong, etc.
In 2014 Decca label published their first CD, completely dedicated to Franz Schubert which got amazing reviews from the critics. "In the Fantasia the two pianists play with a lively and easy immediacy, whilst giving a strong sense of clarity to Schubert's more poetic movements… it has some lovely poignant moments and his highly evocative… The remainder of the items on the disc are all admirably played" (Robert Hugill); "Marco Schiavo and Sergio Marchegiani do a nice job with this music… they're forthright and clear-eyed, producing a nice range of tones and textures, and handling transitions with assurance..." (Stephen Francis Vasta).
In 2018 Decca published their second CD entitled "Dances" with Johannes Brahms' 21 Hungarian Dances and 16 Waltzes Op. 39: "… a smooth and admirable sound and stylistic balance" (Mattia Rossi); "A performance that is not listened to, but is drunk with the ears as if it were a champagne flute made sound… reference recording for WoO 1 and Op. 39. Inalienable" (Andrea Bedetti). In January 2020 Decca will publish their latest CD contains Mozart' Concertos for two pianos and orchestra K. 242 and K. 365 and Kozeluch' Concerto for piano 4-hands recorded in London with Royal Philharmonic Orchestra under the baton of Gudni A. Emilsson.
Sergio Marchegiani and Marco Schiavo studied with great musicians such as Ilonka Deckers Küszler, Alexander Lonquich, Bruno Canino, Franco Scala, Aldo Ciccolini and Sergei Dorenski. They teach in Alessandria and Potenza Conservatories and are in frequent demand for masterclasses and piano competition jury all over the world (Spain, Serbia, Turkey, United States, Mexico, Kazakhstan, Japan, Australia, Brazil, etc.).