---
Biography Marie van Rhijn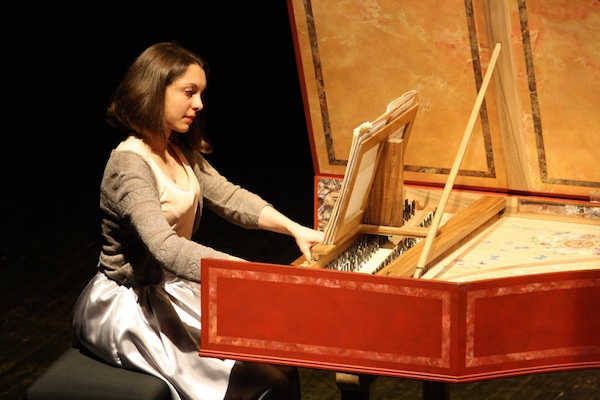 Marie van Rhijn
Attracted by the sound and style from an early age, Marie van Rhijn started playing the harpsichord at the age of seven in Calais. As a soloist and in various groups, she has been invited to perform on stage and at internationally acclaimed festivals in many countries: Austria, Belgium, Bolivia, Brazil, France, Italy, Norway, Netherlands, Republic Czech, Romania, United Kingdom and Switzerland. Concentrating on the « sociable » character of her instrument, she particularly appreciates working in chamber music ensembles and founded the Trio Dauphine with Maud Giguet and Clara Izambert, gaining several awards very positive reviews after two CD recordings with Arion and Evidence Classics in 2012 and 2014.
Her training lead her to Seventeenth Arrondissement Paris Conservatory where she prepared with Ilton Wjuniski her admission to the Conservatoire National Supérieur de Musique et de Danse de Paris, where she obtained with highest honours the Master Harpsichord (studying with Olivier Baumont) and basso continuo (studying with Blandine Rannou) and Master of Education and Certificate of aptitude for education. She holds Master of Musicology from the Sorbonne and a vocal coach diploma. She was the recipient of the Adami, the SYLFF Tarrazi and foundations and the Musical Patronage of Société Générale. In masterclasses, she benefited from the valuable advice of Huguette Dreyfus, Christophe Rousset, Mitzi Meyerson, Kenneth Weiss, Noëlle Spieth. Distinguished in several international competitions in France, the UK, the Netherlands, Austria and Russia, she was also selected for the l'Orchestre Français des Jeunes Baroque (French Youth Orchestra Baroque) for the seasons of 2011 and 2012, as well as by Emmanuelle Haim for the Académie Handel at the Aix en Provence Festival in 2015 and by Laurence Cummings to be part of the six young soloists in residence at the Handel House in London in 2014 and 2015.
Curious and passionate, she shares her pleasure generously on stage and in her teaching. After working for the Early Music Department of the Royal College of Music in London, she now holds the qualification for artistic education and has taught since 2014 at the Conservatoire à Rayonnement Régional de Cergy Pontoise.
Cultivating her multifaceted career, she explores vocal repertoire with joy as vocal coach and in continuo for the ensemble Les Arts Florissants, conducted by William Christie and Paul Agnew, and also for the ensemble Pages at the Centre de Musique Baroque de Versailles and the Centre d'Art Vocal and of Musique Ancienne in Namur.