---
Notturna & Christopher Palameta
---
Biography Notturna & Christopher Palameta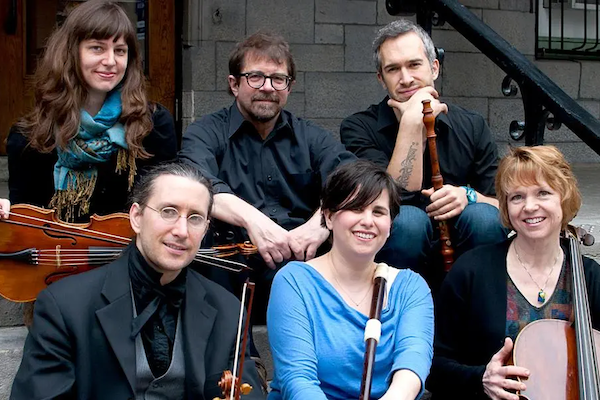 Notturna
Founded in 2006 and directed by oboist Christopher Palameta, Notturna is a chamber collective whose "spirited and sensitive playing" (Early Music America) draws on the transparency and expressiveness of early wind instruments to paint fresh pictures of an unexplored historical repertoire. Notturna has toured extensively in North and South America and Europe, assembling vivid and dynamic programmes its musicians interpret with zeal and uncompromising depth. Recent performances include recitals at festivals in Belgium, France, Finland, Argentina and Peru. The ensemble's discography includes five world premiere recordings for the ATMA Classique label, as well as a disc of forgotten chamber works with oboe from the Court of Prussia for Sony/Deutsche Harmonia Mundi, all of which have garnered unanimous praise from the international press.
Christopher Palameta
Born in Montréal, oboist Christopher Palameta performs with many of Europe's finest period ensembles. With these orchestras, he has toured on five continents and recorded over sixty discs for the Erato, Sony BMG, Deutsche Harmonia Mundi, Ramée, Pentatone, CPO, BIS, Alpha, Naxos, ATMA Classique, and Analekta labels. An ardent defender of unexplored repertoire for the oboe, Palameta founded Notturna in 2006 as a platform to excavate forgotten chamber music for his instrument. His solo discography includes suites by Marin Marais (nominated in 2015 for the Preis der deutschen Schallplattenkritik or German Record Critics' Award); sonatas by Handel, Abel, J. C. Bach, Janitsch, Krause and Graun with Notturna for the ATMA Classique and Sony labels; solo concertos by Molter with Die Kölner Akademie for the ARS label; and a recital of early French Romantic works for oboe and piano on Ramée entitled Berlioz's Lost Oboe. A recipient of several research grants from the Conseil des arts et des lettres du Québec and the Canada Council for the Arts, he has been invited to speak at conferences on nineteenth-century historical performance practice in Oxford, Vienna and Lyon. Christopher took his graduate degree from McGill University and his PhD in Musicology from the Royal Academy of Music in London, where his doctoral research on the oboe under Berlioz was supported by the Maple Leaf Trust (Canadian Centennial Fund). He teaches historical oboes at the Sibelius Academy (Helsinki University of the Arts).