---
Biography Cristiano Poli Cappelli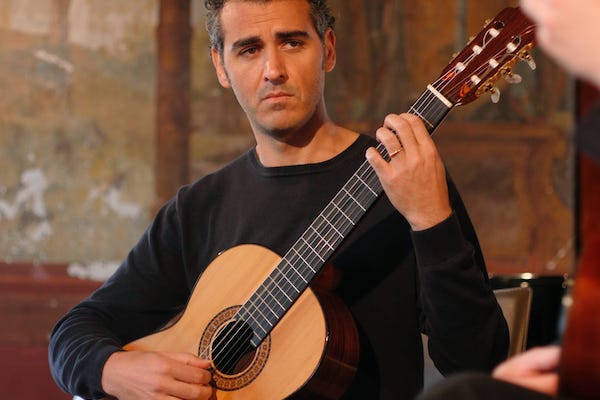 Cristiano Poli Cappelli
was born in Frosinone in 1974. He took a degree in Law and shortly after he obtained the diploma with first-class honours in Guitar at Pescara's conservatoire under Letizia Guerra's direction. He has won several prizes in several important national contests (Vasto, Latina, Castelfidardo, Lamporecchio), where he always emerged thanks to his musical talent. Among others, Carlo Marchione, Pablo Marquez, Alexandre Swete and Alberto Ponce have contributed to his preparation. The latter defined him as "sensitive and confident musician, endowed with a pleasing and strong sound". He has followed the triennial course in High Proficiency at the Fondazione Arts Academy in Rome, under the direction of Maestro Stefano Palamidessi. Apart from his strong didactic engagement, he is constantly giving concerts. He has been performing in musical festivals all along Italy and abroad, where he has been invited by the Institutes of Italian Culture in Salonicco and Fiume. Along with his solo career, he frequently collaborates with chamber ensembles with flute, violin with Duo Euterpe, together with pianist Manfredo Di Crescenzo. Moreover he plays in particular with Trio Chitarristico Ravel, with whom he has embarked on an important concert activity, reaching a highly appreciated and high-level standard. He has carried out also several collaborations as solo player with active orchestras such as Corelli Chamber Orchestra. He has performed as guitar solo several concertos for guitar and orchestra, i.e. Benedetto Marcello's Adagio in a guitar transcription, the concerts in D and C by Antonio Vivaldi, which he also performed in the important musical season "Historia sacra et saecularis", held in Rome's Pantheon. He played also Astor Piazzolla's "Double concerto for guitar, bandoneon and strings", which he has performed all along Italy for more than fifty times. In 2006 he took part in the TV program "Adolescenti TVB" together with Dr. Vittorino Andreoli on the satellite channel, SAT 200 with Trio Chitarristico Ravel and in collaboration with flutist Marco Ferraguto. Moreover he has played live for Radio-broadcasts several times (Radio Vaticana, Radio Rai International). He has been selected as best graduated for the recording of the CD Omaggio a J. S. Bach, where he plays J. S. Bach's Bwv 1006a suite for lute. This project was supported by Regione Abruzzo. Together with Trio Chitarristico Ravel he has recently recorded a CD containing Franco Margola's complete works for three guitars, which include the first ever recording of Sonata II. Together with Trio Chitarristico Ravel has recently published by Edizioni Sinfonica, a review of the Three Preludes by George Gershwin in a transcription and revision for guitar trio and he is the dedicatee of one of the 6 Studies for Guitar by Giorgio Mirto and is responsible for the first incision in the CD publication of the work for Edizioni Sinfonica. Together with Trio Chitarristico Ravel's other members he has been giving proficiency courses at Genzano's summer school for years and he is taking part in the examining commission in the local conservatoire. Apart from the concert activities he is constantly carrying out a teaching activity by the S.M.I.M.s and in private institutions. He is currently Guitar teacher at the Middle School with instrumental course of studies, "SANGALLO", located in Ostia (RM) and at the prestigious Civica Scuola delle Arti in Rome. He has been co-founder of the musical association Camerata Monteverdi in Rome, and its president for several years. Such an association distinguished itself in Rome for the considerable organisational activities in the field of ancient music by the Pantheon and the Museo Nazionale Romano.
He recently recorded two important Cds: "M. Castelnuovo-Tedesco: Works for two guitars", one of the best Cds of 2015 for American Record Guide, and "A. Tansman: works for solo guitars".
He's now working on a new recording with musics by Abel Carlevaro.