---
Biography Ibrahim Electric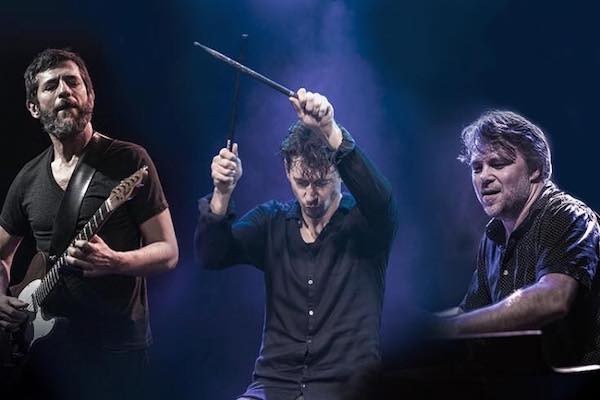 Ibrahim Electric
Has been playing almost all styles of music since he started performing professionally in 1992.
He has released CD's with some of our times greatest jazz players such as David Liebman, Ray Anderson, John Tchicai and Adam Nussbaum among others.
He received a Danish Grammy in 1999 for his playing on the Danish Sax-player Hans Ulriks CD "Jazz And Mambo" and won the first price at the Gexto Jazz Competition in Spain in 1996 with the group 'Science Fiction Quartet', and again in 1999 with the group 'Out To Lunch'.
In 1998 he received the prestigious price 'Roland Musical Award' given to an outstanding young musician, and furthermore his two solo-CD's "Human Beat Boxer" and "Human Beat Boxer – Second Stroke" gained a lot of positive attention from the critics.
At the present time he plays regularly with bass-icon Matt Garrison, Danish bass-legend Jesper Lundgaard.
Jeppe Tuxen Considered one of the most talented Hammond organ players in Europe. He started out as a pianist but migrated to the Hammond B-3 after having tried this powerful instrument at a recording session.
After graduating in 2003 from Rhythmic Music Conservatory in Copenhagen, he has proven himself to be a very versatile musician. He has been seen in a lot of different contexts but his main focus has since 2004 been with the trio Ibrahim Electric, where he really gets to experiment with his more expressionistic sides.
His style of playing has been compared with such different organ playes as: Jon Lord (Deep Purple), Booker T. Jones (Booker T. and the MG's), Jimmy McGriff, Larry Young and Dr. Lonnie Smith.
The critics wrote: "The Hammond-playing by Tuxen has 'God-like' calibre in my ears.." - Jazz Special Magazine, 2007.
"Jeppe Tuxen treats his Hammond B3 as if both Jimmy Smith and the Devil himself were close on his heels." – Information 2004.
Stefan Pasborg Three-time Danish Music Awards-winner, drummer and composer, has become known on the European jazz scene as a highly personal drummer as well as a composer and bandleader. He has performed and recorded with a number of internationally renowned musicians, including guitarist Marc Ducret, trumpet player Tomasz Stanko, bassist Miroslav Vitous, trombonist Ray Anderson, and saxophonists Ellery Eskelin and John Tchicai among others.
He has been awarded several prizes, including the soloist prize at the 16th European Jazz Contest in Germany; the Rhythmic Music Conservatory Talent Prize; the first prize at the 5th European Tournament for Improvised Music in France; and the Danish Arts Foundation's grant for artistic work in 2003, 2004 and 2005.
He received 2 Danish Music Awards 2004, and received 1 at Danish Music Awards 2011. And his latest CD - TriplePoint - was selected into the worldwide TOP 5 "Best Debut Albums of 2007" by All About Jazz Magazine, New York.