---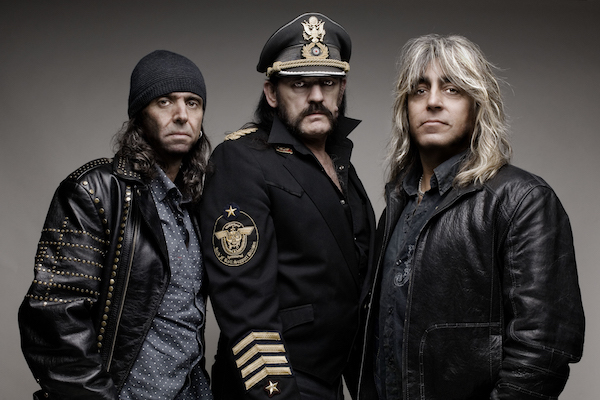 Motörhead
Motorhead is an iconic British heavy metal band formed in 1975 by bassist, singer and songwriter Lemmy Kilmister (real name Ian Kilmister). The name was derived from a slang term for an amphetamine user.
Critic Stephen Thomas Erlewine writes that "Motorhead's overwhelmingly loud and fast style of heavy metal was one of the most groundbreaking styles the genre had to offer in the late '70s" and suggests that their blending of punk rock's speed and attitude with more traditional heavy metal music "created speed metal and thrash metal." Whether they created these genres might be subject to debate, but Motorhead are unquestionably influential.
While the band are typically classified as heavy metal or speed metal, Kilmister has refused such labels, preferring to describe Motorhead's style simply as "rock and roll." Motorhead's lyrics cover such topics as war, good versus evil, abuse of power, promiscuous sex, substance abuse, and "life on the road"the latter is portrayed in songs like "(We Are) The Road Crew", "Iron Horse/Born to Lose", and "Keep Us on the Road."
After being sacked from Hawkwind in 1975, supposedly for "doing the wrong drugs," Kilmister decided to form a new band, originally to be called Bastard. Realising that this would preclude them from commercial acceptance, he eventually settled on Motorhead, after a song he had written for Hawkwind. His stated aim was for the outfit to be "the dirtiest rock n' roll band in the world" and that "if this band moved in next door - your lawn would die".
The first line-up of the band featured Larry Wallis (ex-Pink Fairies) on guitar and Lucas Fox on drums. Their first gig was at The Roundhouse, London, on July 20, 1975. They recorded sessions at Rockfield Studios in Monmouth, during which Fox left to be replaced by drum virtuoso Phil "Philthy Animal" Taylor. The sessions did not see the light of day until they were opportunistically released in 1979, once the band was becoming popular. Deciding that two guitarists were required, the band recruited "Fast" Eddie Clarke, but Wallis left during the auditions and so the idea was shelved. The trio of Kilmister, Clarke, and Taylor is today regarded as the "classic" Motorhead line-up.
Initial reactions to the band were unfavourable: they memorably won a poll for "Worst Band in the World" in one music magazine.
The band's first official album release was the self-titled Motorhead, released in 1977. By this time, the standard of their performances had improved considerably, and the uncompromising nature of their music was beginning to garner a following from enthusiasts of both metal and punk. Follow-up albums Overkill and Bomber cemented their reputation as one of Britain's foremost heavy metal groups.
In the early 1980s, they had UK Top 40 chart hits with singles and EPs such as "Ace of Spades," "Motorhead (live)," "Iron Fist," The Golden Years and the St. Valentine's Day Massacre EP - their collaboration with 'apprentices' Girlschool. Many fans regard "Ace of Spades" as the definitive Motorhead anthem. They also consider the albums Ace of Spades and the live No Sleep 'til Hammersmith to be among the best such works of their era, as well as the band's most commercially successful releases.
In 1982, Motorhead recorded and released Stand By Your Man, a cover version of the Tammy Wynette classic, with Wendy O. Williams of the Plasmatics. Clarke felt that this compromised the band's principles and resigned to be replaced by Brian Robertson, formerly with Thin Lizzy. Robertson only lasted for one album (1983's Another Perfect Day) having caused friction in the band due to his refusal to play their most popular tunes. The group then returned to the concept of dual guitars by hiring Wurzel and Phil Campbell (ex-Persian Risk). In 1984 a rare line-up of Kilmister, Campbell, Wurzel and Taylor played "Ace of Spades" in Bambi, an episode of the British sitcom The Young Ones. Taylor left the band after that recording, and was replaced by Pete Gill.
Taylor returned to Motorhead in 1987 and continued playing in the group until 1992. In 1992, he was fired after recording "I Ain't No Nice Guy" because he didn't learn the drum tracks. Mikkey Dee became his permanent replacement, after the short and disappointing engagement of Tommy Aldridge on the album March or Die. When Wurzel left in 1995, Motorhead returned as a three-man line-up and celebrated Lemmy's 50th Birthday with Metallica.
In 2005, Motorhead picked up their first Grammy Award in the "Best Metal Performance" category for their cover of Metallica's "Whiplash".
On December 10th 2005 in Perth, Western Australia, Motorhead and Motley Crue played an encore together onstage of "Anarchy in the UK", a worldwide first.
The umlaut over the in their name is a record-cover art conceit, possibly derived from the similar "Heavy metal umlaut" in the name of the Blue oyster Cult. However, the band's name is not pronounced as the German usage; instead, Lemmy pronounces it (IPA) /'mautahed/. Lemmy is also quoted to have "put the umlaut on the middle-O in order to make the name more 'German-looking,' meaner!"
The band's mainstream success has dwindled since the late 1980s, but Motorhead retains a large and loyal fanbase and continues to record and tour extensively. Many modern hard rock, heavy metal and punk rock groups cite the band as an important influence.