---
David Helbock & Camille Bertault
---
Biography David Helbock & Camille Bertault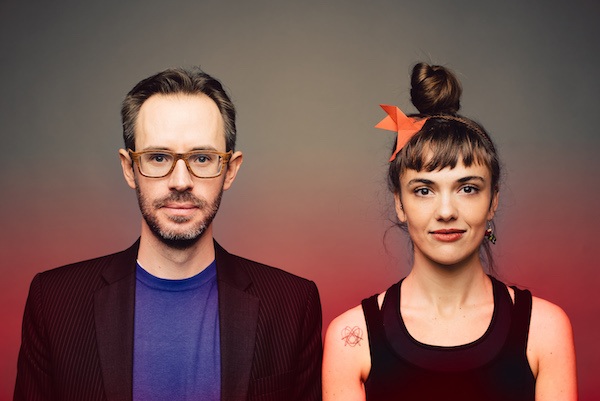 David Helbock
born on January 28th 1984 (Age 35) in Vorarlberg/Austria, started playing the piano at the age of six. After a few years piano-training with Nora Calvo-Smith at the music-school Feldkirch and with Paul Winter at the Jazzseminar Dornbirn he switched to the Conservatory Feldkirch in 1998, to study classical piano with Prof. Ferenc Bognar, and finished his studies with an "excellent degree" in performance in 2005.
In addition from 2000 to 2008 David Helbock also took lessons with New York Jazzpianoplayer Peter Madsen (Stan Getz, Joe Lovano, Don Cherry, Fred Wesley...), who became his teacher, mentor and friend and with whom he still plays together in Ensembles like "Mistura" or the "Collective of Improvising Artists (CIA)" till today.
Also in addition David Helbock studied with Prof. Fuat Kent, who is a friend and student of the contemporary composer George Crumb - during this time he developed his specific inside piano techniques.
David Helbock is a multi-time award winner at the classical youth competition "Prima la Musica" and in 2004 he was awarded the Bösendorfer Scholarship in Austria. 2006 he won the competition "New Generation" in Straubing (Germany) with his ensemble HDV Trio.
David Helbock is a two-times award winner at the world-biggest jazzpianosolo competition in Montreux (CH) 2007 und 2010 and also won the audience prize there.
2011 he was awarded the "Outstanding Artist Award", the most important prize in Austria. 2018 he received the scholarship for composition of the state of Austria.
Since the beginning of his career, David Helbock is also very active as a composer. Besides commissioned works for the classical "Ensemble Plus" or the Choir "Voices" and many more - he had a big compositional project in 2009 - where David Helbock wrote one composition every day for a whole year. (Beginning of 2010 his "Personal Realbook" with over 600 pages of music was released).
Till now David Helbock has released more than 20 CDs under his own name as a leader and many more as a sideman - five of them on the Berlin Label Traumton.
Since 2016 he is an exclusive artist with the renown Munich Label ACT-Music - the first CD is called "Into the Mystic" which was released in August 2016 - this album was nominated for the german "Echo" (Jazz). The second album on ACT "Tour d ́Horizon" followed by "Playing John Williams (Solopiano - 2019) and "The New Cool (Trio - 2021).
Hermeto Pascoal, the brazilian composer-legend liked the music of the ensemble "David Helbock ́s Random/Control" so much, that he composed a piece especially for their CD "Think of Two" in 2014. Besides all this David Helbock also appeared as a soloist/sideman on three Albums of austrian composer Michael Mantler - released on ECM.
There are more than 100 original compositions by David Helbock released on all the CDs so far, which are still played all over the globe.
David Helbock played concerts with his own ensembles in countries like the USA, Kanada, Mexico, Russia, Kasachstan, Kirgisistan, China, Mongolia, Southkorea, Philippines, Indonesia, Malaysia, Indie, Southafrica, Ethiopia, Kenya, Senegal, Marokko, Tunesia, Iran, Brasila, Argentinia, Chile, Australia and all over Europe.
Camille Bertault
After training at the conservatory, Camille Bertault obtains a classical piano prize, and studies opera, theatre and dance at the conservatory of Nice. At the age of 20, she writes, edits and performs in plays for children. Inspired by a father who loves jazz, she studies vocal jazz and improvisation at the Conservatoire de Paris. In 2016, She is spotted by a New York label, Sunnyside Records, which distributes her first album «En vie» and makes her discover the New York jazz scene. There she meet Dan Tepfer, Michael Leonhart, Jeff Ballard, and Joe Sanders with whom, under Sony France, she records her second album in 2018, «Pas de Géant», which receives superb press . Camille then tours around the world and releases her 3rd album, « Le tigre » at Sony in 2020. She is currently working on her new album with ACT which will be released in 2022.