---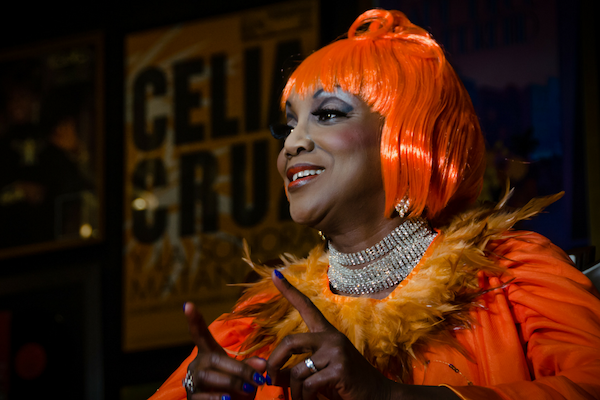 Celia de la Caridad Cruz Alfonso – Celia Cruz
was born in 1925 in Barrio Santos Suarez in Havana, one of 4 children. In a career that spanned six decades, Celia became the "Queen of Salsa," and was central to the genre's rising popularity.
Celia was drawn to music from an early age. Legend has it that her first pair of shoes was actually a gift from a tourist for whom she sang. In addition to singing her siblings to sleep, Celia sang in school productions and community gatherings. Her career began in earnest as a teenager, when her aunt and cousin took her to cabarets to perform. Although her father wanted her to become a teacher, she followed her heart and chose music instead, studying voice, theory and piano at Havana's National Conservatory of Music. In the late 1940's, she competed on an amateur radio show contest called "The Tea Hour." As a result of her growing radio fame, she came to the attention of influential producers and musicians.
She was hired as the singer for Las Mulatas Del Fuego, a dance group that traveled throughout Latin America. In 1950, she became the lead female singer for La Sonora Matancera, Cuba's most popular orchestra. Over the next years with the orchestra, her star continued to rise.
As the Cuban Revolution raged in 1960, Celia (touring in concert in Mexico at the time), made the decision not to return to the island. In 1961, she moved to the U.S., and married Pedro Knight, her longtime friend and trumpet player. Fidel Castro was so enraged by Cruz's defection, he barred her from returning to Cuba. In fact, Celia never returned to her homeland.
Celia joined the Tito Puente Orchestra in the mid–1960's. Her flamboyant attire and magnetic personality meteorically expanded the group's fan base. The group was central to the new sound developing in the 1960s and '70s – music born of Cuban and Afro-Latin mixed musical tradition – which came to be known as "Salsa." A new record label, "Fania," was launched, devoted solely to the genre. In 1974, Celia joined the label and recorded "Celia y Johnny" with Johnny Pacheco. One of the album's tracks, "Quimbera" became a signature song for her. Celia was the only woman in the Fania All Stars, and one of the few women to succeed in the male-dominated salsa world. She would go on to perform with the Willie Colon Orchestra and the Sonora Poncena, with Pete "El Conde" Rodriguez.
During Celia's star-studded 60 years as a performer, she collaborated and performed with many musical legends around the world.
Celia was a true pioneer of AfroLatinidad, focusing on the African elements of her identity (music, lyrics and dress) at a time when it was not popular to do so. In 1974, Celia was one of a group of artists including B.B. King, James Brown, The Spinners, Bill Withers and Miriam Makeba that performed in Kinshasa, Zaire alongside top local groups. The concert was part of a three day festival, "Zaire '74," the brainchild of South African trumpeter High Masekela. The performance was supposed to precede the famous boxing match "Rumble in the Jungle" between George Foreman and Muhammed Ali. Just before the concert was scheduled to begin, Foreman injured his eye. The bout was pushed back six weeks, but the Show went on – and was brilliantly documented in the powerful film, "Soul Power."
Over the course of an amazing career, Celia recorded more than 80 albums and songs, earned 23 Gold Records, and won five Grammy Awards. She performed with a wide range of celebrities, including Gloria Estefan, Dionne Warwick, Ismael Rivera and Wyclef Jean. In 1976, she participated in the documentary film "Salsa" with costars Dolores del Rio and Willie Colon (with whom she made three albums in 1977, 1981 and 1987). She also appeared in several Hollywood movies, including the popular 1992 film "The Mambo Kings." She earned a star on the Hollywood Walk of Fame, and was awarded the American National Medal of the Arts by President Bill Clinton. Celia received honorary doctorates from Yale University and the University of Miami. A street in Miami was renamed in her honor. In 1994, Celia was inducted into Billboards Latin Music Hall of Fame with fellow Cuban musician Cachao Lopez. In 1999, she was inducted into the International Latin Music Hall of Fame. On July 16, 2002, Celia performed to a full house at New York's Central Park Summer Stage. She died in New Jersey one year later in 2003, at the age of 77. Her songs, performances and spirit remain international treasures.
Celia's trademark orange, red and white polka dot dress and shoes have been placed in the permanent collection of the Smithsonian. The exhibit pays tribute to Celia's iconic style – her flamboyant costumes, brightly colored wigs, tight sequined dresses and perilously high heels.
Humor was also one of Celia's trademarks. In a 1988 BBC Arena performance, she told the audience: "If your husband hits you, make sure you hit him back. If you can't do it with your hand, hit him with the frying pan."
In March 2003, Telemundo produced and aired a special tribute to Celia, entitled, "Celia Cruz: Azucar!" Hosted by Marc Anthony and Gloria Estefan, it featured performances by Jose Feliciano, Patti Labelle, Gilberto Santa Rose, Arturo Sandoval, Luis Enrique and Gloria Gaynor, to list a few.
In May 2005, the Smithsonian's National Museum of American History opened the exhibit "Azucar!" celebrating key moments in Celia's life and music. In March 2011, Celia was honored by the United States Postal Service with a commemorative postage stamp. Celia was one of a group of five stamps honoring Latin Music greats. Selena, Tito Puente, Carmen Miranda and Carlos Gardel joined Celia in this tribute.