---
Joris Van den Hauwe, Oboe & Collegium Instrumentale Brugense
---
Biography Joris Van den Hauwe, Oboe & Collegium Instrumentale Brugense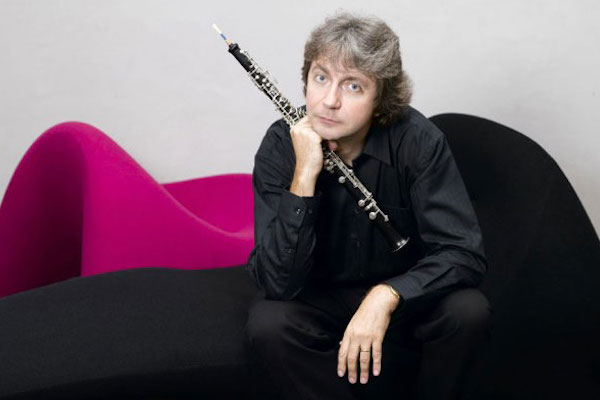 Joris Van den Hauwe
is, without doubt, one of today's greatest oboists. His many performances and CD recordings, ranging from baroque to avant-garde, have been widely acclaimed by both the public and press alike.
The quality of his music, his superb technique and very personal tone and phrasing make him one of the most influential ambassadors of the Flemish Oboe-school.
At the Royal Academy of Music in Brussels, he won first prizes for oboe, chamber music, harmony and counterpoint. Under the direction of Paul Dombrecht, he was awarded the Higher Diploma (with greatest distinction) for oboe. In 1983 he was invited to play with the Orchestra of The European Community, conducted by Claudio Abbado.
In 1984, with Rudolf Werthen, he had his first, successful solo-tour in Germany. Shortly afterwards, he played as a soloist with the World Orchestra of the Young in the United States. The same year he won the bronze medal in the International Oboe Competition held in Toulon.
In 1985, he was the Tenuto Contest prize winner for his fine interpretation of Richard Strauss' Oboe Concerto. A year later, he became a member of the "The Von Karajan Orchester Akademie" in Berlin, where he also acquired orchestral experience in the Berliner Philharmoniker under Von Karajan, Claudio Abbado and many others.
Back in Belgium, he was oboe-solo with the New Belgian Chamber Orchestra, The 'Beethovenacademie', 'I Fiamminghi' and the Symphonic Orchestra of Flanders, in succession. With those orchestras he performed the great oboe concertos at many festivals and on many radio and television recordings. He taught oboe at the conservatory in Brussels as an assistant lecturer and later, between 1997 and 2003 as a senior lecturer at the conservatory in Antwerp.
Today, Joris Van den Hauwe is in great demand as a soloist not only with almost all the Belgian Orchestras, but also with orchestras abroad such as 'The Münchener Kammerorchester', 'The Polish Chamber Philharmonic Society', Harmonces Mundi, Slovenska Filharmonia, 'L'Orchestre de Chambre d'Auvergne', 'Orfeo', to name but a few.
His love of chamber music has brought him together with – amongst others – 'Amadeus Quartet', 'Tokyo String Quartet', 'The Salzburg Soloists', the 'Pro Arte Quartet' and top ranking musicians like Hermann Baumann, Michala Petri, Hans-Jörg Schellenberger, Karlheinz Zöller, Jeremy Menuhin, Marc Dobrinsky, David Geringas, Vladimir Mendelssohn, Francis Orval, Peter Frankl, Walter Boeykens, Pol Cortese, Giselle Herbert, Marc Grauwels, Thomas Bloch, Wolfgang Shulz, Jean-Claude Vanden Eynden.
He is regularly invited as a soloist to perform at many festivals such as – amongst others - Shleswig-Holstein, Ars Musica, Festival van Vlaanderen, Salzburger Schlosskonzerte, Festival de l'Eté Mosan, Europalia, and often performs in major concert-halls such as Grosser Musikverein Wien, Concertgebouw Amsterdam, Tokyo Metropolian Art Space, Salle Pleyel, Liederhalle Stuttgart, De Doelen, Palais des Beaux-Arts, deSingel.
In 2005, Joris Van den Hauwe was appointed oboe-solo at the Flemish Radio Orchestra.
Today, he is represented as a soloist and chamber musician by the 'Arien' Concert Agency in Antwerp, Belgium. In addition to being an oboist, Joris Van den Hauwe enjoys a second career as a film maker. He is the founder of 'Rimlight Productions' and is appointed as a producer at the world leading 'Galaxy Studios' in Mol (Belgium).