---
Von der Schönheit des Scheiterns - Ludwig van Beethoven zum 250. Geburtstag Martin Sturm
Album info
Album including Album cover Booklet (PDF)
Ludwig van Beethoven (1770 - 1827):

1

Fantasie g-Moll/H-Dur, Op. 77

13:34

Martin Sturm (b. 1992):

2

Metamorphose I (Improvisation)

04:18

3

Musik für eine Flötenuhr (Improvisation)

04:16

Ludwig van Beethoven:

4

Fuge D-Dur, WoO 31

01:47

5

Große Fuge B-Dur, Op. 133 für Streichquartett

18:45

Martin Sturm:

6

Metamorphose II (Improvisation)

04:35

7

Freude, schöner Götterfunken. Variationen und Doppelfuge über den Finalsatz der 9. Sinfonie von Ludwig van Beethoven (Improvisation)

44:28

Total Runtime

01:31:43
Info for Von der Schönheit des Scheiterns - Ludwig van Beethoven zum 250. Geburtstag

With this recording of his organ arrangement of the Grosse Fuge in B-flat major, op. 133, Martin Sturm presents a fascinating and exciting contribution to the 2020 Beethoven Jubilee. His performance on the Klais organ at the University of Iowa, Iowa City, built in 2016, gives unparalleled sonic and spatial depth to what is probably the most complex work from Beethoven's late period. Embedded in an extraordinary program alongside an arrangement of Beethoven's Piano Fantasy in G minor/B major, op. 77, and improvisations on themes by Joseph Haydn and Bernd Alois Zimmermann, Sturm's reading of the Grosse Fuge conveys in exemplary fashion the great emotionality and explosive force of Beethoven's music and the organ as an instrument. His grand improvisation "Freude, schöner Götterfunken" ('Joy, beautiful spark of divinity'): Variations and Double Fugue on the Final Movement of Ludwig van Beethoven's Ninth Symphony, op. 125, again reveals the wealth of colors available on the organ in Iowa City, patterned after the historic Ladegast organ in Schwerin Cathedral. It also reveals the enormous artistic potential of Martin Sturm, an internationally acclaimed prize-winning musician.
Martin Sturm, organ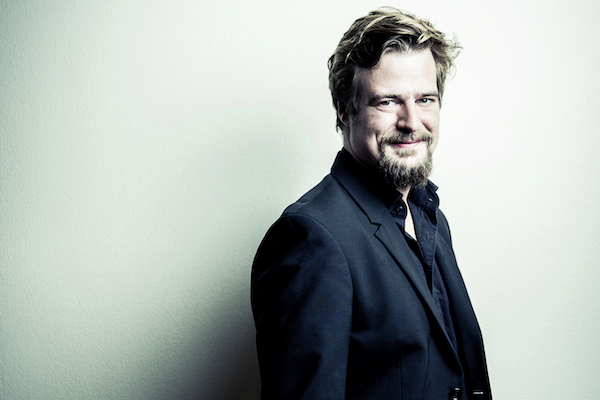 Martin Sturm
"Weimar's unique organ landscape illustrates the importance that the organ once had for people in the past. It was from Weimar that composers such as Bach and Liszt stood the world of music on its head with this instrument. I would like to promote young artists in this longstanding and vibrant tradition, to cultivate all their individuality, and to create open spaces for new visions. After all, a complex world will continue to need the complex sonic universe of the organ in the future …"
Thus the words of Martin Sturm on his appointment as the youngest professor at the Franz Liszt University of Music in Weimar, where he has taught organ and organ improvisation at the Institute of Music Education and Church Music since October 2019. Before then, from 2013 to 2019, he taught at the universities of music in Würzburg and Leipzig and held many courses and lectures on the art of the organ. Among his international awards are a first prize at the performance competition of the 2018 International Organ Week in Nuremberg (also a special prize for the best performance on historic organs), a first prize at the Schwäbisch-Gmünd International Competition for Organ Improvisation (2017), and a first prize at the improvisation competition of the International Organ Festival at St Albans (2013). He has also been awarded the Bavarian Cultural Prize from Bayernwerk AG (2018), sponsored by the Bavarian Ministry of Science and Art, as well as a grant from the Keck-Köppe Foundation of the Würzburg University Federation for "extraordinary artistic achievements" (2017).
Born in the Bavarian town of Velburg in 1992, Martin Sturm studied church music and organ with Christoph Bossert at Würzburg University of Music, where he received his A-level certification. He then continued his studies in the master classes of Martin Schmeding and Thomas Lennartz at Felix Mendelssohn Bartholdy University of Music and Theater, Leipzig, on a scholarship from the German Academic Scholarship Foundation (2017–19). His international recitals as performer and improviser have taken him to leading music and organ festivals in cathedrals, concert halls, and on famous historical instruments. He has also attracted attention as a composer, receiving commissions from the John Cage Organ Foundation (Halberstadt) and the Würzburg Monteverdi Chorus. His experiences in the aesthetics of the organ in every stylistic era have made him a welcome artistic consultant for organ restorations and new instruments.

Booklet for Von der Schönheit des Scheiterns - Ludwig van Beethoven zum 250. Geburtstag