---
Album info
Album including Album cover Booklet (PDF)
Claudio Ambrosini (b. 1948): At the Murazzi, Ancient Sea Fortifications:

1

Ambrosini: At the Murazzi, Ancient Sea Fortifications

00:20

Giovanni Girolamo Kapsberger (1580 - 1651): [Untitled] (I):

2

Kapsberger: [Untitled] (I)

01:03

Claudio Ambrosini: Tastata:

3

Ambrosini: Tastata

01:04

Giovanni Girolamo Kapsberger: Corrente:

4

Kapsberger: Corrente

01:39

Claudio Ambrosini: Tastata riflessa:

5

Ambrosini: Tastata riflessa

01:39

Steps Into the Flood (Aquagranda 2019):

6

Ambrosini: Steps Into the Flood (Aquagranda 2019)

00:26

Giovanni Girolamo Kapsberger: Toccata I:

7

Kapsberger: Toccata I

03:01

Claudio Ambrosini: Toccata:

8

Ambrosini: Toccata

03:03

Giovanni Girolamo Kapsberger: Gagliarda:

9

Kapsberger: Gagliarda

01:50

Claudio Ambrosini: Aria:

10

Ambrosini: Aria

04:07

Gondolas Moored at the Biennale Gardens:

11

Ambrosini: Gondolas Moored at the Biennale Gardens

00:40

Giovanni Girolamo Kapsberger: [Untitled] (II):

12

Kapsberger: [Untitled] (II)

01:43

Claudio Ambrosini: Canzone:

13

Ambrosini: Canzone

02:15

Giovanni Girolamo Kapsberger: Ricerchata:

14

Kapsberger: Ricerchata

02:34

Claudio Ambrosini: Canzone in eco:

15

Ambrosini: Canzone in eco

01:15

Moored Cruise Ships:

16

Ambrosini: Moored Cruise Ships

00:38

Giovanni Girolamo Kapsberger: Aria Veneziana:

17

Kapsberger: Aria Veneziana

01:59

Claudio Ambrosini: Sarabanda:

18

Ambrosini: Sarabanda

02:33

Giovanni Girolamo Kapsberger: Battaglia:

19

Kapsberger: Battaglia

04:03

Claudio Ambrosini: Ciaccona:

20

Ambrosini: Ciaccona

07:36

High Tide in St. Mark's Square, Bells and Chorus of Seagulls:

21

Ambrosini: High Tide in St. Mark's Square, Bells and Chorus of Seagulls

00:43

Giovanni Girolamo Kapsberger: Toccata II:

22

Kapsberger: Toccata II

02:43

Claudio Ambrosini: Ricercare:

23

Ambrosini: Ricercare

01:26

Giovanni Girolamo Kapsberger: Romanesche:

24

Kapsberger: Romanesche

04:19

Claudio Ambrosini: Children at the Frari (Tomb of Monteverdi):

25

Ambrosini: Children at the Frari (Tomb of Monteverdi)

00:22

Arpeggiata:

26

Ambrosini: Arpeggiata

06:03

Total Runtime

59:04
Info for Claudio Ambrosini - Kapsberger, Secret Pages

"Io, Kapsberger nato in Venetia...". "I, Kapsberger, born in Venice..." Works by the famous theorbo virtuoso Kapsberger have often been recorded, but little space has so far been given to repertoire drawn directly from manuscript sources. Kapsberger maintained a privileged relationship with his city of birth throughout his life. The Venice of Willaert, Gabrieli and Monteverdi, however, is not just a magnificent past: it is still alive today and continues its musical tradition in the so-called Second Venetian School of Malipiero, Maderna, Nono and whose most recent protagonist is Claudio Ambrosini (1948-), winner of the Prix de Rome and the Leone d'Oro at the Venice Biennale, whose works have already been recorded, among others, on the Kairos and Stradivarius labels. Kapsberger, Segret Pages reveals an astonishing instrumental challenge between lesser-known works by Kapsberger in which we admire ideas and creative intuition, and Ambrosini's unpublished works, which contain equal amount of creativity and unexpected possibilities for the instrument. Stefano Maiorana is a Kapsberger specialist who has already published a critically acclaimed monograph on the composer; Entre dos almas, his recent album for baroque guitar, has been equally successful.
Stefano Maiorana, theorbe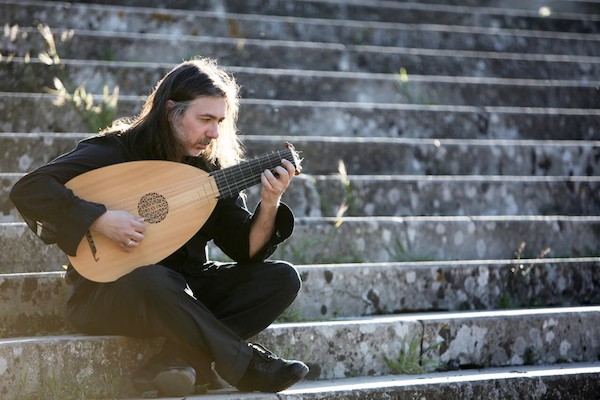 Stefano Maiorana
earned a Diploma in Classical Guitar at the Conservatorio S. Cecilia in Rome. Continuing his studies at Conservatorio S. Cecilia, he obtained a Level II Degree with honours in Classical Guitar, specialising in performance and composition with Bruno Battisti D'Amario, and a Level II Degree with honours and special commendation in lute and early plucked-string instruments with Andrea Damiani. He has followed guitar specialisation courses at the Accademia Chigiana under Oscar Ghiglia, and further advanced courses in early music at Fima, Urbino under Paul O'Dette. He graduated in 'Architecture and Construction Techniques' at the Prima Facoltà di Architettura de La Sapienza.
He has performed in Italy, Germany, France, Spain, Swiss, Poland, Russia, Sweden, Norway, Australia and Mongolia, as soloist and basso continuo player for festivals or concert seasons (Hochschule für Künste in Bremen during the International Lute Festival, at the Italian Institute of culture in Oslo and at the Italian Institute of culture in Stockholm, the Auditorium Parco della Musica and Teatro Olimpico in Rome, the Romea Theatre in Murcia, the Maison de l'Italie – Cité internationale universitaire in Paris, the Groteska Theatre in Krakow, in the Festivals Roma Barocco, Materia Prima, Platonov Arts, Barocco di Viterbo, Antiqua, Düsseldorf Festival, Early Music Festival, Emufest, Nuova Consonanza, Tuscia and Roma Tre University, Accademia Filarmonica Romana, etc.). In 2017 he was invited as soloist by the Australian Brandenburg Orchestra to perform in the "Spanish Baroque" tour in Australia (Sydney City Recital Hall, Melbourne Recital Hall and Queensland Performing Arts Center).
He collaborated with Radio Vaticana to set up a music programme dedicated to the development of music from the Baroque period to the 20th century; he recorded pieces for the Radio Vaticana programme "Diapason", in which he appeared as both guest and performer. He was co-author of the article "Three Characters between Music and Architecture in the Renaissance: Donadio, Giorgi and Palladio", published in "Music and Architecture", ed. Nuova Cultura.
His debut CD "Intavolatura" (Fra Bernardo label) with music by Kapsberger for solo theorbo received enthusiastic reviews by European, Canadian and American magazines (Early Music America, Scherzo, Le Devoir, American Record Guide, Lute News, Gitarr och Luta…).
He has worked both for theatre and cinema and curated sound installation for art exhibitions. He has held seminars and conferences relating to various aspects of early music practice at institutions for High Musical Education.
He is professor of Lute Performance at the Istituto Superiore di Studi Musicali Briccialdi in Terni.

Booklet for Claudio Ambrosini - Kapsberger, Secret Pages