---
Schubert: Piano Sonata in B-Flat Major, D. 960 & 4 Impromptus, D. 935 Stefan Stroissnig
Album info
Album including Album cover Booklet (PDF)
Franz Schubert (1797 - 1828): Piano Sonata No. 21 in B-Flat Major, Op. Posth., D. 960:

1

Piano Sonata No. 21 in B-Flat Major, Op. Posth., D. 960: I. Molto moderato

19:52

2

Piano Sonata No. 21 in B-Flat Major, Op. Posth., D. 960: II. Andante sostenuto

11:19

3

Piano Sonata No. 21 in B-Flat Major, Op. Posth., D. 960: III. Scherzo. Allegro vivace con delicatezza

03:46

4

Piano Sonata No. 21 in B-Flat Major, Op. Posth., D. 960: IV. Allegro ma non troppo

08:18

4 Impromptus, Op. 142, D. 935:

5

4 Impromptus, Op. 142, D. 935 (Excerpts): No. 2 in A-Flat Major

07:41

6

4 Impromptus, Op. 142, D. 935 (Excerpts): No. 3 in B-Flat Major

11:15

Total Runtime

01:02:11
Info for Schubert: Piano Sonata in B-Flat Major, D. 960 & 4 Impromptus, D. 935

Schubert's last piano sonata has been a part of my concert tours throughout the world, and his music in general is a focus of my musical life. Already for my first solo CD in 2008, I recorded the first volume of the Impromptus. A while ago, I started contemplating a re- cording of the Sonata in B-flat Major, D 960 – and im- mediately had doubts about this idea. Is it even pos- sible to record this sonata, this cosmos; or, in other words, is it possible to capture the atmosphere of this work on a CD at all, so that it is conveyed to the listener? Consequently, I dismissed the idea of this project. However, after a while of not performing it, I programmed it again within a recital, and of course questioned again whether a recording would make sense. Then I remembered that my own first impres- sion of this piece was through a recording, that of Ra- du Lupu from 1991. Already within the first few bars, I was drawn into the depth of this piece, and it became very close to my heart. I also understood, however, that listeners have to be open to immerse themselves into the atmosphere and sound world of the music. ...
Stefan Stroissnig, piano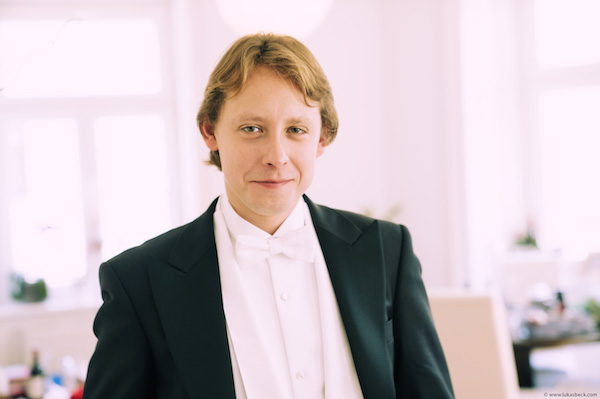 Stefan Stroissnig
Austrian pianist Stefan Stroissnig was born in 1985 and studied in his hometown Vienna with Oleg Maisenberg at the University of Music and Performing Arts, and at the Royal College of Music in London with Ian Jones. Furthermore, he was artistically influenced by renowned pianists like Daniel Barenboim or Dmitri Bashkirov.
Mr Stroissnig performs regularly on all continents, and at important festivals and venues such as the Royal Festival Hall in London, the Musikverein and Konzerthaus in Vienna, or the Philharmonie in Berlin. During a South American tour, his debut concert at Teatro Colón in Buenos Aires (with Beethoven's "Emperor" Concerto, accompanied by the Klangverwaltung Munich and Enoch zu Guttenberg) was named "discovery of the year" by the association of Argentinian music critics. He has gained special recognition for his performances of music by Franz Schubert as well as works from the 20th and 21st centuries: He was the soloist in Messiaen's monumental Turangalia Symphony at the Royal Festival Hall in London, and he has performed works by Friedrich Cerha, Claude Vivier, Johannes Maria Staud, Morton Feldman, Ernst Krenek and Peter Androsch as well as the piano concertos by John Cage and Pascal Dusapin, to name a few.
Chamber music plays an important role in Mr Stroissnig's musical activities, leading to collaborations with artists like Heinrich Schiff, Nobuko Imai, Pa- tricia Kopatchinskaja, Christian Poltéra, Rainer Küchl, Viviane Hagner, Michael Collins, Tatjana Masurenko, Alois Posch, Gábor Boldoczki, Sharon Kam or the Auryn-Quartett and the Küchl-Quartett.
He has been invited to festivals including the Salzburg Festival, Carinthian Summer, the Musiksommer Grafenegg, Piano Festival Ruhr, Rheingau Festival, Musiktage Mondsee and the Davos Festival. He was a guest member of the Wien-Berlin Chamber Orchestra during its European tour with tenor Jonas Kaufmann.
Besides his concert activities, Mr Stroissnig teaches at the Kunstuniversität Graz and was a guest professor at the Toho Orchestra Academy in Toyama (Japan). For his contributions to the international music world, he has been nominated for the Credit Suisse Award by the Vienna Philharmonic Orchestra.

Booklet for Schubert: Piano Sonata in B-Flat Major, D. 960 & 4 Impromptus, D. 935