---
Album info
Album including Album cover Booklet (PDF)
Sergei Prokofiev (1891 - 1953): Violin Concerto No. 1 in D Major, Op. 19:

1

I. Andantino

09:31

2

II. Scherzo. Vivacissimo

04:00

3

III. Moderato - Allegro Moderato

08:25

Violin Concerto No. 2 in G Minor, Op. 63:

4

I. Allegro Moderato

11:27

5

II. Andante assai - Allegretto

10:10

6

III. Allegro, ben Marcato

06:31

Total Runtime

50:04
Info for Sergei Prokofiev: Violin Concertos

Sergei Prokofiev's two Violin Concertos mark the beginning and the end of his exile: his early, challenging neoclassicism and the artistic route from his "nomadic life" in exile back to his home country. Ever since her career as a promising star of the GDR, Franziska Pietsch has felt at home in the music of this Russian composer, making her an ideal interpreter of Prokofiev's virtuosic and multifaceted idiom.
Franziska Pietsch now presents an album featuring both Violin Concertos of the Russian composer, Alongside Cristian Măcelaru and the Deutsches SymphonieOrchester Berlin she presents a thrilling new recording. The two violin concertos represent two phases in, and two sides of, Prokofiev's life and work. The first was written during an era of early successes, stylistically and temporally close to his Symphonie classique, but not premiered until he was in exile. The second mirrors the itinerant existence of his life as a musician in exile, but also his longing to return to Russia. Franziska Pietsch, the "Anne-Sophie Mutter of East Germany" (W. Dulisch) From promising star of the GDR with a burgeoning solo career to boycott, via a new beginning, chamber music and leading orchestras, back to being a soloist and enriched by a transformed understanding of her own role: with this recording of the Prokofiev Violin Concertos, Franziska Pietsch has come full circle. Thanks to her intensive engagement with chamber music and her experience as a concertmaster, Franziska Pietsch's performances as a soloist are not only world-class, but also characterised by an exceptional sense of chamber-like intimacy.
Franziska Pietsch, violin
Deutsches Symphonie-Orchester Berlin
Cristian Măcelaru, conductor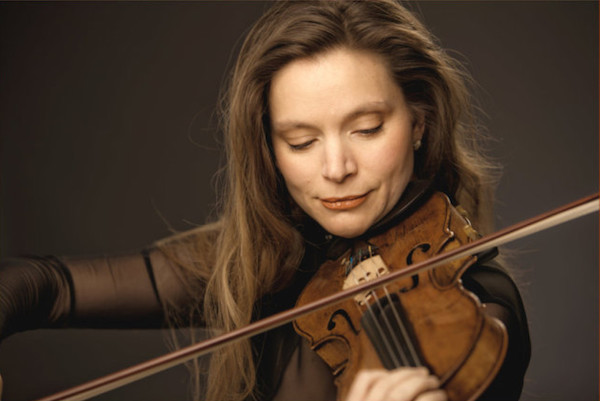 Franziska Pietsch
was raised in the atmosphere of a musicians' household in East-Berlin. As an eleven-year old girl, she had her debut at the Komische Oper in Berlin and performed as a soloist with renowned orchestras of the former DDR. She began her studies as a junior student at the University for Music Hanns Eisler in East-Berlin with Prof. W. Scholz. In Eastern Germany, she was seen as an extraordinary talent and enjoyed special support from the state up until her Father's escape to West Germany in 1984. Two difficult years with reprisals by the regime followed. She was able to emigrate to West Germany with her mother and younger sister in 1986 when she was 16.
Her studies continued with Prof. Ulf Hoelscher, Prof. Jens Ellermann and Dorothy Delay at the Julliard School New York. She got important and fruitful impulses from master classes with well-known personalities such as W. Wilkomirska, R. Ricci, H. Krebbers, and Z. Bron.
Franziska Pietsch is a first prize winner of the Bach-Competition for children and adolescents in Leipzig (1982) and the Concours Maria Canals in Barcelona (1989). She received awards like the Parke-Davis scholarship (1987) as well as the award of the Brahms Gesellschaft Baden-Baden (1989). She was a scholarship holder of the German Music Council in 1990.
Her internationally successful concert activities lead her to different countries in Europe, to America and Asia. She performed with conductors like Antoni Wit, Arpad Joo, Moshe Atzmon, Julia Jones, Toshiyuki Kamioka, and George Hanson. As a concert master, she was invited to perform at numerous music festivals.She was the first concert master of the symphonic orchestra of Wuppertal in the years 1998 to 2002, and Deuxième concert master at the Orchestre Philharmonique du Luxembourg. Regular invitations as concert master lead her to Düsseldorf Opera, Frankfurt Opera, WDR Köln and Solistes Europèens Luxembourg.
However, she is particularly interested in chamber music. She is a welcome guest at chamber music festivals (Schleswig Holstein Festival, Aspen music Festival). Her chamber music partners are, amongst others, Maki Hayashida, Detlev Eisinger, Thomas Duis, Andra Darzins, Hariolf Schlichtig, and Martin Spangenberg. She founded Trio Testore in 2000 together with the pianist Hyun Jung Kim-Schweiker and the cellist Hans-Christian Schweiker. She was a part of the Trio until 2015. Besides vigorous concert activity, the Trio created the chamber music festival "Mai-Klassik" to commemorate the Trio's ten-year anniversary.
The complete recording of all Brahms trios (2013) and another recording with works by Rachmaninov and Tschaikowsky (2014) were released on the label Audite. The latter was nominated for the International Classic Music Award 2015. Together with the violist Sophia Reuter and the cellist Johannes Krebs, the Trio Lirico was founded in 2014. Their intense collaboration with the label Audite led to further successful CD productions. Together with the pianist Detlev Eisinger, all sonatas by E. Grieg were released in 2015, while the sonatas and Five Melodies by S. Prokofiev were released in 2016.

Booklet for Sergei Prokofiev: Violin Concertos