---
Piano Recital: Brahms, Liszt-Schubert, Prokofiev Sergey Tanin
Album info
Album including Album cover
Johannes Brahms (1833 - 1897): Piano Sonata No. 1 in C Major, Op. 1:

1

Brahms: Piano Sonata No. 1 in C Major, Op. 1: I. Allegro

11:18

2

Brahms: Piano Sonata No. 1 in C Major, Op. 1: II. Andante

04:51

3

Brahms: Piano Sonata No. 1 in C Major, Op. 1: III. Scherzo. Allegro molto e con fuoco

05:39

4

Brahms: Piano Sonata No. 1 in C Major, Op. 1: IV. Finale. Allegro con fuoco

06:34

Franz Liszt (1811 - 1886):

5

Liszt: Schwanengesang, No. 13: Die Taubenpost (After Schubert), S. 560/13

04:47

6

Liszt: Zwölf Lieder von Franz Schubert, No. 8: Gretchen am Spinnrad, S.558/8

03:44

7

Liszt: Schwanengesang, No. 3: Aufenthalt (After Schubert), S. 560/3

03:17

8

Liszt: Zwölf Lieder von Franz Schubert, No. 9: Morgenständchen, S.558/9

02:47

9

Liszt: Schwanengesang, No. 12: Der Doppelgänger (After Schubert), S. 560/12

03:47

10

Liszt: Zwölf Lieder von Franz Schubert, No. 1: Sei mir gegruesst, S. 558/1

04:23

Sergei Prokofiev (1891 - 1953): 10 Piano Pieces, Op. 12:

11

Prokofiev: 10 Piano Pieces, Op. 12: I. March

01:34

12

Prokofiev: 10 Piano Pieces, Op. 12: II. Gavotte

02:41

13

Prokofiev: 10 Piano Pieces, Op. 12: III. Rigaudon

01:17

14

Prokofiev: 10 Piano Pieces, Op. 12: IV. Mazurka

01:29

15

Prokofiev: 10 Piano Pieces, Op. 12: V. Capriccio

03:10

16

Prokofiev: 10 Piano Pieces, Op. 12: VI. Legenda

02:51

17

Prokofiev: 10 Piano Pieces, Op. 12: VII. Prelude

02:14

18

Prokofiev: 10 Piano Pieces, Op. 12: VII. Allemande

03:08

19

Prokofiev: 10 Piano Pieces, Op. 12: IX. Humorous Scherzo

02:40

20

Prokofiev: 10 Piano Pieces, Op. 12: X. Scherzo

02:31

Total Runtime

01:14:42
Info for Piano Recital: Brahms, Liszt-Schubert, Prokofiev

He is already being compared to Daniil Trifonov: the young Siberian pianist Sergey Tanin. Without question - the musician is already one of the most promising pianists of his generation. He gained his first international recognition at the Géza Anda Competition in Zurich, 2018 (3rd prize and audience award). In October 2020, he won first prize at the renowned Kissinger KlavierOlymp. Now he presents his debut album on Prospero Classical. With works by Johannes Brahms, Schubert-Liszt and Sergei Prokofiev, he can impressively demonstrate both his interpretational depth and his musicality and virtuosity.
Sergey Tanin, piano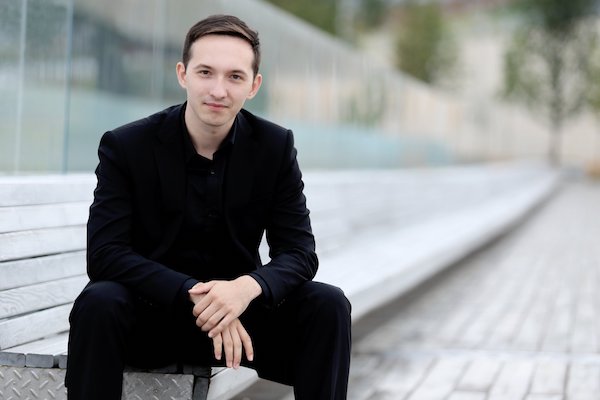 Sergey Tanin
already ranks among the most promising pianists of his generation. He gained international recognition at the Géza Anda Competition in Zurich, 2018 (3rd Prize and Audience Award). In October 2020, he won the First Prize at the prestigious Kissinger KlavierOlymp.
Born in 1995 in Siberia/Yakutia, Sergey Tanin started to play the piano at the age of 5. At 11, he already performed with the Moscow Symphony Orchestra in the Great Hall of the Tchaikovsky Conservatory in Moscow. After his graduation in 2019 from Moscow Conservatory (class of prof. Irina Plotnikova), Sergey continued to study at Basel Musik Academie with Claudio Martinez-Mehner. He is holder of the Swiss Government Excellence Scholarship and in 2020, the Swiss Television (SRF) released a documentary about Sergey – "The Pianist Who Came In From the Cold".
As a soloist, he performed with leading symphony orchestras, including the Tonhalle-Orchestra Zürich under Christian Zacharias, the Musikkollegium Winterthur under Theodor Guschlbauer, the Bremen Philharmonic under Adrian Prabava, the Mariinsky Symphony Orchestra, the Prague Philharmonic, the Vogtland Philharmony, the National Symphony Orchestra of Ukraine and the Russian National Youth Orchestra. Sergey has given recitals in renowned Russian concert halls, such as the Great Hall of the Tchaikovsky Conservatory, the Moscow International House of Music, the Great Hall of the St. Petersburg Philharmonic and the Mariinsky Concert Hall. Sergey has been the guest of many international festivals, such as the Musical Olympus in St. Peterburg, Musikdorf Ernen, Samos Festival or the Swiss Alps Classics and his performances brought him to several countries, among these to the Czech Republic, Germany, Greece, Italy, Spain, Finland, France, Switzerland, Kazakhstan and Ukraine. In 2021, Sergey will perform e.g. at the Beethovenfest Bonn, the Kissinger Sommer (with the Bamberger Symphoniker under Jakub Hrůša) or the Cervo Music Festival.

This album contains no booklet.