---
Album info
Album including Album cover
John Williams (b. 1932):

1

Overture (From "The Cowboys")

09:30

2

End Credits (From "Indiana Jones and the Temple of Doom")

06:24

3

Main Theme (From "Jurassic Park")

06:16

4

The Flight to Neverland (From "Hook")

04:42

5

The Chamber of Secrets (From "Harry Potter and the Chamber of Secrets ")

03:54

6

Fawkes the Phoenix (From "Harry Potter and the Chamber of Secrets")

03:59

7

Witches, Wands and Wizards (From "Harry Potter and the Prisoner of Azkaban")

04:39

8

The Duel (From "The Adventures of Tintin. The Secret of the Unicorn")

03:05

9

March (From "Superman")

04:32

10

Star Wars - The Force Awakens (Suite for Orchestra): I. March of the Resistance

02:39

11

Star Wars - The Force Awakens (Suite for Orchestra): II. Rey's Theme

03:09

12

Star Wars - The Force Awakens (Suite for Orchestra): III. Scherzo for X-Wings

02:20

13

Star Wars - The Force Awakens (Suite for Orchestra): IV. The Jedi Steps & Finale

09:28

14

Theme (From "JFK")

05:17

15

Escapades (From "Catch Me If You Can") For Alto Saxophone & Orchestra: I. Closing in

02:54

16

Escapades (From "Catch Me If You Can") For Alto Saxophone & Orchestra: II. Reflections

05:58

17

Escapades (From "Catch Me If You Can") For Alto Saxophone & Orchestra: III. Joy Ride

05:09

18

Main Theme (From "Born on the Fourth of July")

06:38

19

Viktor's Tale (From "The Terminal") For Solo Clarinet & Orchestra

04:09

20

Opening Credits (From "The Adventures of Tintin. The secret of the unicorn")

03:02

21

Nimbus 2000 (From "Harry Potter and the Sorcerer's Stone")

02:17

Total Runtime

01:40:01
Info for Spotlight On John Williams

The City Light Symphony Orchestra, founded in Lucerne in 2018, presents its debut album with the 100-minute program "Spotlight on John Williams". For the project acclaimed soloists such as Valentine Michaud, Reinhold Friedrich and Paul Meyer could be assigned. Together with the 90 musicians of the City Light Symphony Orchestra and the up-and-coming conductor Kevin Griffiths, they recorded a selection of film music masterpieces by Hollywood icon John Williams in the concert hall of the KKL Luzern in September 2020 – with a deliberate focus on his great stylistic diversity.
Recording sessions in the concert hall of the KKL Luzern with its world-class acoustics
For conductor Kevin Griffiths, the recording sessions for this album marked "one of the most incisive events in the young history" of the City Light Symphony Orchestra. After a seven-month lockdown break, he spent ten days working more intensively with the reunited musicians than ever before. The result is the album "Spotlight on John Williams" – a dream project of the orchestra and its manager Pirmin Zängerle. He saw the opportunity to collaborate with several renowned soloists for this project during the time without concerts due to the pandemic. In addition, the concert hall of the KKL Luzern with its outstanding acoustics could be booked for recordings over the course of several days. Zängerle: "The fact that the musicians' were not fully booked certainly helped to engage so many renowned soloists such as Valentine Michaud, Reinhold Friedrich and Paul Meyer. No one wishes more fervently for a live audience back than these musicians, meanwhile recording music provided a welcome opportunity to create a production of the highest professional standard."
Reinhold Friedrich, trumpet
Valentine Michaud, saxophone
City Light Symphony OrchestraKevin Griffiths, conductor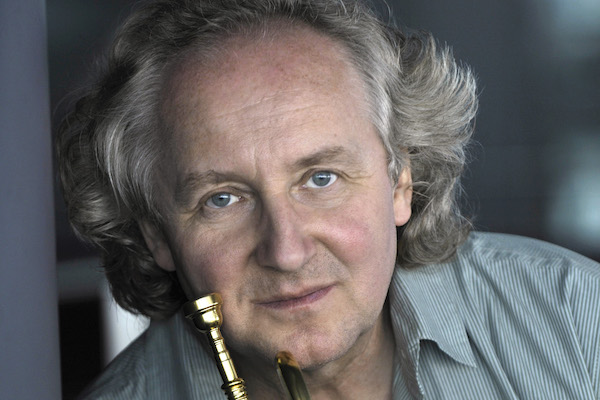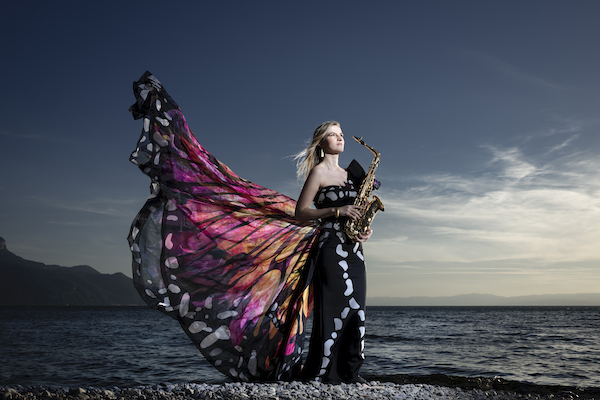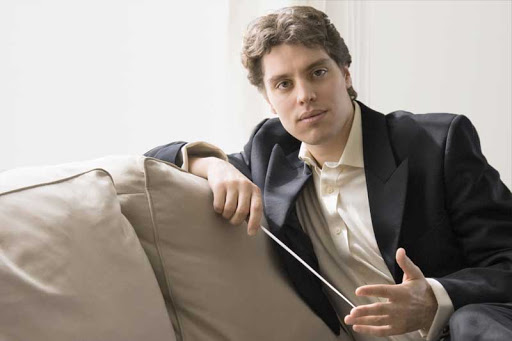 Reinhold Friedrich
Born in Weingarten / Baden, Reinhold Friedrich has been a guest of all major stages around the world since his success at the ARD International Music Competition in 1986. Strongly influenced by his teachers Edward H. Tarr (Schola Cantorum Basiliensis, Basel) and Pierre Thibaud (Conservatoire Superieure de Musique Paris). He has always considered that old and new music belong together. The re-discovery of forgotten works of the Romantic period and the classical modern era lie particularly close to his heart, as does his interest in avantgarde music.
He gave his debut performance at the Berliner Festwochen with "Sequenza X" by Luciano Berio. This was followed by his first appearance as a soloist at the Musikverein in Vienna with the Vienna Academy under Martin Haselböck, playing the trumpet concerto by Joseph Haydn on the historic keyed trumpet. His involvement with historical performance practice has brought him together with a variety of orchestras such as the Orchestre des Champs-Elysees, La Stagione Frankfurt, Kammerorchester Basel, L'arte del mondo, Concerto Melante, the Berliner Barock Solisten as well as the Cappella Andrea Barca under Sir András Schiff. The focus of this collaboration was often on the 2nd Brandenburg Concerto by J.S. Bach, whose rendering is near and dear to Friedrich.
As part of his engagement with contemporary compositions, Reinhold Friedrich premiered a large number of significant works. This includes pieces by Wolfgang Rihm, Carola Bauckholt, Luciano Berio, Edison Denissov, Peter Eötvös, Hans Werner Henze, Adriana Hölszky, Nicolaus A. Huber, Luca Lombardi, Benedict Mason, Sir Peter Maxwell Davis, Hilda Parèdes, Matthias Pintscher, Jan Rääts, Rebecca Saunders, Nina Šenk, Enjott Schneider, Daniel Schnyder, Gerhard Stäbler, Eino Tamberg, Caspar Johannes Walter, Christian Wolff, and Benjamin Yusopov. Solo concerts such as "Eirene" by Herbert Willi (Wergo) and "Nobody knows de trouble I see" by Bernd Alois Zimmermann, whose CD recording won an ECHO Klassik in 1994, form an important part of his broad repertoire.
As a soloist, Reinhold Friedrich performed with ensembles such as the Bamberger and Wiener Symphoniker, the Staatsoper Berlin and Stuttgart, the Orchestre Philharmonique de Radio France, the Frankfurt Museum Orchester, the Royal Concertgebouw Orchestra, the BBC Symphony Orchestra, the Czech Philharmonic Orchestra Prague, the orchestra of the Teatro Colon, Buenos Aires and all German radio symphony orchestras; conducted amongst others by Semyon Bychkov, Dennis Russell Davies, Peter Eötvös, Vladimir Fedevichev, Adam Fischer, Michael Gielen, Philippe Herreweghe, Christopher Hogwood, Manfred Honeck, Eliahu Inbal, Krystjan and Neeme Järvi, Dmitri Kitaenko, Sir Neville Marriner, Ingo Metzmacher, Andris Nelsons, Jonathan Nott, Kazushi Ono, Matthias Pintscher, Trevor Pinnock, Stanislav Skrowaczewski, and Hans Zender.
From 1983 to 1999 Reinhold Friedrich held the position of solo trumpeter at the Radio Sinfonieorchester Frankfurt. In 2003, Claudio Abbado appointed him permanent solo trumpeter of the Lucerne Festival Orchestra, which has been conducted by Riccardo Chailly since 2017. Furthermore, Reinhold Friedrich is the Artistic Director of the Lucerne Festival Orchestra Brass Ensemble. Present chamber music partners of Reinhold Friedrich are Thomas Duis, Bernd Glemser, and Eriko Takezawa (piano), Robyn Schulkowsky (percussion), Iveta Apkalna, Sebastian Küchler-Blessing, Martin Lücker, and Christian Schmitt (organ).
Reinhold Friedrich is a professor of trumpet at Karlsruhe University of Music, a sought-after lecturer for master classes, and honorary professor at the Royal Academy of Music in London, Escuela Superior de Musica REINA SOFIA in Madrid, and as well as in Hiroshima / Japan. His former students are winners in almost all major international competitions and hold leading positions or professorships throughout Europe, Tokyo, Tel Aviv, Moscow, and Rio de Janeiro.
Reinhold Friedrich was awarded another ECHO Klassik for the recording of the "Russian Trumpet Concerts" (MDG) with Göttinger Symphony Orchestra conducted by Christoph-Mathias Mueller. Numerous other CD recordings document his multifaceted work, including the first recording of the trumpet concerto "Pieta" by Christian Jost (Coviello) and the recording of the second Brandenburg Concerto (Sony) with the Berlin Baroque Soloists under Reinhard Goebel, which won the OPUS Classical price of 2018. A recording of Stravinsky's L'histoire du Soldat (with Isabelle Faust) at the Wigmore Hall London is in the planning stage.
Upcoming concerts will lead him to the Elbphilharmonie (concert by Bernd Alois Zimmermann), to the Osaka Century Symphony Orchestra, and the Hiroshima Symphony Orchestra (concert by Toshio Hosokawa), to Siberia (UA "Spirit of Siberia" by Enjott Schneider), to the National Orchestra Yerevan (concert by Ilya Chakov), to Australia with Wolfgang Rihm's trumpet concert "Marsyas" and to the Lucerne Academy Orchestra under the direction of George Benjamin, with Nuria Rial to the Handel Festival in Halle and with the Berliner Barock Solisten under Reinhold Goebel to Lutry and Versailles. He will also be performing in Katowice, Warsaw, Wroclaw, Geneva, Groningen, Hamburg, Bremen, Freiburg, Dusseldorf, Nuremberg, Lyon, Armenia, Korea and Taiwan.
Valentine Michaud
Valentine Michaud is a saxophonist who was born in France in 1993 and has lived in Switzerland since 2010. Her repertoire encompasses a wide range of styles, including contemporary works, baroque and classical transcriptions, and improvisation, all of which she performs with passion. Aiming to bring her instrument to a wider audience, promoting its largely unknown repertoire, and helping to create new works in innovative formats are some of her key values as an artist, along with enthusiasm and curiosity for exploring different horizons. Valentine has been awarded numerous prizes at international competitions. In 2020, she is chosen as the winner of the Credit Suisse Young Artist Award, which allows her to make her debut with the Vienna Philarmonic under the baton of Gustavo Dudamel at the Lucerne Festival. In 2016, she won the first prize at the Jurjans Andrejs VI Woodwind International Competition in Riga (Latvia) and the Prix Credit Suisse at Lucerne Festival, while her duo Akmi with pianist Akvilé Sileikaité received the Swiss Ambassador Award 2019, as well as the first prize at the renowned Orpheus Swiss Chamber Music Competition 2016 and as 2nd Prize at the Salieri-Zinetti International Chamber Music Competition (Verona) in 2018. Since 2015, she has been supported by prestigious Swiss grants such as the Leenaards foundation cultural grant and Migros' Pour-Cent Culturel, which saw her added to their concert management programme in 2016.
Valentine Michaud is a Henri Selmer Paris endorser artist. Concerts and projects around the world…
A passionate believer in the richness of collaborations between different artistic forms, Valentine is one of the founding members of WAITING FOR AMON, a trilogy of multidisciplinary performances. GLITCH, the first show, is a spectacle performed by a painter, two dancers, two saxophonists and live electronic effects, premiered at the Theater der Künste in Zurich in 2016. In 2017 followed CAIRNS, for one performer and saxophone quartet. SHOUT, the last part of the trilogy, for saxophone solo and performer, iwas premiered in march 2018 in Zürich. The triptych was awarded by the Nico Kaufmann Foundation (Zürich) in 2018.
Willing to renew the repertoire of her instrument, Valentine collaborates with composers of her generation and premier their works in new music festivals such as Impuls in Graz (Austria) or Zürich Internation SaxFest. Member of the Ever Present Orchestra, she currently works with the american composer Alvin Lucier.
She performs regularly as a soloist, in chamber music groups and in orchestras on some of the most prestigious stages in the world: KKL Luzern, Switzerland; Wigmore Hall, London; Grand Philarmonic Hall, St Petersburg; Issue Project Room, New York; Great Guild Hall, Riga; Gnessin Academy, Moscow; Wiener Konzerthaus, Vienna; Philharmonie Hall, Odessa; Esplanade, Singapore; Tonhalle, Zurich; Victoria Hall, Geneva … In 2016, she had the opportunity to perform with the Mariinsky Orchestra directed by Valery Gergiev and the Orchestre des Continents under Thierry Fischer. She is invited as a soloist by orchestras such as the Vienna Philarmonic, the State Cappella Symphony Orchestra, the Latvian National Symphony Orchestra, l'Ensemble Symphonique de Neuchâtel, le Junge Zürcher Harmoniker or la Philarmonie de Hradec Kralové.
Kevin Griffiths
London-born conductor Kevin Griffiths (1978) regularly conducts concerts with the following orchestras: Frankfurt hr-Radio Symphony Orchestra, Frankfurt Opera and Museum Orchestra, Tonhalle Orchestra Zurich, Robert Schumann Philharmonic, Basel Symphony Orchestra, Lucerne Symphony Orchestra, Orchestra della svizzera italiana, Sinfonietta Lausanne, Slovak Radio Symphony Orchestra, Berlin and Zurich Chamber Orchestras. He is also an annual guest at the Menuhin Festival Gstaad and the Vaduz-Classic Festival in Liechtenstein. From 2011 to 2018 he was Principal Conductor and Artistic Director of the Collegium Musicum Basel.
Recently, Kevin Griffiths has made several CD recordings with the Deutsche Staatsphilharmonie Rheinland-Pfalz and the Netherlands Symphony Orchestra, conducted the Orchestre National de Lille, the Transylvanian State Philharmonic and the South-Bohemian Philharmonic. He made his China debut with the Xi'an Symphony Orchestra and returned to the Musikkollegium Winterthur and the Camerata Zurich. Other engagements have taken him to the Badische Staatskapelle, Jenear Philharmonic, Meininger Hofkapelle, Philharmonic Orchestra Heidelberg, Orquesta Sinfonica de Navarra and the Hallé Orchestra Manchester.
As artistic director of the "Academy and Philharmonic Orchestra" of the Animato Foundation, which promotes young talented musicians, he conducted the tour in 2018 throughout Europe in cities such as Prague (Smetana hall), Budapest (Liszt Academy) and Vienna (Konzerthaus). The next tour will be in 2020.
Kevin Griffiths has directed opera productions including "L'heure espagnole" and "L'enfant et les sortileges" by Ravel, "Die Fledermaus" by Johann Strauss, "Hänsel & Gretel" by Humperdinck, "Don Giovanni" by Mozart, and "Don Pasquale" by Donizetti at the Opera House in Chemnitz.
His interest in historically informed performance is seen in his work with orchestras on original instruments, such as the Orchestra of the Age of Enlightenment in London or the Ensemble Musica Aeterna in Bratislava. The Mindener Tagblatt wrote about his concert with the Norwestdeutschen Philharmonie: " ... a sensational performance of Schumann 's 4th Symphony, which is a par of the exemplary recordings of Gardiner and Harnoncourt. "
Kevin Griffiths has contributed to the rediscovery of the romantic violin concertos of the Swiss composers Paul Juon and Hans Huber. He premiered both works and recorded them for the CD label Sony: "... the listener is always captivated by original ideas and rhythmic verve. The transparent sound makes an excellent impression" - klassikheute.de. He has recorded other rarities by Andreas Romberg, J. Wilhelm Hertel and Johann E. Brandl for the CD label CPO.
As co-founder and principal conductor of the London Steve Reich Ensemble, Kevin Griffiths has won international recognition for his commitment to contemporary music. For his debut CD he won the acclaimed Diapason d'Or award. His second highly praised recording with the ensemble was published in September 2011 by Warner Classics.
Kevin Griffiths regularly works with major soloists such as Sir James Galway, Pierre-Laurant Aimard, Vesselina Kasarova, Fazil Say, Isabelle van Keulen, Giuliano Carmignola, Sergei Nakariakov, Paul Lewis, Dmitry Sitkovetskzy, Michel Camilo, Royston Maldoom and members of the Berlin Philharmonic. He collaborated closely with the composers Steve Reich, Daniel Schnyder, Enjott Schneider, Lera Auerbach, Elena Firsova, Steven Mackey, Rodolphe Schacher and Oliver Waespi and premiered some of their works.
In the realm of film music Kevin Griffiths has established himself as a leading conductor accompanying the original live music to the motion picture on a large screen. Disney Studios Hollywood have accredited him as one of the few conductors for performances of this kind. In April 2018 he jumped in for Hollywood legend David Newman and directed ten Star Wars performances with the 21st Century Symphony Orchestra. Shortly thereafter, he conducted the world premiere of "The Hunger Games", the European premiere of "La La Land" and James Bond "Casino Royal" as part of "City Light Concerts". He has also performed Charlie Chaplin films and he conducted and recorded the music for a documentary film about the particle accelerator CERN in Geneva.
Kevin Griffiths studied violin with Igor Ozim and Giuliano Carmignola before he began his studies as a conductor with Colin Metters, Sir Colin Davies and Yan Pascal Tortelier at the Royal Academy of Music in London. He was then appointed Junior Fellow at the Royal Northern College of Music, Manchester and worked with Sir Mark Elder. He also received a scholarship to attend the Aspen Music Festival and School, USA, with David Zinman in 2004 and 2005.
In 2010 Kevin Griffiths won the 2nd prize at the International Conducting Competition "Sir Georg Solti "in Frankfurt/Main. In the same year, following an audition, he was chosen from a large pool of applicants as the "Melgaard Young Conductor" with the "Orchestra of the Age of Enlightenment", London. He assisted Vladimir Jurowski, Leonard Slatkin, Trevor Pinnock and Sir Simon Rattle.

This album contains no booklet.