---
Album info
Album including Album cover
I`m sorry!
Dear HIGHRESAUDIO Visitor,
due to territorial constraints and also different releases dates in each country you currently can`t purchase this album. We are updating our release dates twice a week. So, please feel free to check from time-to-time, if the album is available for your country.
We suggest, that you bookmark the album and use our Short List function.
Thank you for your understanding and patience.
Yours sincerely, HIGHRESAUDIO
1

Heaven Down Here

03:58

2

For The Love of It

03:55

3

Up One Side

02:41

4

Four Roses

03:01

5

Love Me When I'm Leaving

05:59

6

Neon Heart

03:27

7

Easy on the Eyes

03:35

8

Where The Lonely Go

03:31

9

Love is a River

03:17

10

Sugar Cane

02:56

11

Darkest Sky

03:02

12

For the Love of It (Encore Version) (Encore Version)

05:58

Total Runtime

45:20
Info for Heaven Down Here

Country supergroup Texas Hill have released their debut album, Heaven Down Here. Out now via Queue Records, it features five fresh songs, including "For the Love of It," as well as five songs from their earlier self-titled EP.
The trio comprises Craig Wayne Boyd, Adam Wakefield, and Casey James. All three had shot to fame on their respective television competition shows, with Boyd and Wakefield being members of Blake Shelton's teams on NBC's The Voice, while James was on the Simon Cowell era of FOX's American Idol. Although all three forged their solo careers in country music after, it wasn't until they got together in 2019 that they found and formed the rare, gorgeous, harmonic sound of a three-man group.
With its real-life-inspired lyricism and multi-genre stylistic influences – which melds soul, R&B, country, southern rock, and even some Memphis blues – Heaven Down Here encapsulates the true spirit of down-home music. Right from the get-go, listeners are treated to a perfect roll-your-windows-down country road trip tune with the title track. It boasts the trio's distinctive harmonies and vibrant guitar licks, making it an easy-listen and strong appeal to both country and non-country fans.
While the 14-track collection doesn't have a single filler, the indisputable standout is "For the Love of It." The inspirational song uplifts and reminds every dream-chaser to not give up on their passions no matter how hard the road is, as long as they're doing it "for the love of it." Though the message is weighty, its breezy mid-tempo production makes the song one worth celebrating life to. Texas Hill also performed the tune with the Opry house band at their Grand Ole Opry debut this on Saturday (Jan. 22), receiving a standing ovation after.
Texas Hill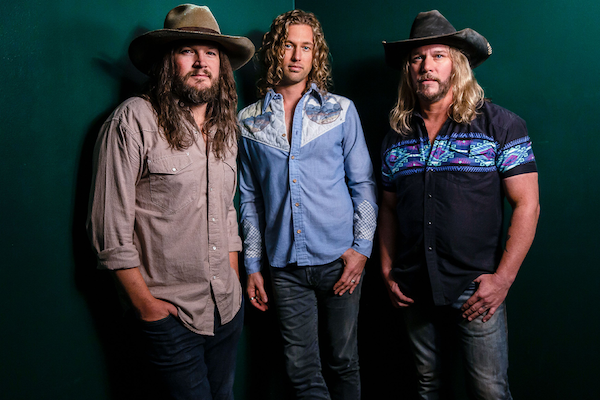 Texas Hill
s a gritty amalgam of overlapping tastes and distinct voices that meet in the middle as a bold harmonic trio.
Craig Wayne Boyd offers a voice full of gospel-tinged country smoke, Adam Wakefield blends a rootsy bluegrass-and-Americana rasp, and Casey James wraps it with a blue-eyed soul quality and deft blues guitar chops.
The result is a band that's both rock solid and highly adaptive. Texas Hill is instantly identifiable, thanks to its well-developed signature sound: a proud, in-your-face harmonic wall. But each of the three singers can, and does, take over the lead, inevitably pushing the group in his own unique direction while those harmonies allow the whole ensemble to hang on to its sonic center.
"When you hear Fleetwood Mac together, you know it's Fleetwood Mac," Wakefield says. "When you hear the Eagles singing, you know it's the Eagles. We have our own sound as a collective, and nothing shows that more than when we flip parts around and still sound the same. These three timbres together, regardless of what register they're in, they create their own sound."
"Everybody has strengths in different places, and that's what makes this so rewarding," James adds. "It's three lead singers, and we each can take the reins at different times. But we're also able to kick back and let somebody else take charge."
The Voice and American Idol worked in creating a fan base for all three. "When you go through something like that, the only people that can really relate to it are the ones who've also gone through it," Boyd notes. "The navigation is going to be just as hard as it ever was, but it's so much more rewarding when you're doing it as a group."
That connection helped forge Texas Hill. James and Boyd, who grew up 60 miles apart on the outskirts of the Dallas-Fort Worth metroplex, ran into one another at a 2019 event in Nashville and dove into conversation. As a direct result, Boyd invited James' family over the house for dinner, where they discovered their wives had attended middle school together in California. During the evening, James pulled a guitar off the wall and started jamming, and the music and harmonies flowed so freely that they decided to make it a regular occurrence.
Roughly a month later, Boyd brought Wakefield into the musical conversation, and when the three of them met up, Boyd introduced a song he'd just written. They fell into the chorus harmonies as if they'd been singing together for years, and it became the beginning of a new musical path. They still work their individual shows, but the trio format brought a comradery and a level of support that none of them had experienced on their own.
The trio cut about a dozen songs using members of Anderson East's road band, careening through a variety of textures and allowing the material to dictate who sings lead. Wakefield drives the Louisiana bayou stomper "Sugar Cane," Boyd stakes out a vulnerable space in the richly melodic "Neon Heart," and James approximates Delbert McClinton in the light scratch of "Love Me When I'm Leaving."
All three members of Texas Hill get their moments, but their collective harmonies are the glue, whether that's in the lockstep rollercoaster melody of "Easy On The Eyes" or in the stately and reassuring blend on "Darkest Sky," a hopeful effort with an always-timely focus on resilience.
The message in that last song – "There's somethin' 'bout those hard times that bring us all together" – is an embrace of cultural unity, but it applies to the music and the name of Texas Hill, too. Central Texas is a melting pot of vastly different musical styles. Bob Wills' western swing, a mix of jazz and country, has roots in the Texas Hill Country, and his music was a huge influence on Willie Nelson, whose blend of country, blues, gospel, jazz and pop is typical of the state's attitude.
Wakefield does not share his bandmates' geographical roots, but he grew up on Texas Hill Road in a rural part of New Hampshire, and a group he intended on forming with his now-late brother used Texas Hill as its moniker.
That same name is an apt title for a group that brings bedrock harmony to a juncture of multiple styles. Music fans in the playlist era are much less predictable than audiences of a previous time. They have the ability to mix, match, blend and reshuffle genres, and it's not uncommon to find listeners whose favorites include modern country, classic soul, arena rock and traditional pop all in the same mix. The three members of Texas Hill are spokes on a wheel, and the music finds its balance one song at a time through a natural friendship.

This album contains no booklet.