---
Album info
Album including Album cover
Anonymous: Piano Sonata in D Major:

1

Anonymous: Piano Sonata in D Major

03:49

Piano Sonata in F Major (1):

2

Anonymous: Piano Sonata in F Major (1)

01:27

Piano Sonata in G Major:

3

Anonymous: Piano Sonata in G Major

01:38

Piano Sonata in F Major (2):

4

Anonymous: Piano Sonata in F Major (2)

03:01

Marchia tempesta di mare for Piano:

5

Anonymous: Marchia tempesta di mare for Piano

04:51

Sinfonia in D Major:

6

Anonymous: Sinfonia in D Major

03:47

Piano Sonata in C Major (1):

7

Anonymous: Piano Sonata in C Major (1)

03:14

Sonata for Harpsichord & Organ (Arr. for Solo Piano):

8

Anonymous: Sonata for Harpsichord & Organ (Arr. for Solo Piano)

03:43

Grave for Organ in G Major (Arr. for Solo Piano):

9

Anonymous: Grave for Organ in G Major (Arr. for Solo Piano)

04:27

Suonata in D Major:

10

Anonymous: Suonata in D Major

02:18

Piano Sonata in C Major (D-di Mus. 2-t-28, 1):

11

Anonymous: Piano Sonata in C Major (D-di Mus. 2-t-28, 1): I. Allegro

02:31

12

Anonymous: Piano Sonata in C Major (D-di Mus. 2-t-28, 1): II. Andante

04:31

13

Anonymous: Piano Sonata in C Major (D-di Mus. 2-t-28, 1): III. Allegro

02:39

Piano Sonata in F Major (3):

14

Anonymous: Piano Sonata in F Major (3)

04:48

Sonata allegra di G.P. in C Major:

15

Anonymous: Sonata allegra di G.P. in C Major

02:59

Piano Sonata in C Major (2):

16

Anonymous: Piano Sonata in C Major (2)

02:50

Allegro assai con tutti li Registri for Piano in C Major:

17

Anonymous: Allegro assai con tutti li Registri for Piano in C Major

02:00

Piano Sonata in C Major (Sant Hs 4043):

18

Anonymous: Piano Sonata in C Major (Sant Hs 4043): I. Allegro

05:37

19

Anonymous: Piano Sonata in C Major (Sant Hs 4043): II. Adagio

04:05

20

Anonymous: Piano Sonata in C Major (Sant Hs 4043): III. Variazione

03:28

Total Runtime

01:07:43
Info for Classico in Laguna: Anonymous Sonatas from the Late XVIII Century

This new recording from Leonardo presents world premiere recordings of 18th-century Venetian sonatas. These anonymous compositions are performed here on the fortepiano by Marius Bartoccini.
The core of an album containing solely anonymous works lies in the centrality of the performer and in his connection with the writing. Bartoccini's playing presents light and refined melodic lines, delicate phrasing and a series of dynamic contrasts which not only identify what one might refer to as a kind of "Venetian classicism", but also make the fortepiano the most suitable for this performance.
Marius Bartoccini carries out an intense concert activity as a fortepianist, harpsichordist and pianist: he plays both as a soloist and in various baroque ensembles, collaborating with renowned conductors such as Sigiswald Kuijken and Federico Maria Sardelli. He performs on original instruments such as the Longman & Broderip fortepiano of 1789, Schantz of 1795 (the oldest known), F. Samisch of 1830, John Watlin of 1810, Schantz of 1828, Luigi Rasori of 1832 Johann Haselmann of 1810; on prestigious copies as well as on the instruments in its possession.
Marius Bartoccini, fortepiano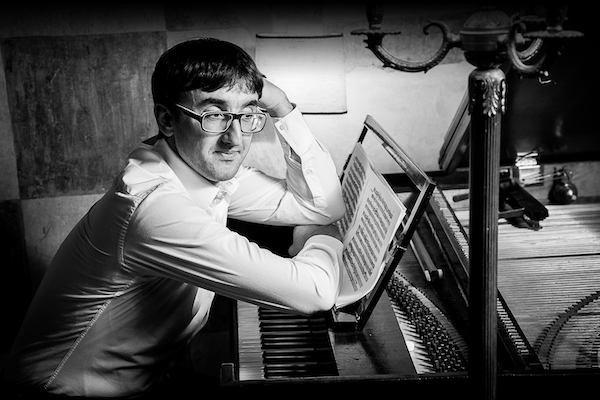 Marius Bartoccini
graduated from the "J. Tomadini" Conservatory of Music in Udine with a Bachelor's Degree in Piano with highest honors in the class of Prof. Maria Grazia Cabai and a Biennium Advanced Specialist Degree with highest honors and the recommendation of the publication of the thesis "The Evolution of Keyboard Chordophones, from Pythagorean Monochord to Modern Piano," and also graduated in Composition and Instrumentation for Wind Orchestra.
He won third prize in the first edition of the "City of Albenga fortepiano competition." He has achieved Masterclasses with renowned teachers in fortepiano with Stefania Neonato, Ilario Gregoletto and Leo Van Doesellar, in harpsichord, piano, choir conducting, orchestra conducting, composition, vocal chamber music and many others.
He has collaborated as a continuist in various choral, orchestral and chamber ensembles. As a fortepianist, harpsichordist, pianist and conductor he has participated in several concert seasons and renowned national and international festivals in Italy, Slovenia, Austria, Czech Rep. , Germany and Portugal for a total number of about 600 concerts.
In April 2018 he held a small tour in Portugal performing in the auditorium of the University of Evora in a harpsichord recital. He performed in April 2018, together with Patrizia Giliberti, at the prestigious Ducal Palace in Braganza for the "Temporada de Conciertos 2018" festival and for the "Artes à Rua" festival in August 2018.
He carries out an intense concert activity as a fortepianist and harpsichordist: he has played both as a soloist and in different baroque ensembles, collaborating with renowned conductors such as Sigiswald Kuijken and Federico Maria Sardelli. He has performed on original instruments such as the fortepiano, Schantz of 1795 (the first known of this maker), Longman&Broderip of 1786 that belonged to composer Bonifazio Asioli, J. Schantz of 1828 that belonged to Duchess Maria Luigi of Habsburg, John Watlin of 1808, Johann Haselmann of 1810 and on prestigious copies, as well as on instruments in his own possession. In fact, he owns a small private collection of fretted instruments with which he offers solo concerts, chamber music and recitals of singular historical interest, such as parallels between composers and/or coeval compositions, stylistic juxtapositions or geographical juxtapositions between coeval composers always with a meticulous analysis in which a historically reliable reading combined with an aesthetic result never dictated by immediate instinctiveness can emerge.
There is no shortage of teaching activity. He gave lectures on the tabletop fortepiano in the "World Day of Early Music (Malborghetto, 2017) intended for students of the Ljubljana Music Academy; at the University of Evora (Portugal, 2018) for piano, harpsichord and organ students.
He was also invited to the II International Conference on Organology entitled "The Piano in Italy" by presenting and playing his own fortepiano built by Luigi Rasori in Bologna in 1832.
Since 2017 he has been giving masterclasses in fortepiano and historical keyboards for the Institute of Early Music in Clauzetto (Pn). In 2018 he was invited by the University of Evora (Portugal) to give a masterclass on classical and pre-Romantic repertoire for piano students, which was followed by the Masterclass at the Conservatory of Matera (2019), at the "G. Lettimi" musical institute in Rimini (2022) and the conference on embellishments in keyboard music "Ancient decorations or expressive means?" also at the Conservatory of Matera (2022).
He recorded the world premiere of the complete music for fortepiano for two and four hands by František Xaver Dušek in a five-CD box set released in February 2021 by Brilliant Classics. He subsequently performed Dušek's opera omnia for fortepiano for the first time in modern times in a series of concerts, given for the Karl Jenkins Association" in Rome.
Also as a world premiere for the Brilliant Classics label, he recorded together with Ilario Gregoletto, the complete compositions for fortepiano for four hands by Leopold Anonín Koželuh, a project presented in February 2022.
October 2022 saw the release of a new recording project for the Urania Records label, dedicated to the anonymous Sonatas composed in Venice in the late 18th century and performed on an original instrument built by Luigi Hoffer, also in Venice, in the same period as the proposed music.
In October 2022 he signed a contract with the Historical Museum and Park of Miramare Castle as the maintainer and conservator of the J. Wopaterni fortepiano that belonged to Charlotte of Belgium, wife of Maximilian I of Mexico.

This album contains no booklet.