---
Album info
Album including Album cover
Herbie Hancock

1

Maiden Voyage

04:43

Nathan Davis

2

Evolution

07:15

Slide Hampton

3

A Day in Vienna

07:48

Dewan Motihar

4

Yaad

05:17

George Gruntz

5

Djerbi

03:39

Albert Mangelsdorff

6

Never Let It End

09:49

Curtis Clark

7

Shelda

05:26

Michael Naura

8

Soledad De Murcia

05:57

Horst Mühlbradt

9

Timbales Calientes

07:12

Billy Brooks

10

El Babaku

08:33

Michael Cochrane

11

Revelation

07:35

Traditional

12

Burungkaka Tua

05:18

Johann Anton Rettenbacher

13

Raga Jeeva Swara

02:52

Total Runtime

01:21:24
Info for Nicola Conte Presents: Cosmic Forest "The Spiritual Sounds of MPS"

"Cosmic Forest" takes us on a spiritual journey through the musical universe of Musik Produktion Schwarzwald (Black Forest Music Production), the most important German jazz label of the 1960's and 70's. Alongside such younger firms as ECM, Enja, and ACT, its catalogue of around 500 albums remains to this day one of the most interesting, comprehensive, multi-textured collections of "jazz made in Germany". German businessman Hans Georg Brunner-Schwer (HGBS), owner of the German electronics company SABA in Villingen/ Schwenningen, founded a record company in 1965 under the same name and equipped it with its own recording studio. Three years later he renamed the company MPS. The exceptional recording equipment and premium-quality record pressings, which were usually made in editions of 500 to 1000 LPs, are to this day regarded as "state of the art". Consequently, SABA/MPS remains one of the most important jazz labels for both vinyl collectors and fans.
There are still little-known gems to discover within the MPS catalogue. For instance, Cosmic Forest curated by Nicola Conte. Cosmic Forest is a compilation that highlights some of the most compelling "spiritual jazz" recordings from 1965 to 1975. Conte, a world-renowned Italian musician and producer, as well as a passionate DJ and record collector, is a connoisseur of European jazz with an astounding ability to dig a little deeper when it comes to arranging such a compilation. In this case, he concentrated on the spiritual highpoints of the MPS catalogue, highlighting both well-known and obscure musical treasures, while connecting disparate pieces through a personal common thread. The choice of individual titles and the flowing character of their arrangement lend the album a quality of timelessness, while showcasing the breadth of the entire "cosmic jazz collection" within the MPS archives.
To explain how the Spiritual Sounds from the Black Forest came into existence we need to first take a trip back to the year 1965 and the release of John Coltrane's legendary LP A Love Supreme. In his liner notes, Coltrane formulates his spiritual acknowledgements: "Words, sounds, speech, men, memory, thoughts, fears and emotions-time-all related...all made from one...all made in one." At the time, many American jazz musicians set off on an interreligious path or a spiritual journey looking inward. They described their innovative new jazz sounds with attributes such as self-realization, cosmic unification, and creative liberation. Coltrane's 1961 album, My Favorite Things, was in many ways the movement's beginning. It elevated modal improvisation to jazz music's guiding light. Modes are musical scales. They may be so- called Church modes, such as the Dorian mode; they can derive from classical Indian or Arabian music traditions or any one of the planet's diverse folk cultures. The idea was to play over a single mode for an extended number of bars instead of having to play over a continually changing set of chords and resultant scales, as was the case on most standard compositions. With his masterpiece Milestones on the 1958 album of the same name, Miles Davis had already begun the exploration of modes as a distinct musical concept. He continued a year later with his groundbreaking album Kind of Blue. On his album My Favorite Things, John Coltrane, who was a member of both of Davis' groups, exploited the new-found freedom of modal playing while at the same time adding a spiritual aspect to the music.
Different Jazz compositions from this time were connected by a common thread. Pieces such as Albert Ayler's "Spiritual Unity", Ornette Coleman's "Peace", Sun Ra's "Sun Myth", as well as countless other modal jazz compositions all heralded the message "It's All One", promising individual salvation through spiritual unity, and love and peace for the world. As jazz musicians increasingly came into contact with music from around the globe, from Japan to Africa, and from Brazil to India, their music began to reflect these influences and their music took on new musical characteristics. The freedom from time signatures and the breakthrough of atonality are two examples that serve to illustrate this point. Jazz now opened itself up to musical cultures that were previously deemed unsuitable for jazz compositions. It was a time of spiritual strength and musical magic – a journey through yet unfamiliar cultures as well as a journey of self-discovery toward the inner self.
MPS' founder Hans Georg Brunner-Schwer (HGBS) together with producer, promoter and organizer Joachim-Ernst Berendt recognized this trend re-oriented the label accordingly. In contrast to HGBS, the cosmopolitan Berendt increasingly focused on free jazz and the avant- garde. Because of his highly regarded publications and television programs, he was one of the few German jazz producers, whose opinion was seen as final on all subjects related to Jazz. His friend, the Brazilian guitarist Baden Powell provided Berendt with first spiritual insights into the Afro-Brazilian music culture. As a result, Berendt initiated the new SABA LP series "Jazz Meets The World" and, as director of the 1967 Berlin Jazz Days, he tied it to the first World-Jazz festival in Berlin's Philharmonic Hall. The leading US jazz critic Nat Hentoff described the event as "Europe's, if not the world's leading jazz festival." Many English and Japanese fans traveled to the festival on specially charted flights.
Berendt was in charge of many more MPS "World" and "Spiritual Jazz" productions throughout the mid-1970's. We owe it to his engagement that we have a total of eight titles in this present compilation that originate from the "Jazz Meets The World" series and other rare LPs. Berendt won the American jazz magazine Down Beat's prestigious Poll in the Producer category. The recording industry also recognized the marketing potential of ideas that Berendt had pioneered. Under labels such as World Music, New Age, and Meditation Music, these ideas continue to shape the Music industry to this day. During an MPS warehouse sale in the summer of 2009, it became clear how revered Berendt's productions still are: 150 interested parties from across the globe crammed into HGBS's former offices next to the legendary MPS recording studio and spent the next two days haggling over rare original discs in mint condition. "A once in a lifetime opportunity", as an excited Swedish attendee put it. Later that same year the MPS studio, with its original high-end equipment still in place, was designated as a cultural heritage site. ....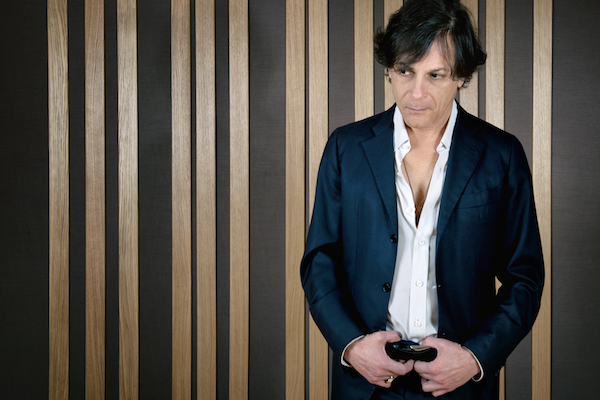 Nicola Conte
world-known and well honored producer of finest Jazz albums, guitarist, band leader and style avant-gardist will released 2 new projects on German famous label MPS Records.
His 8th studio album will be released May 2018, recorded in September 2017 in Bari together with his allstar band feat Gianluca Petrella (trombone), Magnus Lindgren (sax), Logan Richardson (sax),Teppo Mäkynen (drums), Pietro Lusso (piano), Luca Alemanno (bass) and Bridgette Amofah on vocals - and it would not have been Nicola Conte if he wouldn´t have any surprises for his new album: Nicola toured in South Africa in November and recorded 2 tracks with south African jazz musicians including the young talented singer Zoe Modiga. Nicola will present also a couple of new talents on his album.
In autumn 2018 his fantastic compilation for MPS called Cosmic Forest- the spiritual sounds of MPS will join the market. This compilation contains tracks such like The Third Wave: Maiden Voyage (Here And Now), Nathan Davis: Evolution (Happy Girl), A Jazz Meets India: Yaad (Jazz Meets India), George Gruntz: Djerbi (Noon In Tunisia), etc etc. Nicola will present a great voyage throughout the universe of MPS, which became so famous already back in the 60ies and 70ies with several modal jazz albums now selected by Nicola in a very special mix of spiritual highlights.
Already in September 2017 his new collaboration with Gianluca Petrella, the famous Italian trombonist, came out with their first EP on Schema Records Italy called: Nicola Conte & Gianluca Petrella - African Spirits / New World Shuffle followed 2018 by Sun Song / Nigeria, connecting Detroit Nu-Disco and Afro Spiritual Funk.
He has also now started again to be active as a DJ and is presenting his set called COSMIC ECHOES - Cosmic Afro & Jazz & contemporary sounds. The new set from Nicola Conte is a warm groovy stylish jourrney through afro american and african impressions, from 70´s soul& rare funk to afro spiritual jazz to contemporary up to date deep house, nu disco ….

This album contains no booklet.