---
Album info
Label: Genuin
Genre: Guitar
Subgenre: Classical Guitar
Artist: Daniel Marx
Composer: Simone Molinaro, Giovanni Zamboni (1664-1721), Domenico Scarlatti (1685–1757), Claudio Giuliani, Niccolò Paganini, Giulio Regondi
Album including Album cover Booklet (PDF)
Simone Molinaro (ca.1565-1615):

1

Intavolatura di liuto, Book 1: Fantasia No. 1

01:53

2

Intavolatura di liuto, Book 1: Fantasia No. 9

03:01

Giovanni Zamboni (fl. Early 18th century)

3

Lute Sonata, Op. 1 No. 9: I. Preludio

02:56

4

Lute Sonata, Op. 1 No. 9: II. Alemanda

02:38

5

Lute Sonata, Op. 1 No. 9: III. Giga

02:07

6

Lute Sonata, Op. 1 No. 9: IV. Sarabanda

01:37

7

Lute Sonata, Op. 1 No. 9: V. Gavotta

01:01

Domenico Scarlatti (1685-1757):

8

Keyboard Sonata in E Major, Kk. 531 (Arr. D. Marx for Guitar)

03:57

9

Keyboard Sonata in D Minor, Kk. 213 (Arr. C. Giuliani for Guitar)

06:23

10

Keyboard Sonata in E Minor, Kk. 32 (Arr. D. Marx for Guitar)

01:59

11

Keyboard Sonata in B Minor, Kk. 27 (Arr. D. Marx for Guitar)

04:03

Niccolò Paganini (1685-1757):

12

Grand Sonata in A Major, MS 3: I. Allegro risoluto

09:12

13

Grand Sonata in A Major, MS 3: II. Romanze

03:52

14

Grand Sonata in A Major, MS 3: III. Andantino variato

07:19

Giulio Regondi (1823-1872):

15

Rêverie nocturne, Op. 19

08:37

Total Runtime

01:00:35
Info for The Italian Recital

Daniel Marx is one of the shooting stars of the guitar scene. With his CD "The Italian Recital" he not only makes an impressive debut but also demonstrates his love of Italian music. In the land of opera, singing is unthinkable—and Daniel Marx proves that the guitar can sing! He crosses the centuries, technically and interpretatively at the highest niveau, from the Renaissance to the Romantic period. Molinari's fantasies are just as transparent and sonorous as Regonti's dreams or Scarlatti's sonatas—a real discovery!
Daniel Valentin Marx, classical guitar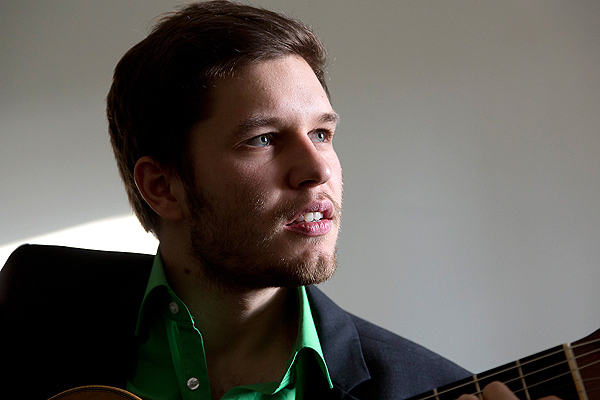 Daniel Marx
began playing the guitar at the age of seven as a student at the Music School Erding. He studied with Susanne Schoeppe, instructor at the Musikhochschule München, as well as with his most important teacher, Roberto Aussel, at the Hochschule für Musik Köln. In 2016 he earned his Master of Music with the highest possible grade.
A Thornton Scholarship subsequently enabled Daniel Marx to pursue graduate studies with the musicians of the LAGQ (Los Angeles Guitar Quartet) and Pepe Romero at the USC Thornton School of Music in Los Angeles. He has worked with leading personalities of the classical guitar world at a number of academies and master classes.
Marx is the winner of many international competitions, sponsorship awards, and scholarships in Europe and America. He appeared in solo recitals at international festivals and concert series in Germany and abroad from an early age, performed in cooperation with the Goethe Institute on concert tours in countries including Italy and Ireland, and has been featured in such concert halls as the Leo S. Bing Theater of the Los Angeles County Museum of Art (USA), Apollo Theater (Greece), and Audimax of the University of Regensburg.
He made his solo debut at the age of seventeen with the Erdinger Kammerorchester. Marx has also performed in recordings and broadcasts for BR, WDR, Radio Nacional Argentina, Classical KUSC, and the Arte television channel.
In addition to the classical repertoire, Daniel Marx dedicates much of his attention to the discovery and creation of new works for guitar: firstly through transcriptions (which have appeared with the Canadian publisher Les Productions d'Oz), and secondly through collaborations with composers.
He is a founding member of the Cologne new music ensemble Electronic ID, which has been in existence since 2014. Marx is also active as artistic director of the guitar festival in his hometown of Dorfen and, during the 2017/18 season, is Artist-in-Residence of the Max Kade Institute in Los Angeles, where he curates his own concert series.

Booklet for The Italian Recital