---
Album info
Album including Album cover
I`m sorry!
Dear HIGHRESAUDIO Visitor,
due to territorial constraints and also different releases dates in each country you currently can`t purchase this album. We are updating our release dates twice a week. So, please feel free to check from time-to-time, if the album is available for your country.
We suggest, that you bookmark the album and use our Short List function.
Thank you for your understanding and patience.
Yours sincerely, HIGHRESAUDIO
1

Let's Get Drunk

01:59

2

Does Anyone Have Any Food Allergies

01:35

3

You Have To Try This Cheese

02:00

4

I've Seen His Dick

01:49

5

Don't You Johnny Cochran Me

01:39

6

Oh My God I Shot You

05:05

7

Isn't That Your Neighbor

03:46

8

Bastien

01:26

9

Son Of Boomer

01:35

10

Officer Down

01:28

11

All We Did Is Eat The Pellets

01:37

12

If You're Late He Dies

01:53

13

I'm Not The Best Judge Of Chemistry

01:36

14

I Cheat At Everything

03:20

15

Fight Clubs Are Real

01:35

16

Asshole Walks Among Us

04:13

17

We're Not Digging Thru Your Feces

02:10

18

Bullet Hole Rides Again

01:56

19

That's How You Get The Drop

01:40

20

Ryan Spots the Egg

02:11

Total Runtime

44:33
Info for Game Night (Original Motion Picture Soundtrack)

"This score may have been the biggest musical challenge of my career," said Martinez. "When it comes to comedy, I doubt I'm at the top of most directors' short list. I'm the guy you call when the film's characters are doing drugs, getting shot, stabbed, beaten or blown up -unless of course, those things are supposed to be funny."
In this case, they certainly are. GAME NIGHT is a comedy that takes a fresh and unexpected approach, so Martinez was an inspired choice - with a composing career boasting films that are often dark, psychological stories, and longstanding relationships with Steven Soderbergh and Nicolas Winding Refn on films and TV series such as The Knick, Drive, The Neon Demon, and Solaris.
Directed by John Francis Daley and Jonathan Goldstein, the action comedy GAME NIGHT, in theaters nationwide on February 23, stars Jason Bateman and Rachel McAdams as Max and Annie, whose weekly couples game night gets kicked up a notch when Max's charismatic brother, Brooks, arranges a murder mystery party, complete with fake thugs and faux federal agents. So, when Brooks gets kidnapped, it's all part of the game…right? But as the six uber-competitive gamers set out to solve the case and win, they begin to discover that neither this game-nor Brooks-are what they seem to be. Over the course of one chaotic night, the friends find themselves increasingly in over their heads as each twist leads to another unexpected turn. With no rules, no points, and no idea who all the players are, this could turn out to be the most fun they've ever had…or, it's game over.
"The first thing that the directors said to me was, 'Don't try to be funny. That's our job. Just be yourself,'" Martinez joked.
Perhaps it is because of his time in the punk scene as a drummer for bands including the Weirdos, Captain Beefheart and the Magic Band, the Red Hot Chili Peppers and The Dickies that Cliff Martinez's approach to scoring is nontraditional. His scores tend towards the stark and sparse, utilizing a modern tonal palette to paint the backdrop for films that are often dark, psychological stories like Pump Up the Volume (1990), The Limey (2009) Wonderland (2003), Wicker Park (2004), and Drive (2011). Martinez was nominated for a Grammy Award for Steven Soderbergh's Traffic, a Cesar Award for Xavier Giannoli's A L'origine, and a Broadcast Film Critics Award for Drive). His score for The Neon Demon was awarded Best Soundtrack at the 2016 Cannes International Film Festival.
Still the drummer at heart, Martinez's use of audio manipulations, particularly for percussive sounds, has been evolving through the years and is evident by the hammered dulcimer of Kafka (1991), the gray-areas between sound design and score for Traffic (2000), the steel drums and textures of Solaris (2002), what Martinez called "rhythmi-tizing pitched, ambient textures" of Narc (2002), and "using percussion performances to trigger and shape the rhythmic and tonal characteristics of those ambient textures," as he described his score for 2011's The Lincoln Lawyer. Martinez's longstanding relationship with director Steven Soderbergh began with 1989's sex, lies, and videotape and has produced ten theatrical film releases, including Kafka, The Limey, Traffic, Solaris, and Contagion, and the critically acclaimed TV series The Knick.
"Game night" is a darker score than I would have expected, even from Martinez. This has happened before in comedy scores in the past couple of years as the directors and writers concerned themselves with the laughs while the composer only dealt with the more serious elements of the movie; it's the case here as the entire composition is an electrifying, neon flickering, underground club like texture that will do just fine with electronic and industrial music fans. I like the aggression in the sound, I like the frantic rhythm and I like that this sounds like a Cliff Martinez score, I almost expect to see Ryan Gosling pop up in the movie when I listen to a cue like "Oh my God I shot you".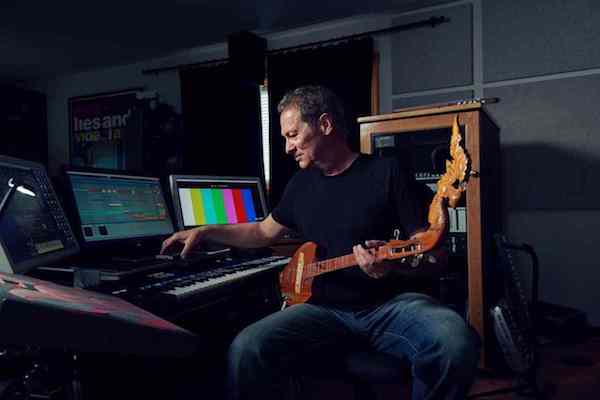 Cliff Martinez
On the western verges of the San Fernando Valley, surrounded by an array of custom-constructed instruments — mammoth steel drums, a gamelan metallophone, and the awe-provoking Baschet Cristal, whose spiky protrusions suggest a Mars Rover as much as anything musical — film composer Cliff Martinez wages war with the ordinary. He has hewn a singular path in the scoring of contemporary cinema by channeling his imagination through this gallery of unique musical implements. Influenced by developments at the radical fringes of music making, pulling notes from minimalism and ethnographic melodies alike, Martinez has lent his talents to a diverse assortment of movies and in so doing, has pointed toward the horizon, to what film music could become.
Certainly his recurring collaborations with pathbreaking directors on the order of Steven Soderbergh (Traffic, Solaris) and Nicolas Winding Refn (Drive, Only God Forgives) have done much to cement Martinez as a composer whose output seems always to point toward emerging trends in film scoring. The roster of other recent films abetted by Cliff Martinez scores includes The Lincoln Lawyer, Spring Breakers, Arbitrage and War Dogs. At the time of this writing, two of Martinez's latest projects are due for theatrical release: The Foreigner, Martin Campbell's revenge drama framed by Irish terrorism; and director Refn's latest, The Neon Demon, with its surreal depiction of jealousy and fatal, vampiric obsessions.
Cliff Martinez was born in the Bronx and raised in Ohio, moving to California in 1976, just in time for the upheaval occasioned by punk. His stints as drummer for The Weirdos, Lydia Lunch, Jim Thirwell, The Dickies and most notably The Red Hot Chili Peppers, variously preceded and followed a resume item of signal importance in Martinez's past, the evidence of which is close at hand. The front hall of the composer's Topanga Canyon home-cum-studio sports framed album art from the landmark late '60s album Trout Masque Replica, signed by "Don," a testament to Cliff's one-time role as drummer in the final incarnation of legendary iconoclast Captain Beefheart's (a.k.a. Don Van Vliet) Magic Band.
It could not have been an altogether bad thing, to be caught up in the mounting buzz surrounding the Red Hot Chili Peppers in the early years of the 1980's. Cliff Martinez was the drummer and co-writer on that band's first two albums. His stint with the Peppers came with corollary benefits, such as the band's rehearsing for months at a stretch in the Detroit living room of their producer, Funkadelic overlord George Clinton. But it was during this period that the band's drummer spent increasing amounts of studio time in thrall to a recently introduced sampling drum machine, a device that, to Cliff's mind, held the potential of an entire band within a box. In part, it was his investigation of advancements in music technology that would lead ultimately to Martinez abandoning rock drumming for a career in film scoring.
Cliff Martinez's entrée into music for film happened by serendipitous means, when a tape collage he had constructed ("Several of my friends making aggressively weird noises, which I assigned to pads on a MIDI percussion controller.") led to an opportunity to score an episode of comedian Paul Reuben's transgressive mid-'80s TV hit, Pee-Wee's Playhouse. That same sound collage was heard, in turn, by Steven Soderbergh. Prior to his rise to prominence, director Soderbergh tapped budding composer Martinez to provide the music for the former's first theatrical release, sex, lies and videotape. The film's success launched a new era of independent filmmaking, did much to establish the Sundance Festival as an arbiter of new directions in cinema and put Cliff Martinez in the ring as a contender within the latest crop of film composers.
Martinez has since composed scores for many of Steven Soderbergh's films. The hammered dulcimer that wends throughout Kafka; the seasick piano portending the violence concluding The Limey; the amalgam of steel drums and ambient textures drifting in deep space during Solaris; all these were conjured in Cliff's studio, as were other Soderbergh scores such as Gray's Anatomy, Schizopolis and Traffic, the latter winning four Oscars and earning an Oscar nomination for its music. Martinez reunited with the director for his successful 2011 pandemic drama Contagion. Soderbergh's venture into episodic television, The Knick (a 2014 series for Cinemax), had at its core a daring juxtaposition, successfully pitting an all-electronic Martinez score against a period setting, the gritty mise-en-scene of a Victorian-era English hospital. ...

This album contains no booklet.