---
Album info
Album including Album cover
I`m sorry!
Dear HIGHRESAUDIO Visitor,
due to territorial constraints and also different releases dates in each country you currently can`t purchase this album. We are updating our release dates twice a week. So, please feel free to check from time-to-time, if the album is available for your country.
We suggest, that you bookmark the album and use our Short List function.
Thank you for your understanding and patience.
Yours sincerely, HIGHRESAUDIO
1

Over

03:32

2

Cage of Habits

03:43

3

Guilty

03:56

4

Loose Plans

04:01

5

Cruelty of Nature

04:17

6

Second Door

04:23

7

Fading Into Black

04:17

8

The Projector

04:00

9

Together Apart

03:15

10

Roman

03:50

11

Walk Through The Fire

04:15

12

The Vine

03:10

Total Runtime

46:39
Info for Soft Power

Transforming pain into transcendence is the genius of many pop artists, but Doe Paoro brings an entirely new depth to that process. On her third album Soft Power, the L.A.-based singer/songwriter digs into her own frustration and anguish, and ultimately comes away with a newfound strength that's profoundly inspiring.
"So much of the album is about reclaiming parts of myself that I had lost," explains Doe, who's originally from Syracuse, New York. "It's about being a woman, and what exactly that means at this particular moment in time; about witnessing a lack of justice when it comes to men and control. Both at the personal and societal levels, I was watching people in power play games with our lives, with the environment. I found this theme reappearing in the music I was writing during this period; it was less intentional and more about a certain kind of catharsis."
Touring her electronically adorned second album After – a 2015 release produced at the Wisconsin studio helmed by Bon Iver's Justin Vernon – shaped Doe's intentions with Soft Power. "After had so many elaborate arrangements that were bigger than we could recreate with a live band, so we had to use backing tracks. It was limiting on stage – the music was mapped out in advance and I felt like we could never be completely spontaneous. I wanted to make an entire album that could be recreated live because for me, that's where the deeper connection takes place."
Produced in London with Jimmy Hogarth (Amy Winehouse, Sia, Corinne Bailey Rae), Soft Power captures that immediacy while channeling the new-found self-possession into a soulful take on piano-driven pop. And with her penetrating contralto that can shift from gentle to commanding in an instant, Doe delivers a vocal performance perfectly suited to the album's message of thoughtful defiance. Recording to tape with a live band lent the songs a more instinctive, spontaneous quality. "There was no doubting or overthinking," says Doe. "We didn't record any part a million times over."
Soft Power thus bears a raw vitality that marks a major departure from Doe's previous album. Naming Carole King among her inspirations, Doe notes that the new record's more urgent feel comes partly from reconnecting with the instinctive approach of her earliest songwriting. "One of my intentions was to drop any questions about what might be inventive, and just focus on writing songs that felt true to my experience," she says. "The idea was to push things forward just by creating something well-made and authentic."
Despite its classic sensibilities, Soft Power is deeply innovative in its emotional element. From track to track, Doe slips into careful self-reflection and teases out new insight—a process that subtly demands the same of the listener and, thanks to the album's strong hooks and indelible melodies, feels strangely exhilarating.
With its percussive, infectious rhythm and ecstatic gospel harmonies, the amped-up, horn-backed "Cage of Habits" finds Doe owning up to her tendency to keep falling into the same traps. "Loose Plans," a tender piano ballad built on tumbling melodies, weaves a tapestry of intention, disappointment, and acceptance through its rich, stripped-down vocals that radiate both vulnerability and wisdom. "Second Door" unfolds as a lushly textured meditation on forgiveness, while in the haunting "Roman," Doe draws from numerous genres to craft a post-breakup exorcism pulled straight from an alt film noir. "Over" brings classic girl-group harmonies and smoldering vocal work to speak to the song's central question: Now that I'm older / does it get easier / to get over?
The gently soaring "Cruelty of Nature" sheds light on the beauty of embracing our inner darkness: that is, "witnessing our shame in other people and being frightened of that – but also recognizing that we're all mirrors of each other." "Fading into Black" is a cinematic and slow-burning epic about collective regret. And on "The Vine," with its atmospheric guitar tones and intimate vocal work, Doe closes out Soft Power by musing on the idea of the transgenerational dreams "we inherit from our parents and from the earth, and how they're predetermined before we're born." She adds: "Even if we fulfill some dream from generations ago, it's still just a dream—it will always pass."
Throughout Soft Power, Doe infuses her songs with a rebellious spirit. A passionately charged track about misogyny, "Guilty" blends cascading guitar lines with sharply cutting lyrics (I know I'm not the first / that you made defend her word). Several songs also confront the notion of setting boundaries, with "Projector" centering on "the refusal to let someone else superimpose their story onto yours" and "Walk Through the Fire" emerging as a brutal testament to the fact that "self-examination is ultimately a solo job – and there's no easy way to do it."
The title is inspired by an idea presented in the Tao Te Ching. "There's a quote about how the 'the gentlest thing in the world overcomes the hardest thing in the world,'" says Doe. "That is, there's another form of power that's just as strong: the power of patience, compassion, and forgiveness. I sought refuge in this idea of gentle power. The album is about unlocking this kind of power and learning to channel it toward others as well as myself."
The result is an album that's undeniably potent in its emotional impact. "One thing I've continued to find through writing songs is the ability to alchemize painful experiences into something that's useful and healing," says Doe. "For me that's the highest purpose of music—both in terms of what it offers to me and what I wish to offer to others."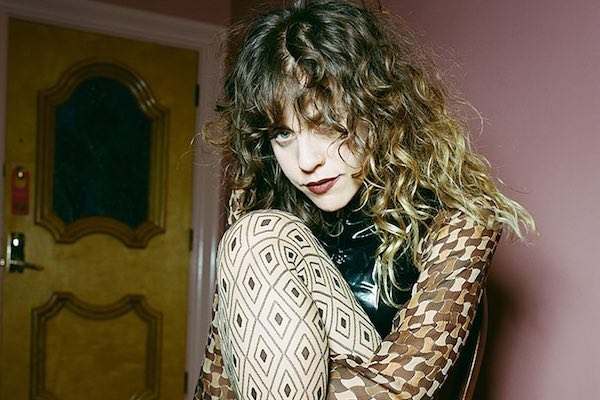 Doe Paoro
As a songwriter and vocalist, Doe Paoro seeks to both uplift and unsettle, creating a catalyst for renewal as well as release.
The follow-up to her 2012 debut Slow to Love—an album praised for its stark production and a raw but ethereal vocal performance shaped by Doe's studying of Tibetan folk opera—After maintains its predecessor's soulful intensity but unfolds into a far more sprawling, finely textured sound.
Working in close collaboration with producers Sean Carey (drummer/supporting vocalist for Bon Iver) and BJ Burton (a musician/producer/engineer whose past credits include POLIÇA, Sylvan Esso, The Tallest Man On Earth and Volcano Choir), the New York-bred, L.A.-based artist deepens her musical repertoire and dreams up a hybrid of R&B, synth-pop, and indie-leaning electro that's rooted in earthy minimalism. "I'm used to just having a piano and working with that," says Doe, "but with this album we built an entire world with the sonics alone."
Vast yet intimate, hypnotic yet electrifying, After plays with time, space, and mood to provide an ever-changing backdrop for Doe's exploration of the album's often-painful subject matter. "A lot of the songs come from a feeling of loss and the reflection that happens when you realize something's ended," says Doe, who co-wrote most of After with songwriters such as Peter Morén of Peter Bjorn and John. "It's a lot of reckoning with regret, but at the same time there's a feeling of surrender."
On After's epic opening number "Traveling," Doe confronts the conflict between pursuing an untethered life and longing for a sense of home, her powerfully tender vocals meeting with chilling synth as she delivers lines like "I wanted solitude and that's what I got/Now I'm a living island with only one thought:/Maybe I was wrong." From there, the album moves on to examine the suffocating and self-denying effect of rehashing the past (on the propulsive, beat-heavy "Nostalgia"), the trappings of projecting old fears and ideals onto a new relationship (on the warm and wistful piano ballad "Outlines"), and the futility of dwelling on possible outcomes of a finished situation (on "Hypotheticals," a darkly charged but shimmering piece of electro-pop). And with the piano-driven and gorgeously sparse "Wake Up In Nowhere," After closes out by returning to the question of home and reaching a new understanding that, as Doe explains, "your home is within you, it's wherever you find your peace."
Throughout After, Doe also touches on the ecological concerns close to her heart, instilling such tracks with a passion and sense of personal stake that makes her message all the more potent. The groove-laced and gospel-inspired "Growth/Decay," for instance, ruminates on the notion that change fuels all life, with the chorus putting out the call to "Cycle to the light or fade away." And on the moody and melancholy "Walking Backwards," Doe takes on the role of both soul songstress and poet, weaving in beautifully spooky images of cigarette ash raining from the sky and of withering, soil-starved trees that "take off their clothes as they lay down on the road." "That song first came to me when I was walking around Brooklyn and just feeling hit by how bad the Earth was hurting, and how that's reflected in the way people treat themselves," says Doe. "It's about how we take so much for granted and really have a lot of work to do."
For Doe, the work of bringing her music to life began after a year of solo traveling that included four months in India, along with time in Egypt and Greece. A Syracuse, New York, native who made and self-released her own album at age 15, Doe had spent several years playing in a Brooklyn-based band before deciding to quit music altogether and become a certified yoga teacher. But upon returning to Brooklyn, Doe found herself overcome by an undeniable surge of creativity. "I'd spent the year not creating, and when I got back all these songs just came really naturally to me," she says. Soon after making and releasing Slow to Love, Doe headed to Sweden to start working on songs for her second album. "I wrote a good chunk of After in the height of Swedish winter, when there's about four hours of sunlight per day," she says. "It was an oddly fertile time for me, but in a way it makes sense—when there's no sun and no distractions, you can just go into your cave and write and come out with something new every day. All that darkness allowed me to get very internal."
In early 2013, with a new batch of songs ready to be recorded, Doe reached out to Bon Iver leader Justin Vernon on a whim to see if he'd be interested in contributing to the new music in some way. "I didn't know Justin at the time, but I sent out an email and his manager got back to me," she says. Vernon ended up mixing one of the tracks, and from there, a relationship with the extended Bon Iver-family blossomed with Carey and Burton taking the reins to co-produce After. Production started in November 2013 at April Base (an old west-central Wisconsin ranch house that Vernon converted into a studio). "The studio's got all these rooms with bunk beds, so we'd work until 3 a.m., sleep there, wake up and do it all over again the next day," says Doe. "We sort of went into the timeless place, which I think you can really hear on the album."
In releasing After—and in her songwriting moving forward—one of Doe's central ambitions is to offer up music with an unconventional, more challenging approach to universal themes like love and loss. "There's an assumption that pop music needs to be dumbed down," she says. "But I think pop can be surprising and make you uncomfortable sometimes. It can ask you to think about something you hadn't considered before, and maybe awaken a place in yourself that you hadn't been giving attention to." And in creating After and sharing the album with the world, Doe hopes the effect of that awakening is ultimately both inspiring and healing. "For me, making music helps me move through my own experiences and come out with a better understanding of them," she says. "Maybe that resonates with other people too."

This album contains no booklet.