---
Album info
Album including Album cover
1

Labyrinth

05:55

2

When Then

04:21

3

Hinemoa's Lament

09:08

4

Night Flight

06:10

5

Fallen

02:13

6

Bela's Dance

03:17

7

Ingravida

05:47

8

Moth

02:38

9

No Corner

06:25

10

Disquiet

07:40

11

Inland Sea

05:07

12

In Fading Light

01:44

Total Runtime

01:00:25
Info for In Fading Light

Oud and trumpet are two of my favourite instruments. A piano trio with these instruments is unusual, but I wanted to explore the beautiful textures, tonalities and emotional resonances that this combination of instruments offers. And of course, Andreas Polyzogopoulos (trumpet) and Kyriakos Tapakis (oud) are fabulous musicians and a joy to work with.
Despite what's happening to our world at present, people need music. They need art. It's not a luxury. It's essential for our psychology, for maintaining health and balance – mentality, physically, emotionally, spiritually, and even politically. The music on this album is an expression of love, hope and compassion, a plea for understanding, kindness, and the need to respect and embrace our common connectedness. (Tania Giannouli)
"Tania Giannouli Trio's meditative weave can, in the right hour, be transportive (if, at times, edgy). It's something which she personally feels, and which has been accentuated for so many over the past few months: "Despite what's happening to our world at present, people need music. They need art. It's not a luxury. It's essential for our psychology, for maintaining health and balance – mentality, physically, emotionally, spiritually, and even politically". That certainly strikes a chord." (londonjazznews.com)
Tania Giannouli, piano
Andreas Polyzogopoulos, trumpet
Kyriakos Tapakis, oud
Recorded by Nikos Kollias at Antart Studio; Vangelis Katsoulis at Spectrum Recording Studio
Edited and mixed by Costas Bokos at Studio 19
Mastered by Steve Garden at Garden Shed
Produced by Tania Giannouli and Savvas Lazaridis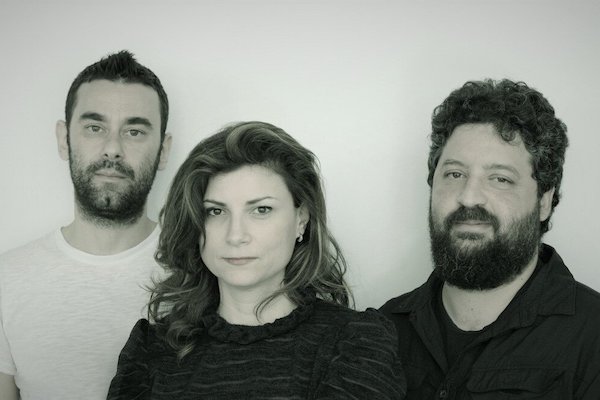 The Tania Giannouli Trio
first performed together at the legendary Jazzfest Berlin in 2018. The Downbeat review described their music as "compelling melodies with rolling momentum … like Manfred Eicher's dream of a Mediterranean holiday".
German magazine Jazzthetik cited the concert among the best of 2018, while All About Jazz placed the trio's concerts at Wonderfeel Festival and Zomer Fits Jazz Tour among the highlights of 2019.
The trio have concerts booked at Jazzahead Festival, Sendesaal, and the prestigious new music festival November Music in 2021.
Tania Giannouli has been widely acclaimed for her solo concerts and for her three previous Rattle release, Forest Stories (2012), Transcendence (2015), and Rewa (2018), a highly-successful collaboration with New Zealand taonga puoro exponent, Rob Thorne, that garnered a raft of glowing reviews upon its release.
Enjoy Festival wrote, "… many consider the Rewa concert in Ludwigshafen to be the surprising highlight of the festival year. Greek pianist Tania Giannouli, New Zealand taonga puoro player Rob Thorne and Italian percussionist Michele Rabbia succeeded in building a breath-taking bridge between archaic, ambient and contemporary classical music. A versatile pianist and composer, Giannouli has composed various film scores and enjoys a revered reputation for her interdisciplinary projects, which insist on an independent, very open instrumental sound language situated between traditional folk and new music. Her album Transcendence was counted among the most important releases of the decade by Greek critics, and this year Giannouli will present original new works with a trio featuring oud and trumpet.
Pianist, composer, improviser and band leader, Tania Giannouli is one of the most vital voices in contemporary Greek/European music. Classically trained, she often employs improvisation in her musical practice. Her three Rattle albums, Forest Stories (2012, with Paulo Chagas), Transcendence (2015) and Rewa (with Rob Thorne), have all received wide international acclaim, with Transcendence cited as one of the most important Greek albums of the decade, and Rewa acclaimed as a unique and inspired collaboration.
Tania is currently collaborating with singer Maria Pia De Vito and percussionist Michele Rabbia on an electroacoustic project, The Book of Lost Songs, which premiered at Enjoy Jazz Festival 2020 and is scheduled to be performed at the legendary contemporary music festival Ars Musica in Brussels.
Kyriakos Tapakis studied oud under Apergis, Arvanitis, Georginis and Papadopoulou. He is a highly-regarded teacher, and has recorded and performed with many international artists, including Sokratis Sinopoulos, Katerina Papadopoulou, Domna Samiou, Chronis Aidonidis, Petroloukas Chalkias Nedyalko Nedyalkov, Psarantonis, Savvina Giannatou, Ross Daly, David Lynch and Elli Paspala.
Greek trumpet player Andreas Polyzogopoulos has collaborated with an impressive array of top European artists, appearing on more than 60 albums and regularly performing in festivals. He gives workshops every summer in Paros island as a member of the Mediterranean Artists Masters Academy. In 2015 he released the Anicca, an album with a distinct Mediterranean sound, followed in 2017 by an album of ambient music, Polypala - One inch of Love.

This album contains no booklet.