---
Album info
Album including Album cover
Marco Galvani:

1

Galvani: Aleph

03:02

2

Galvani: Lamentations I

04:48

3

Galvani: Ubi caritas

04:45

4

Galvani: Lamentations II

05:58

5

Galvani: Beth

03:14

6

Galvani: Ave sanctissima Maria

03:44

7

Galvani: Ave maris stella

05:04

8

Galvani: Alma Redemptoris Mater

03:21

9

Galvani: Ghimel

04:26

10

Galvani: Super flumina Babylonis

04:51

11

Galvani: O sacrum convivium

06:16

12

Galvani: Daleth

05:10

Total Runtime

54:39
Info for Invisible Cities: Choral & Electronic Music by Marco Galvani

Following their acclaimed debut release on Resonus Classics (The Waiting Sky, 2019), the award-winning vocal ensemble SANSARA presents an album of choral works and electronic refractions by their Associate Composer, Marco Galvani.
This powerful sequence of new music features settings of well-known sacred texts, reflecting on the importance of community and hope in times of fear and uncertainty.
Recorded in the midst of the global pandemic of 2020, Invisible Cities showcases Galvani's distinct voice through a synthesis of contrasting soundworlds. This powerful sequence of new music features settings of well-known sacred texts, reflecting on the importance of community and hope in times of fear and uncertainty.
SANSARA
Marco Galvani, electronics
Tom Herring, artistic director & conductor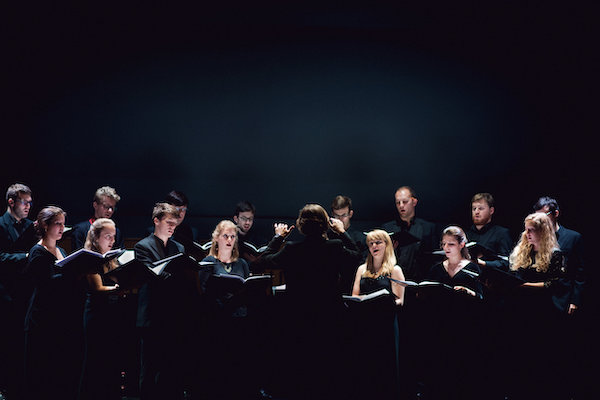 SANSARA
is an award-winning vocal ensemble focused on the performance of a cappella choral music.
As a collective body of voices, a choir is a living, breathing instrument with unparalleled expressive potential. SANSARA realises this through direct and honest music-making, always striving to conjure compelling atmospheres, communicating with clarity and integrity.
SANSARA works as a chamber ensemble without a single director or conductor. The result is a highly engaged and versatile group of professional musicians, working together with a unified voice to express a shared artistic vision.
The choir has rapidly gained a reputation for captivating performances of a broad range of repertoire, juxtaposing choral music old and new in vivid narrative programmes, tying thematic and textual links into rich musical-poetic live experiences.
Winners of the 2015 London International A Cappella Choir Competition, the choir's performance highlights include Barbican, Kings Place, Holy Week Festival, Temple Winter Festival, Newbury Spring Festival, Budleigh Festival, Winchester Festival and a performance of Arvo Pärt's music at St John's Smith Square, with the composer present.
The choir's debut recording, Cloths of Heaven (2017) received high praise for the group's "perfect intonation and clean, pure sound" (The Observer) and "breathtaking interpretations" (Choir & Organ). The disc has since been featured on BBC Radio 3's The Choir, Breakfast and Essential Classics.
The group's latest release The Waiting Sky was highlighted amongst 2019's Christmas recordings by Gramophone, The Observer, and BBC Music Magazine, with the title track being played on BBC Radio 3's Essential Classics.
Marco Galvani
is a composer based in London. His compositions have been performed throughout the UK, Europe, and North America. Marco's choral work is published by Edition Peters, and his work has been commissioned, performed, and recorded by a variety of orchestras, ensembles, and choirs.
Marco was recently commissioned, along with Sir James MacMillan, Joseph Phibbs, and Phillip Cooke, to compose Stella Caeli for The Sixteen as part of their Eton Choirbook Legacy project. This work features on The Sixteen's subsequent album Star of Heaven. Marco has been a long time collaborator with SANSARA, with whom he is an Associate Composer, and his 2015 Edington Festival commission Tantum Ergo was featured on Cloths of Heaven, SANSARA's critically acclaimed debut album.
While at Oxford, Galvani was a choral scholar with The Queen's College Choir, and his motet Et Vidi Angelum features on the album A New Heaven, which presents settings of the Revelation of John. Marco's Marian Hymns have been performed by Sansara, Voces Inauditae, St Martin's Voices, and have been recorded by The Cambridge Chorale. In 2017 Galvani was commissioned by the Royal Philharmonic Society and Classic FM for his work On Christmas Morn, which was performed by The Sixteen throughout their Christmas Tour in locations such as Cadogan Hall, Symphony Hall Birmingham, and Sage, Gateshead. This piece also features on The Waiting Sky, the second album from award winning chamber choir SANSARA.
Galvani has collaborated extensively with other solo performers such as the cellist Sarah Gait, for whom he composed Returning and Zeid. Recent other collaborations and performances include ensembles such as The Hermes Experiment, London Accordion Orchestra, Zeitgeist Chamber Orchestra, and Consortium Novum of Oxford. Galvani's second chamber opera, Autopilot Saves Model S, was commissioned by Faded Ink Productions, and was described as 'an electrifying new opera' by the Oxford Daily Info.
Marco has been teaching composition, harmony, and general music at the Yehudi Menuhin School in Cobham since 2018, since completing his studies at Oxford University and the Royal Academy of Music, having studied with Robert Saxton and David Sawer respectively.
Tom Herring
is a conductor, singer and creative producer based in London. Co-founder and Artistic Director of SANSARA, he has directed the choir at festivals and venues across the UK and abroad, producing 'breathtaking interpretations' (Choir & Organ) of a broad range of repertoire. An alumnus of the Netherlands Chamber Choir's innovative NXT scheme, Tom sings regularly with Tenebrae and other professional ensembles as well as developing a solo career.
Tom read Music at the University of Oxford and has worked for Oxford Lieder, Association of British Orchestras, Intermusica and Sulivan Sweetland artist management. He is the producer of the Holy Week Festival at St John's Smith Square and a Project Manager and Mentor with Young People in the Arts.

This album contains no booklet.