---
Album info
Album including Album cover Booklet (PDF)
Giuseppe Tartini (1692 - 1770): Concerto in D Major, D. 24:

1

Concerto in D Major, D. 24: I. Alegro assai

05:06

2

Concerto in D Major, D. 24: II. Adagio

03:59

3

Concerto in D Major, D. 24: III. Presto

05:15

Concerto in G Minor, D. 85, Op. 1/1:

4

Concerto in G Minor, D. 85, Op. 1/1: I. Allegro

05:02

5

Concerto in G Minor, D. 85, Op. 1/1: II. Cantabile

02:33

6

Concerto in G Minor, D. 85, Op. 1/1: III. Allegro assai

03:59

Concerto in A Major, D. 89, Op. 1/6:

7

Concerto in A Major, D. 89, Op. 1/6: I. Allegro

03:48

8

Concerto in A Major, D. 89, Op. 1/6: II. Adagio

02:33

9

Concerto in A Major, D. 89, Op. 1/6: III. Allegro

02:35

Concerto in E Minor, D. 55:

10

Concerto in E Minor, D. 55: I. Allegro

06:38

11

Concerto in E Minor, D. 55: II. Largo

03:04

12

Concerto in E Minor, D. 55: III. Allegro

04:40

Concerto in E Major, D. 48:

13

Concerto in E Major, D. 48: I. Allegro

06:12

14

Concerto in E Major, D. 48: II. Largo

02:13

15

Concerto in E Major, D. 48: III. Allegro

05:34

Total Runtime

01:03:11
Info for Giuseppe Tartini: Violin Concertos

After devoting an album to sonatas by Giuseppe Tartini, for this anniversary year of the illustrious Paduan virtuoso, Evgeny Sviridov offers us a recording of violin concertos. This is his first collaboration with Millenium Orchestra, the ensemble founded by Leonardo Garcia Alarcon in the framework of CAVEMA in Namur. Most of the concertos selected come from manuscript copies made in eighteenth century Germany, where Tartinis reputation was very high. Evgeny Sviridov has found in these scores cadenzas and ornaments which are very probably in the hand of Johann Georg Pisendel, the great virtuoso violinist of the Dresden court, a friend (and interpreter) of Johann Sebastian Bach! Following a practice that was becoming increasingly common in Germany at that time, one of the concertos has two horn parts in addition to the strings. Of the 130 or so surviving violin concertos, Evgeny Sviridov has selected five.
Evgeny Sviridov, violin
Millenium Orchestra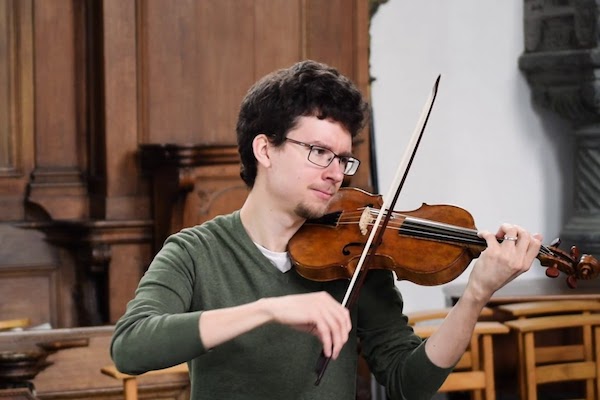 Evgeny Sviridov
is a violinist who combines successfully both modern and historical informed performances. His versatile activities as soloist, concertmaster and chamber musician demand an enormous repertoire that includes pieces of any genre and style from early baroque till ultra modern.
Born in 1989 in St-Petersburg, Evgeny got his first education at the Conservatory there. While studying he had already become a laureate of major international competitions such as Menuhin Competition in Cardiff and Paganini Competition in Genova in 2008. In 2010 he joined a Bach Competition in Leipzig and got there a first prize. This prize persuaded him to turn to authentic ways of playing and to studying baroque more thoroughly. In 2016 he got a first prize and audience prize in "Concours Corneille" in Rouen, France; and in 2017 Evgeny won Brugge International Competition "Musica Antiqua".
Latest CD production by label "Ricercar" with Giuseppe Tartini's Violin Sonatas got the "Preis der Deutschen Schallplattenkritik" in 2019.
Evgeny is playing now unique baroque violin by Januarius Gagliano (Naples, 1732) kindly provided him by "Jumpstart Jr" foundation in Amsterdam.
Since 2016 Evgeny has been living in Cologne and currently serves there as concertmaster of a famous baroque ensemble "Concerto Köln", becoming one of the youngest musicians who have ever leaded this historical collective.
Since 2018 he has been holding a teaching position for a baroque violin at the High School of Arts in Bremen.
As both concertmaster and soloist he regularly performs in a major concert venues in Europe: Concertgebouw Amsterdam, Philharmonie Köln, Musikverein Wien, St-Petersburg and Moscow Philharmonic, and is invited to a famous festivals such as Bachfest in Leipzig, MA Festival in Brugge, Thuringer Bach Woche in Weimar, "Haut Jura" in France, "Earlymusic" in St-Petersburg and many others. Evgeny collaborated with well-known musicians: mezzo-soprano Vivica Genaux, counter-tenor Andreas Scholl, violinist and counter-tenor Dmitry Sinkovsky, recorder players Dorothee Oberlinger and Erik Bosgraaf, violinist Hiro Kurosaki and others. He recorded solo CD with Bach and Biber sonatas in 2011 by Genuin Classics.
In 2014 together with his colleagues he organised baroque ensemble "Ludus Instrumentalis", that made an important appearance on a baroque scene by winning Berlin Bach competition in 2015 and "Brothers Grauns" Competition in 2016 in Germany.

Booklet for Giuseppe Tartini: Violin Concertos