---
Album info
Label: Ricercar
Genre: Classical
Artist: InAlto & Lambert Colson
Composer: Heinrich Schütz (1585-1672), Johann Rudolf Ahle (1626-1673), Dieterich Buxtehude (1637-1707), Samuel Scheidt (1587-1654), Orlando di Lasso (Lassus) (1532-1594), Martin Mayer (1650-1712, Johann Philipp Krieger (1649-1725), Christoph Strauß (1575-1631), Johann Sebastian Bach (1685-1750), Dietrich Becker (1623-1679), Ludwig van Beethoven (1770-1827)
Album including Album cover Booklet (PDF)
Ludwig van Beethoven (1770 - 1827): 3 Equali, WoO 30:

1

Beethoven: 3 Equali, WoO 30: Equale No. 1 "Miserere" (Arr. for Chorus, 4 Trombones and Organ by Ignaz Xaver Ritter von Seyfried)

04:25

2

Beethoven: 3 Equali, WoO 30: Equale No. 3 "Amplius" (Arr. for Chorus, 4 Trombones and Organ by Ignaz Xaver Ritter von Seyfried)

02:01

Heinrich Schütz (1585 - 1672): O meine Seele, warum bist du betrübet, SWV 419:

3

Schütz: O meine Seele, warum bist du betrübet, SWV 419

03:54

Johann Georg Ahle (1651 - 1706): Freudenlied:

4

Ahle: Freudenlied

01:55

Heinrich Schütz: Symphoniae sacrae I, Op. 6:

5

Schütz: Symphoniae sacrae I, Op. 6: No. 13, Fili mi Absalon, SWV 269

06:42

Samuel Scheidt (1587 - 1654): Paduana dolorosa, SSWV 42:

6

Scheidt: Paduana dolorosa, SSWV 42

06:13

Dietrich Buxtehude (1637 - 1707): Mit Fried und Freud, BuxWV 76:

7

Buxtehude: Mit Fried und Freud, BuxWV 76: III. Klage-Lied

07:33

Martin Mayer: Da der Tag ein Ende nahm:

8

Mayer: Da der Tag ein Ende nahm

02:52

Orlando di Lasso (1532 - 1594): Aurora lucis rutilat:

9

Lasso: Aurora lucis rutilat

03:38

Ludwig van Beethoven: 3 Equali, WoO 30:

10

Beethoven: 3 Equali, WoO 30: Equale No. 2 "Du, dem nie im Leben Ruhstatt ward" (Arr. for Chorus, 4 Trombones and Organ by Ignaz Xaver Ritter von Seyfried)

01:56

Johann Philipp Krieger (1649 - 1725): Ich bin eine Blume zu Saron:

11

Krieger: Ich bin eine Blume zu Saron

07:07

Christoph Strauß: Haec dies:

12

Strauß: Haec dies

01:50

Johann Sebastian Bach (1685 - 1750): O Jesu Christ, meins Lebens Licht, BWV 118:

13

Bach: O Jesu Christ, meins Lebens Licht, BWV 118

04:32

Johann Hermann Schein (1586 - 1630): O Jesulein, mein Jesulein:

14

Schein: O Jesulein, mein Jesulein

03:01

Dietrich Becker (1623 - 1679): Traur- und Begräbnuß-Music des Herrn Johann Helms:

15

Becker: Traur- und Begräbnuß-Music des Herrn Johann Helms

12:46

Johann Sebastian Bach: Chorale Preludes: No. 27, Herzlich tut mich verlangen, BWV 727:

16

Bach: Chorale Preludes: No. 27, Herzlich tut mich verlangen, BWV 727

02:22

Heinrich Schütz: Freue dich des Weibes deiner Jugend, SWV 453:

17

Schütz: Freue dich des Weibes deiner Jugend, SWV 453

04:36

Total Runtime

01:17:23
Info for Passages German Ritual Music 1600-1800

Ceremonies, both festive and solemn, lie at the heart of all the works in this programme devoted to German music of the 17th century, beginning with music by Heinrich Schütz and ending with Johann Sebastian Bach. These occasional works make frequent use of brass instruments, whose sound is both the foundation and the identity of the InAlto ensemble. This 17th century tradition is reflected in Beethoven's Aequales for trombone quartet; these are presented here together with their sung texts.
InAlto
Lambert Colson, Leitung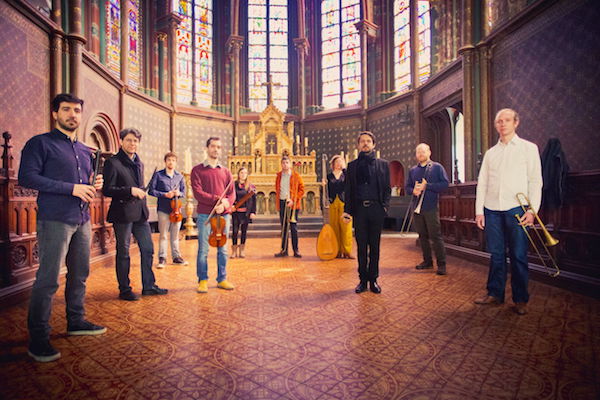 InAlto
This Italian expression applies the same adjective to sea and mountain; it evokes at the same time their physical remoteness and the risks involved when exploring them.
The cornetto is definitely one of the most important musical instruments of the 16th and 17th century. It is made of wood and covered with leather or parchment and was considered the instrument most capable of imitating the human voice. And, just like the voice, it likes to explore the higher regions. Mersenne's encyclopedia describes the cornetto as a "ray of light going through the clouds".
InAlto aims to explore both vocal and instrumental music, bringing them to a sort of dialogue.
Famous composers of the baroque in Europe such as Monteverdi, Schütz or Praetorius left us magnificent music cultivating this taste for risk taking, this worship of the high register.
Nowadays, a real danger exists of failing to convince with music that does not feel like ours anymore. By a thorough study of the available sources and by selecting the best "historically informed" partners and collaborators, InAlto seeks to bring out the best in the repertoire they play. Eventually, historical musical intruments are musical instruments as well, InAlto considers them as modern tools of expression.
Lambert Colson
received his musical training at the Royal Conservatory of Brussels under Françoise Defours, Pedro Memelsdorff, Bart Coen, Marleen Leicher, Bruce Dickey and Gebhard David. He also studied in Bremen (University of the Arts), Basel (Schola Cantorum Basiliensis), and Barcelona (ESMUC). He has worked with ensembles and conductors of the calibre of Les Talens lyriques (Christophe Rousset), Le Parlement de Musique (Martin Gester), Scherzi Musicali (Nicolas Achten), Les Paladins (Jérôme Correas), L'Echelle and Oltremontano. As a musician and researcher, he has contributed to journals including La pensée de midi (Editions Actes Sud), and is involved with the Royaumont Foundation, where he teaches on Lutheran music in the Holy Roman Empire and assists the composer Zad Moultaka.
Several contemporary composers, including Zad Moultaka, Fabrice Fitch und Bernard Foccroulle, have been inspired by Lambert's boundless enthusiasm for learning more about his instrument to dedicate pieces to him. His interest in innovative joint projects led Lambert to discover hypnosis while working with the choreographer Catherine Contour.
In cooperation with artists such as Liesa van der Aa and Shara Worden, BOX allows him to explore the range of possibilities open to his instruments in popular music.
This fervent commitment to being a musician in tune with his time clearly motivates the search for musical and emotional cross-fertilisations Lambert and InAlto have embarked on.

Booklet for Passages German Ritual Music 1600-1800