---
Album info
Album including Album cover
1

Forced Orbit

12:52

2

Monochrome

01:53

3

Fata Morgana

05:29

4

Trichromat

04:45

5

Black Paradox

03:41

6

Alien Spectra

04:36

7

Dagger Boys

05:39

8

African Lady Pilot

11:48

9

Spinshift

05:08

10

Marabaraba

10:47

11

Edgelands

03:08

12

Message Parlour - for Alan

05:27

Total Runtime

01:15:13
Info for Theta Six

Theta Six – OUA's sixth album – is an ever morphing tapestry of new sounds arriving via wormhole direct from the left field progressive sound universe. It evolved from a studio session of bass driven rhythms followed next day by a marathon free-improvisation session. These sessions were amalgamated through a high impact collision which made extensive use of chance procedures, and then carefully sculpted and arranged for horns and voices by Martin and Jan.
The music is heard as a single continuous suite with certain motifs repeating across the arc of the album. OUA often approaches the 'laminal' AMM style of improvisation when improvising freely, which contrasts with the melodic solos which fly over the rhythm landscapes, where only Terry's creative basslines were the starting point. The results are fluid, a seamless merging, where surprising soundscapes raise their heads above the lava flow of musical ideas.
Orchestra of the Upper Atmosphere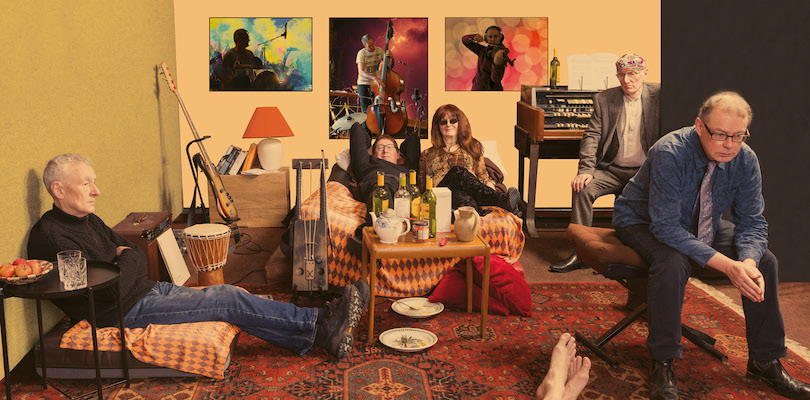 Orchestra of the Upper Atmosphere
A UK-based group Orchestra of the Upper Atmosphere were formed in 2010 by Martin ARCHER and Chris BYWATER, with touchstone inspirations being their love of Magma, Terry Riley, Alice Coltrane, Stockhausen and Sun Ra, and their desire to create a large scale music which would be improvisation based but would also feature arrangements for massed voices, strings and horns. A process which they have named "Improg". The duo spent 2 years working on "Theta One", for which session players were brought in as required, with a central role being played by the 30 voice avantgarde choir Juxtavoices. After the completion of this album, it was decided to continue the group permanently with a lineup of Martin ARCHER (keyboards, horns, electronics), Chris BYWATER (keyboards), Yvonna MAGDA (violin, electronics), Jan TODD (voice, strings, electronics), Terry TODD (bass), Steve DINSDALE (drums, keyboards) and Walt SHAW (percussion and electronics).
Chris left the group after "Theta Three", and for "Theta Five" new members Lorin HALSALL (double bass, electronics) and Andy PEAKE (keyboards) joined the group. After the completion of "Theta Three", the group ceased to perform live, principally for logistical reasons.
Across the span of 5 albums the group has stayed with the core idea to improvise with an emphasis on repetition rather than soloing. The group methodology is to improvise collectively in the studio, and then to carefully edit and arrange the improvisations into their final form by adding composed material. The group has gradually become more self-contained over the years, with Juxtavoices playing a smaller part and Jan's multi-tracked voices playing a larger part being the main change.
Writing about "Theta Five", Chris Cutler (ReR) said "It's a rock-rooted aesthetic, but with acres of space for improvisation, sonic exposition and studio manipulation. Assembled (a lot like Unrest-era Henry Cow) through a process of focused improvisation, extensive editing, customized composition, many overdubs and radical mixing - the results are persuasive and full of musical substance. These are mostly long-form pieces - to sink into and follow as they twist and turn. There is no shortage of ideas. Best approached, I think, like an immersive live concert, with an aesthetic somewhere between the mid 60s and the mid 70s, - only much better recorded. Give it a try. If not now, when? Reminds me rather of H Cow - I listened as to a gig, no idea where it was going. Great record, rare these days."

This album contains no booklet.