---
Album info
Album including Album cover
I`m sorry!
Dear HIGHRESAUDIO Visitor,
due to territorial constraints and also different releases dates in each country you currently can`t purchase this album. We are updating our release dates twice a week. So, please feel free to check from time-to-time, if the album is available for your country.
We suggest, that you bookmark the album and use our Short List function.
Thank you for your understanding and patience.
Yours sincerely, HIGHRESAUDIO
1

WE ARE

04:25

2

TELL THE TRUTH

03:21

3

CRY

03:57

4

I NEED YOU

02:37

5

WHATCHUTALKINBOUT

02:21

6

BOY HOOD

04:26

7

MOVEMENT 11'

02:02

8

ADULTHOOD

03:42

9

MAVIS

00:20

10

FREEDOM

02:58

11

SHOW ME THE WAY

03:40

12

SING

03:07

13

UNTIL

01:02

Total Runtime

37:58
Info for WE ARE

"WE ARE" is a career-changing album from musician and activist Jon Batiste. "WE ARE" celebrates Black American culture and music while exploring themes of lineage, authenticity, excellence and evolution. This album is about honoring roots and traditions, while looking forward to the future and constantly evolving. Featuring Mavis Staples, Zadie Smith, PJ Morton, Trombone Shorty, Kizzo, Autumn Rowe, Steve Jordan, and many more...
"WE ARE" is a masterfully constructed and visionary album that represents a completely new sonic chapter for Jon Batiste and a new direction for music culture as a whole. Writing, travelling, painting – all while inviting some of the most esteemed creative minds to assist in birthing the album – he reached the finish line smack in the middle of the first wave of the worldwide pandemic and volatile social unrest. At the end, a masterpiece of Black Pop Music characterized by the consciousness of Marvin Gaye, the grounded optimism of Stevie Wonder, the iconoclasm of Thelonious Monk and the swagger of Mannie Fresh was born.
"I'm publicly known for some things already," says Batiste. "But there's so much more to know about me. It's always been there. Now is the time to show the world my full artistry."
"WE ARE" is a message of love for humanity, of humble reverence for our past, and of a hopeful future, in which we are the ones who can save us. Jon said "The art reveals it's motive to you. You just have to wait for the Spirit to tell you what it wants."
Jon Batiste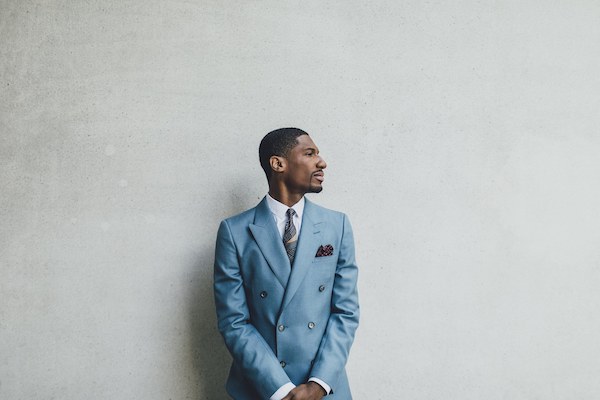 Jon Batiste
"I think we each need to identify what the thing is that we were born to do," says Jon Batiste. "Everybody has something they are born with and are representing—but a lot of times we run from that, from what comes most naturally. But once you find that, then you can learn and add different flavors and spices, and really grow with what you are and who you are."
The title of HOLLYWOOD AFRICANS comes from a 1983 painting by the great African-American artist Jean-Michel Basquiat, and the reference is significant. "Basquiat is an example of someone drawing from all his influences," Batiste says, "who benefited from the sacrifices of those who came before him, but displayed that we have so much more to do—even though we've come a long way. It's a critique of things we have had to go through, but that have allowed people like me and him the opportunities to do the things we've been able to do.
With HOLLYWOOD AFRICANS, Batiste dives deep into his own personal and cultural heritage, weaving an intimate and emotional tapestry out of original material and American standards that carries the listener from the early jazz of New Orleans to the present day. Guiding the acclaimed singer, composer, multi-instrumentalist, and leader of the group Stay Human—since 2015 the house band of The Late Show with Stephen Colbert—was legendary producer T Bone Burnett, whose numerous accolades include Album of the Year Grammys for the O Brother Where Art Thou? soundtrack and Raising Sand by Robert Plant and Alison Krauss.
"The goal was just to collaborate on something that felt authentic to both of us," says Batiste. "What we came up with was an intimate, stripped-down portrait of who I am, and the lineage of musicians and performers who are really vital to my work and to his. On this record, I want us to bop, dance, laugh and cry to the sound of the music while we remember our black heroes and wield the superpowers they left us with. Because of them, I don't have to wear a mask. I get to be who I am."
The pair met at a birthday party for Bono in Los Angeles. The guests—Pharrell, Herbie Hancock, Beck—all sat at a long table and everybody performed a song as a gift to the U2 singer. After playing his offering with Stay Human, Batiste started talking to Burnett, and recognized their kindred musical spirits. Batiste joined a session that Burnett was producing for folk singer Rhiannon Giddens, and they started making plans for a more extensive project.
A year later, as Batiste was getting ready to take over his role on the Late Show, they went into Esplanade Studios in New Orleans. "It's an old church converted into a studio, with amazing acoustics," says Batiste. "The sound has a special quality, almost like you're sitting under the piano. It was a joy to capture that sound, and then it was off to the races."
They got forty tracks down in two days—initially, songs by many of Batiste's heroes: Duke Ellington, Nat King Cole, Nina Simone, and early New Orleans composers like Jelly Roll Morton. "A lot of those didn't make the final cut," he says, "but it let us tap into that tradition of people who were both high artists and entertainers."
Born in Kenner, Louisiana (check the opening instrumental, "Kenner Boogie") Batiste is a member of one of the biggest and most important musical families of the New Orleans area. He started playing drums with the Batiste Brothers Band at age 8, before switching to piano a few years later. HOLLYWOOD AFRICANS, his sixth album (in addition to multiple EPs), represented an opportunity to explore his own history.
"The styles are a lot of things I grew up hearing, studying, trying to internalize," he says. "And being the bandleader of a late-night show, that fraternity is important, too—musicians who have studied their craft and found a way to translate that into a unique personality."
Burnett helped steer the ship as Batiste cut each song in one or two takes. "T Bone set a certain ethos in the recording process that seeps into the record," says Batiste. "It's not a tangible thing you can measure, but a way to explore the artistry. He allowed me to be who I am and capture it sonically in a way that was most representative of that." (He notes that Burnett even gave him a story by Zora Neale Hurston about the African-American folk hero High John the Conqueror to help "evoke the lineage we were trying to draw from.")
After the 2015 sessions, they reconnected for another day in 2017 and then two more in May of 2018, keeping a focus on Batiste alone at the piano. "The idea was to strip everything down, go back to basics," he says. "When you strip something down to rawest form, the essence of it shines through." He believes that this is why, though the album was recorded over such a long time, it still feels unified and not dated; "You're getting who I am at the core."
The classic songs on HOLLYWOOD AFRICANS include the New Orleans standard "Saint James Infirmary," "Smile," "The Very Thought of You," and Louis Armstrong's iconic "What a Wonderful World," which is slowed down to a soothing crawl; Batiste asks the audience to close their eyes when he plays the song onstage. "I took something Pops was known for and restated it, made it into a meditation about where the world is today," he says. "The drone I play in my left hand helps get you focused."
Batiste doesn't feel intimidated by taking on such hallowed material. "I do understand why someone might feel that way," he says, "but I just feel so authentically part of that history, I can approach it without apprehension. I feel it more as a calling—maybe not a responsibility, but a privilege to have insight into that lineage and represent it properly."This is just the beginning.
I hope to write the next chapter of black American Music alongside my generation.
Quickly, though, Batiste started to write more songs of his of own. He points to "Is It Over" and "Don't Stop" as examples of the fusion of influences to which he aspired. "They feel original, but drawing from those root elements—folk, gospel, jazz, blues, even classical music—and transforming them into something new. 'Mr. Buddy' is another one, a really vulnerable performance that mixes the different elements in one of the most unique ways on the record, and also works as a song."
Three years after the initial New Orleans sessions, Batiste (with the help of arranger Harvey Goldberg) determined that he wanted to add some overdubs to a few of the tracks. "A record really is different from a live performance, " he says, "so I wanted to create an atmosphere around some of the records to enhance the emotions."
"It's a great statement right now," he continues. "With so much division in the world, we can remember the contributions of great artists as a way to help unify us."

This album contains no booklet.