---
Album info
Album including Album cover Booklet (PDF)
Eugène Bozza (1905 - 1991): 3 Pièces pour une musique de nuit:

1

3 Pièces pour une musique de nuit: No. 1, Andantino

01:35

2

3 Pièces pour une musique de nuit: No. 2, Allegro vivo

02:36

3

3 Pièces pour une musique de nuit: No. 3, Moderato

01:54

Frank Bridge (1879 - 1941): Divertimenti, H. 189:

4

Divertimenti, H. 189: I. Prelude

04:28

5

Divertimenti, H. 189: II. Nocturne

05:12

6

Divertimenti, H. 189: III. Scherzetto

03:39

7

Divertimenti, H. 189: IV. Bagatelle

02:51

Jean Françaix (1912 - 1997): Woodwind Quartet:

8

Woodwind Quartet: I. Allegro

02:57

9

Woodwind Quartet: II. Andante

01:44

10

Woodwind Quartet: III. Allegro molto

02:34

11

Woodwind Quartet: IV. Allegro vivo

02:55

Richard Rodney Bennett (1936 - 2012): Travel Notes 2:

12

Travel Notes 2: I. In an Air-Balloon

01:27

13

Travel Notes 2: II. In a Helicopter

01:10

14

Travel Notes 2: III. In a Bath-Chair

01:20

15

Travel Notes 2: IV. Car-Chase

01:10

Jacques Ibert (1890 - 1962): 2 Mouvements (Version for Woodwind Quartet):

16

2 Mouvements (Version for Woodwind Quartet): No. 1, Allant

03:57

17

2 Mouvements (Version for Woodwind Quartet): No. 2, Assez vif et rythmé

02:46

Claude Arrieu (1903 - 1990): Suite en quatre:

18

Suite en quatre: I. Andante cantabile

03:26

19

Suite en quatre: II. Scherzando

01:07

20

Suite en quatre: III. Adagio

02:35

21

Suite en quatre: IV. Presto

01:38

Total Runtime

53:01
Info for Four

Tuneful, exciting, peaceful, humorous, fascinating- music for woodwind ensemble can be all of these and this new album presents serious and lighter pieces of impressionist and post-Romantic inclination from the 20th century. It includes the premiere recording of the beautiful Suite en Quatre by French female composer Claude Arrieu. FOUR is a project that represents the beginning of a longer journey for London Myriad. It is the first of an audio pair: one which champions existing music and one which carves out new repertoire for wind quartet. The second recording of the pair will be a commission of new works for the same combination and will be realized in the future as FOUR|2. The woodwind quartet in particular provides a unique opportunity for composers to closely explore the individual and very different characteristics, timbres and ranges of each of the four instruments, offering a diverse and evocative scope of compositional colors. Here, from the beautifully textured quartets by Arrieu, Bozza, and Francaix, to the whimsical Travel Notes by Richard Rodney Bennett, the ensemble provides joyful and brilliantly performed pieces that will be appreciated by all.
London Myriad Ensemble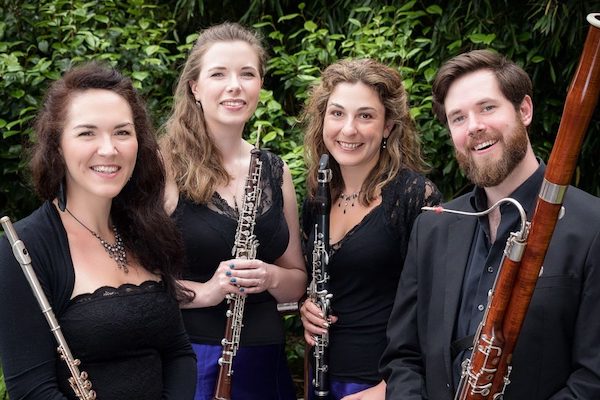 The London Myriad Ensemble
was formed in 2004 by a group of young musicians from the London colleges. Over a decade later, individual members all continue to share a passion for chamber music, and have gone on to work with major ensembles and orchestras in the UK and internationally, including the RPO, Hallé, Royal Opera House, BBC Symphony Orchestra, Ensemble 360 and the London Contemporary Music Group, alongside working on west end shows including Phantom of the Opera, the King & I, Charlie and the Chocolate Factory and Wicked.
With a wind quartet as its core, the group has performed a wide range of repertoire ranging from that of duos to sextets, often expanding ranks to include strings, piano, harp and/or narrator in many recitals and concerts both in the UK and internationally.
As first prize winners of the Israeli Music International Music Competition, the London Myriad Ensemble performed at the Purcell Room in the Southbank Centre and also live on BBC Radio 3. The ensemble performs regularly in recital including other notable venues such as St. Martin-in-the-Fields, St. James's Piccadilly, the National Portrait Gallery, the British High Commissioner to the Seychelles and the State Drawing Room at 11 Downing Street to name but a few.
With a keen interest in new music and in expanding the repertoire in particular for woodwind chamber ensemble, London Myriad has given several world premiere and UK premiere performances. They have commissioned new works, as well as having several works written for them, performing as resident ensemble with composers from 'New Music Brighton' and the 'London Composers Forum.' They feature on a recently made recording of Rob Keeley's music, called "Twists and Turns" (on the Divine Art label) performing his Studies for Wind Quartet. Having now been signed by the Metiér label, the ensemble is excited to be releasing a CD of wind quartet works - 'FOUR' - in 2019 to be followed by a CD of newly commissioned works for the combination called 'FOUR 2'.
Also passionate about music education, the ensemble is the resident ensemble at Whitgift School in Croydon,and has a wealth of experience of devising and running school education workshops. In their capacity as Concordia International Artists they have hosted, devised and led a number of large outreach workshops and performances at Wiltons Music Hall as part of their Young Audiences project in Tower Hamlets and beyond.
The ensemble has also successfully run a popular course for pre-formed advanced wind ensembles at Benslow Music twice a year since 2010. This course has enabled the group to work with passionate amateur wind players on some of the most wonderful repertoire for all manner of combinations of wind instruments, both well-known and more obscure. The ensemble now also tutors a third course each year due to demand.
Their debut CD of works for wind quartet by Francaix, Ibert, Bozza, Bridge, Arrieu and Rodney-Bennett is due to be released on the Metier label in 2019.

Booklet for Four