---
Album info
Album including Album cover
I`m sorry!
Dear HIGHRESAUDIO Visitor,
due to territorial constraints and also different releases dates in each country you currently can`t purchase this album. We are updating our release dates twice a week. So, please feel free to check from time-to-time, if the album is available for your country.
We suggest, that you bookmark the album and use our Short List function.
Thank you for your understanding and patience.
Yours sincerely, HIGHRESAUDIO
1

Only Elliot

02:00

2

It's Never Too Late

03:31

3

The Bug

01:58

4

El Vaquero

02:07

5

Hope Street

03:26

6

Blood Brother

04:52

7

Miyazaki's Dream

04:19

8

One Day

03:32

9

Traveling Clothes

02:39

10

T.E. Ranch

02:29

11

Hellos and Goodbyes

04:22

12

One Mint Julep

03:40

13

The Duke

03:23

14

Old Photographs

03:57

Total Runtime

46:15
Info for It's Never Too Late

Quality is laced throughout It's Never Too Late, the first regular studio album featuring Tommy Emmanuel completely solo without guests since 2000. A friend and follower of the late Chet Atkins – who christened Emmanuel a Certified Guitar Player, making him one of only five musicians to receive the C.G.P. distinction from the master – Emmanuel easily skates between musical styles, playing with blues in "One Mint Julep," infusing Spanish tradition in "El Vaquero" and exploring folk in "The Duke."
An accomplished fingerstyle player, Emmanuel frequently threads three different parts simultaneously into his material, operating as a one-man band who handles the melody, the supporting chords and the bass all at once. That expert layering is evident in It's Never Too Late on the quixotic "Only Elliott," the calming title track and the gorgeous "Hellos And Goodbyes."
There's a science to assembling the parts, and Emmanuel's technical gift has earned him multiple awards from Guitar Player magazine and made him a Member of the Order of Australia, an honor bestowed by the Queen in his homeland. But the average fan could listen without even considering the precision behind the work, focusing instead on the artful tension and release of Emmanuel's melodies.
The message behind his work is optimism, and that's a clear part of the ethos in It's Never Too Late, a title inspired by the birth of a daughter, Rachel, just months before he turned 60. He channeled that inspiration into the album. So it is that Emmanuel is moving cheerily forward, trusting that the optimism in his work will provide the same inspiration for the audience that the process provides for him. The frenzy in "The Bug," the upbeat buzz of "Hope Street" and the serenity that blankets "Miyazaki's Dream" all link into some form of positivity and possibility.
"Tommy Emmanuel - It's never too lateHis supreme layering ability resonates from the outset in the spirited joviality of Only Elliott, and continues to sing on the starry-eyed It's Never Too Late, a title inspired by the recent birth of his daughter; and at 60 years old its sentiment could not ring truer. The relentless frenzy and innocent bliss of The Bug perfectly personifies its subject in less than 2 minutes, before Emmanuel effortlessly traverses continents and styles. He blends country and western and Spanish traditions with natural conviction on EL Vaquero, becomes intoxicated with the blues on the lumbering One Mint Julep, floats on dreamy folk in The Duke and One Day, as well as delving into more contemporary pop-oriented tracks.
An undeniable visionary with his instrument, Emmanuel not only explores different styles, but evokes a spectrum of distinctive emotions with visceral rawness. From comforting optimism on Hope Street, the rollicking wonder and joy of Travelling Clothes and T.E. Ranch, to an ethereal stillness that swathes Miyazaki's Dream, and the wounded, but resolute, Blood Brothers."
Tommy Emmanuel, guitar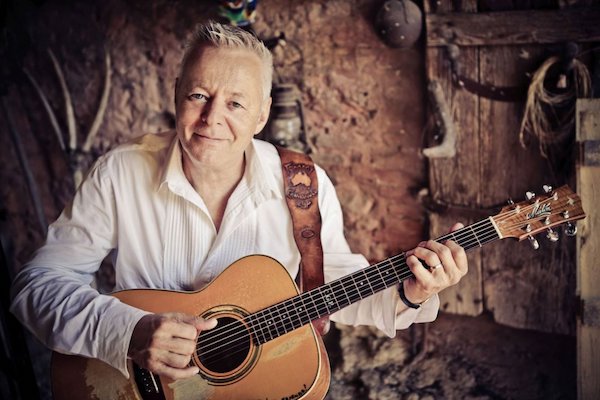 Tommy Emmanuel
Two-time Grammy nominee Tommy Emmanuel has a professional career that spans over four decades and continues to intersect with some of the finest musicians throughout the world. A household name in his native Australia, Tommy has garnered hundreds of thousands of loyal fans worldwide. Tommy's unique style - he calls it simply "finger style" - is akin to playing guitar the way a pianist plays piano, using all ten fingers.
Guitar legend Chet Atkins was one of the first to inspire Emmanuel to pick up the guitar as a child. Decades later, Atkins himself became one of Emmanuel's biggest fans. In 1999, Chet honored Tommy Emmanuel with the title of "Certified Guitar Player" for his lifetime contribution to the instrument, a rare honor shared by only three other people in the world (Jerry Reed, Steve Warner and John Knowles). Atkins eventually recorded with Tommy in 1996 on "The Day the Finger Pickers Took Over the World", for which Emmanuel received his first Grammy award nomination. This was also Atkins last recording.
After a recent recuperative rest, resulting from an exhausting touring schedule, Tommy is now completely rejuvenated and embarking on a full tour schedule in 2008. A new double live CD and DVD, "Center Stage" filmed in High Definition and recorded at the Sierra Nevada Brewery in Chico, California will be commercially released in Spring '08. The DVD portion will also air on Public Television affiliates all over the United States. Every element of modern technology was used in the production of both the DVD and CD. Tommy's record producer, Kim Person, recorded and mixed the audio tracks, while long-time Sierra Nevada video producer/director Peter Barlow tied the entire package together in state-of-the-art quality. It makes for a stunning package, both aurally and visually.
The double disc Live CD "Center Stage" contains many fan show-stoppers, including Emmanuel's Beatles Medley, Mombasa, and Initiation – the aboriginal tribute song that has evolved over the years and never sounds the same on any recording – or during any show. Tommy also introduces four never-before recorded tracks, "Ruby's Eyes", "Lenny Bro'", "The Jolly Swagman" and "Papa George" (inspired by George Harrison). Also, included are several arrangements of popular traditional tunes like "House of the Rising", "Nine Pound Hammer", "Amazing Grace" – and for his Japanese fans, "Sukiyaki" This new CD is a great mix of the rare, the new, the traditional and the favorites.
Emmanuel's music and life are legendary in Australia. He began playing guitar at age 4, by learning to play by ear without any formal instruction. Emmanuel and his older brother Phil were child prodigies, starting their professional career in the 1960s. By the age of six, Tommy was already working as a professional musician. Shortly after his father's death in 1966, the Emmanuel family was approached by Australian country music star Buddy Williams, who took the family on the road until they were forced by the Australian child welfare department to stop traveling. The Emmanuel children were then sent to a regular school. During these years, Tommy was playing in "The Trailblazers" (with siblings Chris on drums and Virginia on slide guitar) on weekends. He also taught guitar and made numerous television appearances in musical competitions. Emmanuel's first brush with fame came when The Trailblazers won two televised talent contests and produced an EP. He and his siblings worked hard to create the family's sole income for several years. In his early teens, Tommy left home and moved to Sydney to pursue a professional career as a guitarist. Playing in clubs all over the city, Emmanuel soon found himself in high demand as a session player for some of the era's most popular performers. During the mid 70s through the early '80s, he joined one of the decade's biggest, Dragon, recorded thousands of commercial "jingles" and played on recordings for Air Supply, Men at Work and dozens of other popular artists. In 1987, Dragon toured with Tina Turner on her "Break Every Rule" tour.
In addition to his storied career, which includes 16 music and instructional recordings, Tommy is also an accomplished record producer and musical arranger. He is also well regarded for mentoring students by offering guitar workshops and master classes on tour. Other accolades include his 2007 Grammy nomination for "Gameshow Rag' from "The Mystery" CD, induction into the Thumb pickers Hall of Fame in Muhlenberg, Kentucky (the only non-American so honored), and Acoustic Guitar Magazine readers' poll for placing in the top 3 favorite artists. Emmanuel was voted Rolling Stone (Australia) Magazine's "Most Popular Guitarist" for two consecutive years. He has earned four Platinum and Gold albums, two consecutive "Golden Guitar" awards (2006, 2007) at the CMAA Awards in Australia. Another stellar career highlight was Tommy's performance (with his brother Phil) at the Sydney 2000 Olympics Closing Ceremonies, viewed by over 2 billion people around the world. Emmanuel has set sales records that have yet to be broken and performed with hundreds of musical legends including Chet Atkins, Les Paul, Keith Urban, Eric Clapton, Sir George Martin, Tina Turner, Joe Walsh, Stevie Wonder, Nokie Edwards (of the Ventures), Hank Marvin, the Lexington (Kentucky) Philharmonic, the Dortmund (Germany) Symphony, and the Western Australian Symphony Orchestra. In addition, Tommy hosts several annual "TommyFest" concerts, where other stellar internationally recognized musicians are invited to share in a four day all-out celebration of music.
As a solo performer, Tommy's dazzling performance, flawless guitar skills and voluminous repertoire never fail to amaze and engage his legions. From the wilds of Australia's outback to bustling major cities throughout the world, Emmanuel's flair and unforgettable showmanship have created an enviable fan base that continues to grow even larger every year.

This album contains no booklet.