---
Album info
Album including Album cover Booklet (PDF)
I`m sorry!
Dear HIGHRESAUDIO Visitor,
due to territorial constraints and also different releases dates in each country you currently can`t purchase this album. We are updating our release dates twice a week. So, please feel free to check from time-to-time, if the album is available for your country.
We suggest, that you bookmark the album and use our Short List function.
Thank you for your understanding and patience.
Yours sincerely, HIGHRESAUDIO
1

Stampede (Live in ST. Petersburg 2015)

05:53

2

Stalingrad (Live in ST. Petersburg 2015)

06:02

3

Hellfire (Live in Saarbrücken 2015)

05:34

4

London Leatherboys (Live in Moscow 2015)

04:32

5

Living for Tonite (Live in Saarbrücken 2015)

03:40

6

200 Years (Live in Pratteln 2015)

04:33

7

Demon's Night (Live in Hannover 2015)

04:49

8

Dying Breed (Live in Saarbrücken 2015)

06:26

9

Final Journey (Live in Moscow 2015)

05:17

10

From the Ashes We Rise (Live in Hannover 2015)

05:51

11

Losers and Winners (Live in Berlin 2015)

04:20

12

No Shelter (Live in Minsk 2015)

07:24

13

Shadow Soldiers (Live in Grenoble 2015)

06:08

14

Midnight Mover (Live in Sofia 2015)

03:25

15

Starlight (Live in Yekaterinburg 2015)

03:52

16

Restless and Wild (Live in Moscow 2015)

04:28

17

Son of a Bitch (Live in Saarbrücken 2015)

02:59

18

Pandemic (Live in Saarbrücken 2015)

06:17

19

Dark Side of My Heart (Live in Yekaterinburg 2015)

04:46

20

The Curse (Live in Krakow 2015)

06:09

21

Flash Rocking Man (Live in Saarbrücken 2015)

04:23

22

Bulletproof (Live in Saarbrücken 2015)

05:58

23

Fall of the Empire (Live in Saarbrücken 2015)

05:40

24

Fast as a Shark (Live in Moscow 2015)

04:40

25

Metal Heart (Live in ST. Petersburg 2015)

06:44

26

Teutonic Terror (Live in ST. Petersburg 2015)

05:17

27

Balls to the Wall (Live in ST. Petersburg 2015)

09:46

Total Runtime

02:24:53
Info for Restless & Live

Ever-raging metal institution, ACCEPT, are returning with a bang! After three studio albums and several tours around the globe since their reunion in 2010, the time has come for the band to unleash a brand-new live document titled »Restless And Live«. This package will include the entire show ACCEPT played at Bang Your Head!!!
Guitarist Wolf Hoffmann reminisced: "We didn't know exactly what would happen back in 2010, what happens if... But this was six years ago and we've released three records since then. With »Blind Rage«, we had our first No. 1 chart record! There can be nothing nicer!"
The package's title, chosen by the band couldn't be more suitable: "»Restless And Live« simply fits what we experienced at BYH!!! and for what we stand for until today! It goes on and on and on! We're already working on a new production. The thought of being on the road again soon gets our blood flowing: And it is possible to overcome everything that happened before."
Accept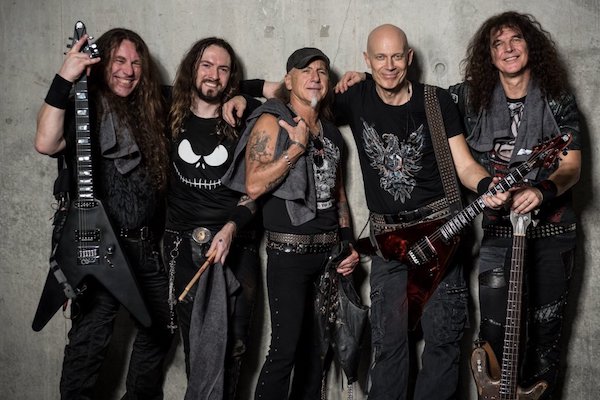 Accept
Teutonic metallers ACCEPT could already claimed big worldwide success with »Blood Of The Nations« and »Stalingrad«, but with »Blind Rage«, they reached the pinnacle of their career in the form of the pole position, a #1 album. Besides #1 in Germany, ACCEPT also hit #1 in Finland as well as several top 10 positions; Czech Republic, Hungary, Sweden, Switzerland, the UK and last but not least the US. After releasing a string of metal classics in the 80s such as »Breaker« (1981), »Balls To The Wall« (1983) and »Metal Heart« (1985), which made them iconic, the band with Wolf Hoffmann and Peter Baltes still haven't peaked, especially if you glance across their touring schedule; ACCEPT have headlined Woodstock FestivalPoland, Wacken Open Air, Czech Masters Of Rock Festival and Bang Your Head!!! Festival, Germany – amongst countless other performances over the last few years. Their Bang Your Head!!! performance was also filmed and released in the form of a live DVD/Blu-ray+2CD package titled »Restless And Live« (2017), reminiscent of their classic »Restless And Wild« (1982). With this DVD in the fans' hands, ACCEPT could cement their previous success from »Blind Rage« by hitting #1 in the Swedish and German DVD charts amongst others.
But that's enough nostalgia – back to the present, back to 2017! After the aforementioned DVD's unleashing and an almost 3-month European tour, ACCEPT speed around the corner with their new album »The Rise Of Chaos« which will cement their status as genre leaders once again. Guitarist Wolf Hoffmann comments on the album title, "»The Rise Of Chaos« is something I have been thinking about often. It describes a condition which is slowly spreading around the world. With the stage setup on our latest European tour, we wanted to portray rather dystopian and destroyed scenery. If you now take a look at our new cover, it's the same imagery. This time however you can also spot the invisible destruction that we feel more and more in these times, as well as the visible destruction."
ACCEPT continue along the path they started with their three previous records, which is why the band has recorded their 4th studio album since 2010 once again with Andy Sneap. The exceptionally detailed artwork was created by Gyula Havancsák. "Previously our cover artworks had been really simple and focussed on one message. But this time, we wanted to make it more interesting by using an atmospheric picture where you can find a lot of hidden details, but also with a clear and thoughtful statement present," adds Wolf.
The band delivers more than just a musical statement with »The Rise Of Chaos«, in this case it's a clear announcement (!) – with the straight forward opening track 'Die By The Sword': Galloping drums, lightning guitars and ACCEPT's trademark choir instantly silence any doubt as to whether they're still the top dog when it comes to top-notch Teutonic metal. Second track 'Hole In The Head' leaves no time to breathe, before the title track kick-starts and tries to pummel its way through the listener's ear canal. This song may evoke a sense of familiarity within listeners, because it was previously released with an impressive music video. After consuming the upcoming 'Koolaid' shake, 'No Regrets' keeps heads banging with its speedy guitar solos, which concludes the 1st half of the record. 'Analog Man' rings in the 2nd part, telling the story of the world increasing digitisation: Its haunting (pre) chorus should undoubtedly confirm its place in forthcoming ACCEPT set lists. Track number 8, 'Worlds Colliding', marks the album's most thoughtful song, swiftly followed by the fastest banger of »The Rise Of Chaos«, 'Carry The Weight'. After 45 minutes, the closer,'Race To Extinction', lets the record fade out fittingly.
The songs from »The Rise Of Chaos« will be performed for the very first time at Wacken Open Air 2017's »Night To Remember«. Besides new ACCEPT tracks, Wolf Hoffmann will also bring his latest solo album titled »Headbangers Symphony« (2016), which showcases famous pieces by classical composers such as Beethoven, Vivaldi and Mozart (specially arranged for the metal world) on the stage for the first time ever; he will be supported by the Czech National Symphony Orchestra. The last and concluding third part of this once in a lifetime evening will be fulfilled with a classic ACCEPT set alongside the orchestra.
Wolf Hoffmann states, "It's always impressive to see how bands take this evening seriously and how much love the artists and the organising team put into their work to get a varied result. It's a great tradition which underlines and documents the top-notch level of the international rock community like nothing else. We also want to present something that ACCEPT has never done before, we hope we can give something really special to the fans."
"ACCEPT have been and are still a very important part of Germany's heavy metal scene. We're really looking forward to having them with us once more. With this epic concept, the Thursday evening will be one to remember for sure," closes Thomas Jensen, organiser of Wacken Open Air.

Booklet for Restless & Live