---
Album info
Album including Album cover Booklet (PDF)
1

Brother Can You Spare a Dime

05:03

2

Woodstock

05:23

3

Ode to Sainte Cécile

04:24

4

If You Knew

03:34

5

Jesus Maria

05:18

6

Blues for Angels

05:25

7

Black Trombone

04:23

8

Caravan

04:04

9

Free Ballad

07:15

10

Journey in Satchidananda

04:32

11

Baby Man

04:22

12

Gee Baby

04:32

13

Gotham Lullaby

03:35

14

Prends courage, oh !

04:08

15

Black Is the Color of My True Love's Hair

05:12

Total Runtime

01:11:10
Info for Caravan Party

The beautiful Persian etymology of the word "Caravan" goes back to the d awn of time, embracing the ideas of nomadic travel and of mutual aid.
Drawing on this unforgettable poetry and inspired by the legendary song of the same name by Juan Tizol and Duke Ellington, Caravan Party invokes friendship through music, the miracle of which is always present at the Bal Blomet, one of the oldest jazz clubs in Europe.
A regular resident of this historic venue which opened its doors in 1924, Johan Farjot has brought together on this disc a good number of his comrades from the series he hosts there (alongside saxophonist Raphaël Imbert), the '1001 Nuits du jazz', with unheard-of combinations and unexpected collaborations between artists.
This choral festival, arranged and directed from the piano by Johan Farjot, brings together an original playlist, with pride of place given to the masterpieces of the great female composers of the 20th and 21st centuries, but also to the great standards, that have their place in our collective unconscious, sometimes facing in the direction of pop.
Let us embark on a crazy journey in a caravan!
Johan Farjot, piano, direction and arrangement
Ensemble Saxo Voce(tracks 2,4,5,6,8,10,11,13,14)
Julie Saury, drums (tracks 1,2,3,5,6,7,8,10,12,14,15)
Joe Quitzke, drums (track 9)
Felipe Cabrera, double bass (tracks 1,2,5,7,10,12,14,15)
Laure Sanchez, double bass (tracks 3,6,8)
Hugo Lippi, guitar (track 3)
Marion Rampal, vocals (tracks 2,7)
Inès Matady, vocals (track 4)
Hugh Coltman, vocals (tracks 1,8,15)
Rosemary Standley, vocals (track 5)
Aude Publes Garcia, vocals (track 14)
Ronald Baker, voice, trumpet (track 12)
Louis Sclavis, clarinet (track 9)
Raphaël Imbert, saxophone (tracks 3,4,6,9,10)
Vincent Lê-Quang, saxophone (tracks 2,5)
Baptiste Herbin, saxophone (track 8)
Jeanne Michard, saxophone (track 14)
Fidel Fourneyron, trombone (tracks 1,7)
Humayoun Ibrahimi, tablas (track 10)
Dan Tepfer, piano (track 11)
Arnaud Thorette, viola (track 13)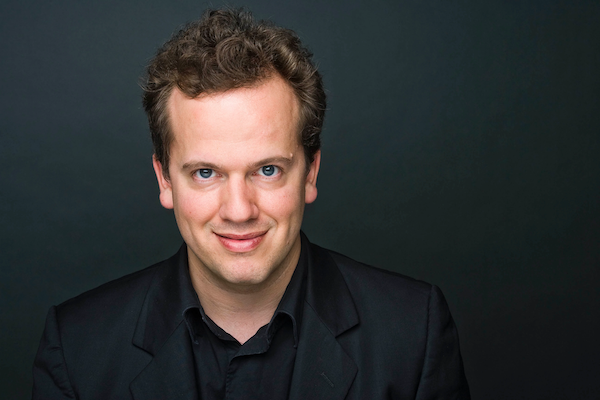 Johan Farjot
was born in Saint-Étienne, where he began studying music at the local conservatory. Enrolling at the Paris Conservatoire, he was taught by, among others, Michaël Levinas, Thierry Escaich, Zsolt Nagy and obtained five Premiers prix (Harmony, Counterpoint, Fugue, Music theory and analysis, Conducting).
Coming third in the Agrégation de Musique, a highly competitive examination for teachers, Johan Farjot studied chamber music at the Conservatoire national de musique et de danse in Lyons.
Composer, orchestrator:
Farjot composes in many genres and forms, always exploring new sound horizons. His works are performed by leading musicians, as showcased by one of his recent critically acclaimed CDs Fuga Libera, Contemporary Clarinet Concertos, released in August 2019 by Outhere. This CD has been awarded many prestigious titles like Diapason d'Or, Diapason of the Year, Choice of France Music, etc.
Alongside concertos by Lindberg and Hartmann, this CD features Farjot's triple concerto Fantasme - Cercles de Mana for viola (Arnaud Thorette), cello (Antoine Pierlot), clarinet (Jean-Luc Votano) and orchestra (Royal Philharmonic Orchestra of Liège conducted by Christian Arming).
A monographic CD Childhood (Klarthe) was digitally released in May 2020 (physical release scheduled for September 2020). It contains chamber music performed by artists such as Ensemble Contraste, Geneviève Laurenceau, Jérôme Ducros, Pierre Génisson, etc.
As a composer, Johan Farjot sometimes tackles more popular music styles. This is the case of his children's musical tale Georgia, Tous mes rêves chantent (Gallimard), published in 2017 in the form of a book with CD in collaboration with Ensemble Contraste (author of the story: Thimotée de Fombelle, illustrator: Benjamin Chaud) and in partnership with the association SOS Children's Villages. Many musicians and singers took part in this project (among them are Alain Chamfort, Emily Loizeau, Albin de la Simone, Marie Oppert, etc.).
Continuing in the same line of work, during the summer of 2020 Johan Farjot composed the music for a new children's book-CD entitled Siam - Au fil de l'eau (Flammarion, author of the story: Arnaud Thorette, illustrator: Olivier Latyk) which also involves a large number of artists (Gérard Jugnot, François-Xavier Demaison, Juliette, Tim Dup, etc.). This CD was created in partnership with the association Le Rire docteur.
Exploring a whole other sphere, Farjot reinvents Schubert for the CD Schubert in Love (Alpha) in collaboration with Ensemble Contraste and the folk singer Rosemary Standley, released in the summer of 2020.
As an orchestrator, Johan Farjot never stops offering new insights into music genres and styles he is passionate about, whether it be musicals (>Song, released in 2011 by Naïve and featuring opera singers such as Karine Deshayes, Sandrine Piau, Magali Léger, Alain Buet, Sébastien Droy, Sébastien Guèze, etc.), Johann Sebastian Bach (Transcriptions, Dolce Volta, 2013), or tango (Café 1930, Zig-Zag Territoires, 2009 and Besame Mucho, Aparté, 2017, with the Royal Philharmonic Orchestra of Liège).
Equally worth mentioning is Farjot's exploration of the realm of jazz, carried out in particular through compositions addressing a very unique ensemble (two keyboards played by Karol Beffa, Arnaud Thorette's viola and Raphaël Imbert's saxophone) for a CD entitled Miroir(s) released in 2013 by Naïve. In these works, Farjot revisits some of the great classic and universally known themes.
Pianist, conductor:
Contributing as a pianist to the Ensemble Contraste which he created and which he now co-directs with the violinist and violist Arnaud Thorette, Johan Farjot has built a solid discography (over thirty CDs praised by critics, with some of them distinguished by the titles "Diapason d'or", "Choc Classica", etc.) and performs with prestigious musicians in numerous festivals and concert seasons in France and abroad.
Among these recordings, one may retain a CD dedicated to Bruch's music (Diapason d'Or) released in 2009 by Cyprès, three Brahms >sonatas for violin and piano with Geneviève Laurenceau recorded in 2010 for the label Zig-Zag Territoires, as well as a CD of Fauré's music including his First Piano Quartet and i>La Bonne Chanson, recorded with Ensemble Contraste and Karine Deshayes (Diamant from Opéra Magazine). Finally, let us mention a monographic CD dedicated to Onslow (Choc Classica), recorded in 2010 with Initium Ensemble and released by Timpani. In 2012, Farjot released a CD dedicated to Charles Koechlin with the same musicians.
Farjot's other achievements are a Bach CD (Dolce Volta/Harmonia Mundi) recorded with Ensemble Contraste, and a Schumann CD (Cyprès) made in collaboration with Jean-Luc Votano and Arnaud Thorette. In 2015, two CDs were released by Aparté: After a Dream, a collection of mélodies françaises interpreted by the mezzo-soprano Karine Deshayes and unanimously acclaimed by critics (Choc Classica), and Into the Dark, containing works for string orchestra composed by Karol Beffa and recorded with Karine Deshayes, Arnaud Thorette, Emmanuel Ceysson and the enlarged Ensemble Contraste, directed by Johan Farjot (Click on Classique News, Grand Prix des Lycéens).
As a performer, Johan Farjot always remains closely connected to the world of contemporary music: he premiered a number of works and several composers dedicated their pieces to him (Karol Beffa, Philippe Hersant, etc.).
As a pianist, Johan Farjot has always been close to the world of jazz and has collaborated with many great jazz performers such as Anne Paceo, Hugh Coltman, Daniel Humair, André Ceccarelli, etc. Ever since March 2016, alongside the saxophonist Raphaël Imbert, Farjot is the artistic director of an on-going series of concerts "Les 1001 Nuits du Jazz" that take place in Bal Blomet, a historic jazz club located in the 15th arrondissement of Paris (Farjot and Imbert organize two concerts per month featuring many guest stars). One of such concerts has been immortalized in the form of a live CD in the spring of 2020 (Les Mille et une Nuits du Jazz. Johan Farjot, Raphaël Imbert and Guests released by MDC/Pias).
Musical coordinator at the University of Paris Sciences et Lettres, where he also conducts a university orchestra and choir, Johan Farjot is the guest conductor of several ensembles in France and abroad: National Orchestra of the Capitole of Toulouse, Bratislava Radio Orchestra, Durban Philharmonic Orchestra, Marseille Opera Orchestra, National Orchestra of Auvergne, Jan Talich Orchestra of Prague, Berolina-Orchester/Berliner Symphoniker Orchestra, etc.

Booklet for Caravan Party