---
Album info
Album including Album cover
BRAHMS, Johannes Brahms (1833 - 1897): Sonata for Viola and Piano, Op. 120, No. 2:

1

BRAHMS, Brahms: Sonata for Viola and Piano, Op. 120, No. 2: I. Allegro amabile

08:33

2

BRAHMS, Brahms: Sonata for Viola and Piano, Op. 120, No. 2: II. Allegro appassionato

05:09

3

BRAHMS, Brahms: Sonata for Viola and Piano, Op. 120, No. 2: III. Andante con moto - Allegro non troppo

07:11

Sonata for Viola and Piano, Op. 120, No. 1:

4

BRAHMS, Brahms: Sonata for Viola and Piano, Op. 120, No. 1: I. Allegro appassionato

07:36

5

BRAHMS, Brahms: Sonata for Viola and Piano, Op. 120, No. 1: II. Andante, un poco Adagio

04:37

6

BRAHMS, Brahms: Sonata for Viola and Piano, Op. 120, No. 1: III. Allegretto grazioso

04:25

7

BRAHMS, Brahms: Sonata for Viola and Piano, Op. 120, No. 1: IV. Vivace

05:42

Violin Sonata G Major, Op. 78:

8

BRAHMS, Brahms: Violin Sonata G Major, Op. 78: I. Vivace ma non troppo (Arr. for Viola and Piano by Riebl/Vogel)

09:48

9

BRAHMS, Brahms: Violin Sonata G Major, Op. 78: II. Adagio (Arr. for Viola and Piano by Riebl/Vogel)

06:56

10

BRAHMS, Brahms: Violin Sonata G Major, Op. 78: III. Allegro molto moderato (Arr. for Viola and Piano by Riebl/Vogel)

08:09

Total Runtime

01:08:06
Info for Brahms: Sonatas for Viola and Piano Op. 120 & Op. 78

Brahms Reimagined: Why another recording of the Brahms Sonatas?
In his book After the Golden Age Kenneth Hamilton takes a swipe at half-baked approaches to Historically Informed Performance Practice: "Some modern players of nineteenth-century pianos seem to feel uncomfortable with certain performance practices associated with the era. It is surprising how many award themselves a gold star for using historical instruments on recordings (sometimes chronologically bizarre ones) but steadfastly ignore the improvisation, unmarked arpeggiation of chords, and tempo flexibility that was such an important feature of much romantic performance practice." A similar swipe at string players might award only muted approbation for the use of gut strings if divorced from a varied use of vibrato and bow vibrato coupled to an enthusiastic embracing of vocal portamenti.
Dorothea Vogel and John Thwaites adopt a radically revisionist tone in these recordings, believing that both piano and string playing in the closing decades of the nineteenth century differed significantly from today's norms. They are indebted to the work of Professor Emeritus Clive Brown and the work that he and his colleagues have done for the Bärenreiter Brahms edition.
Dorothea Vogel: "I've always enjoyed the sound of older pianos. For me it's a sound that string players can relate to. Importantly these pianos give an acoustic space in which we can create a variety of tone colours without being forced to concentrate exclusively on projection. Piano parts don't sound thick, there aren't any balance problems, and the viola line is free to sing. In approaching these recordings I knew that I wouldn't want to be using continuous vibrato but that portamento (sliding the finger along the string) would become a bigger part of my vocal approach. Music happens between the notes, that is in the connection between notes. Making a portamento slide can link notes expressively and I have been happy to use much more portamento than I normally would, inspired by old recordings from the years just after Brahms's death. I have wanted to use slides where the music demands it, not simply where it feels most comfortable, and I've taken the same approach to a varied use of vibrato, and a willingness to sometimes let the pure tone of the gut speak simply (as Joachim seems to be doing in his recordings)."
John Thwaites: "I'm very fond of the extra overtones generated by this 1872 straight-strung Bösendorfer. The strings are under less tension so produce a more colourful sound. Each register has its own character, and this piano has a wonderfully guttural tenor and bass. It has a real brilliance in forte but in una corda the leather strip that covers the felt hammers lends a gentleness of extraordinary beauty. The "looseness" in the physical being of the instrument and (relative to the modern piano) the thinness and transparency of the sounds seem to naturally invite more rubato and rhythmic flexibility. I've found this personally agreeable since romantic freedom has been part of my musical makeup, for good or ill, since teenage years. Agogically inflecting "hairpins" (graphically notated mini crescendi followed by diminuendi) in the score, that is making hairpins expressive through rubato as well as volume, often by stretching and lingering in the middle of the hairpin, is now an accepted part of Brahms HIP interpretation. In this recording I've wanted to go further than ever before. Thalberg tells us, in his 1853 preface to L'Art du chant appliqué au piano that the normal way to play any piano chord is Presque Plaqué, that is almost together, that is, not together! And we know that nineteenth century pianists freely arpeggiated chords and often played the left hand before the right. Further, we can hear this in the early twentieth century recordings and piano rolls by the greatest pianists and composer-pianists. Throughout my life these recordings have been venerated as showcasing the most wonderful piano playing, truly representative of the Golden Age. Clearly the primary factor is that in those days only the very greatest of artists made recordings; all these men and women are extraordinary. But it does also raise a question as to whether the pianistic style in which they were raised contributes to this abundant musical creativity, and therefore whether we lesser mortals of the current time might purposefully allow ourselves some of these pianistic traits."
Dorothea Vogel, viola
John Thwaites, piano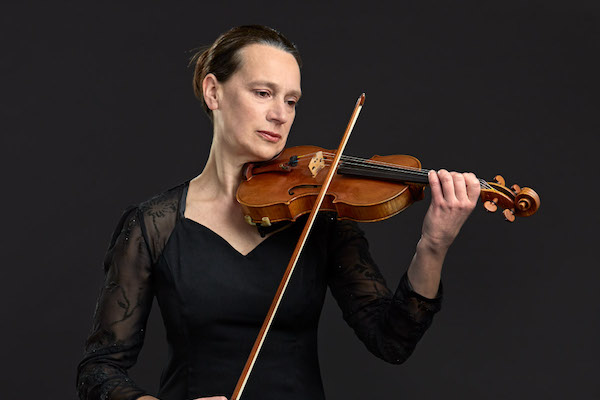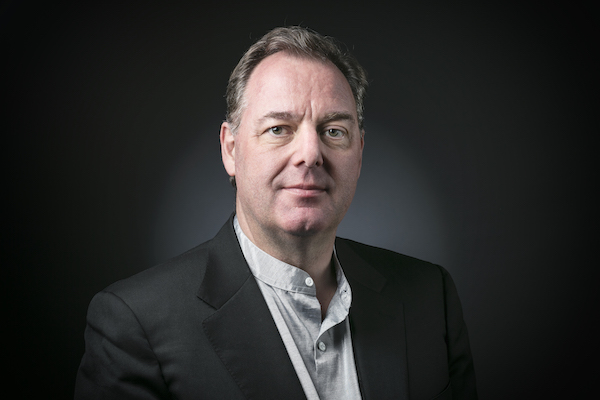 Dorothea Vogel
was born in Switzerland and studied with Rudolf Weber in Winterthur. After winning first prize in the Swiss Youth Competition, Dorothea won scholarships to study with Paul Coletti at the Peabody Institute, USA, and with David Takeno and Micaela Comberti at the Guildhall School in London, where she graduated with the coveted Concert Recital Diploma. She was a founder member of the Amar Quartet. Dorothea has played the baroque viola in the Kings Consort and Florilegium and has been both principal viola in the Gustav Mahler Orchestra and the World Youth Orchestra in Israel. She has appeared as a soloist with the Zurich Kammerorchester and at London's Wigmore Hall.
In 2001 she joined the Allegri String Quartet, one of the UK's longest-standing chamber groups, with whom she enjoys a busy performing, touring and recording schedule.
She teaches Chamber Music at Pro Corda as well as festivals throughout the UK. Her viola is by Ludovico Rastelli, Genoa, circa 1800.
John Thwaites
is best known for his collaborative work with strings. He has worked over decades with cellists Alexander Baillie and Johannes Goritzki, and appeared with Pierre Doumenge, Louise Hopkins, Natalie Clein, Alexander Ivashkin, David Cohen, Oleg Kogan, Li Wei and others, and with the Martinu, Maggini, Dante, Schidlof, Emperor and Aurea String Quartets. Theatrical collaborations have included work with Simon Callow, Tony Britton and Tim Piggott-Smith.
John performs regularly in the major festivals across Europe, broadcasts for radio, and has issued a string of critically acclaimed recordings. His recording of Lyapunov's Piano Sextet with the Dante Quartet for Dutton Digital was a BBC Music Magazine 'Recording of the Month, as was a Double CD of British Twentieth Century Cello Sonatas with Alexander Baillie for SOMM.
Concerto appearances include Grieg at St John's Smith Square and Tchaikovsky at the Royal College of Music. Whilst Head of Keyboard at Christ's Hospital, he programmed the complete Chamber Music of Brahms, taking the 17 piano parts – an abiding passion increasingly informed by historic performance study. Baillie/Thwaites have recorded the Brahms Cello Sonatas using period pianos in Vienna.
John's more recent teaching career includes posts at the Royal Conservatoire of Scotland and the Guildhall School of Music and Drama. He is Course Director of the Cadenza International Summer Music School, a piano and strings festival resident at the Purcell School, and Head of Keyboard Studies at Birmingham Conservatoire, where he has directed major Festivals of Ireland, Delius, Bax, Skryabin and Brahms as well as directing a celebrity-studded All Night Gala at Birmingham Town Hall.

This album contains no booklet.