---
Album info
Album including Album cover Booklet (PDF)
Claudio Monteverdi (1567 - 1643): Sì dolce è'l tormento, SV 332:

1

Monteverdi: Sì dolce è'l tormento, SV 332

04:27

George Frideric Handel (1685 - 1759): Messiah, HWV 56:

2

Handel: Messiah, HWV 56: Rejoice Greatly

05:05

Felix Mendelssohn (1809 - 1847): Sonata No. 4 in B-Flat Major for Organ, Op. 65 No. 4, MWV W 59:

3

Mendelssohn: Sonata No. 4 in B-Flat Major for Organ, Op. 65 No. 4, MWV W 59: I. Allegro con brio

04:07

George Frideric Handel: 9 German Arias:

4

Handel: 9 German Arias: No. 3, Süsse Stille, sanfter Quelle, HWV 205

05:59

Johann Sebastian Bach (1685 - 1750): Ich bin in mir vergnügt, BWV 204:

5

Bach: Ich bin in mir vergnügt, BWV 204: No. 4, Die Schätzbarkeit der weiten Erden

04:18

Violin Sonata in G Major, BWV 1021:

6

Bach: Violin Sonata in G Major, BWV 1021: I. Adagio

04:08

7

Bach: Violin Sonata in G Major, BWV 1021: II. Vivace

01:00

8

Bach: Violin Sonata in G Major, BWV 1021: III. Largo

02:47

9

Bach: Violin Sonata in G Major, BWV 1021: IV. Presto

01:29

Cecilia McDowall (b. 1951): 4 Shakespeare Songs:

10

McDowall: 4 Shakespeare Songs: No. 1, What 'Tis To Love

02:17

11

McDowall: 4 Shakespeare Songs: No. 2, Give Me My Robe

03:42

12

McDowall: 4 Shakespeare Songs: No. 3, How Should I Your True Love Know?

02:42

13

McDowall: 4 Shakespeare Songs: No. 4, First Rehearse

02:16

Elizabeth Suh Lane, Sarah Tannehill Anderson, Elisa Williams Bickers, Hannah Collins (b. 1956): La follia Variations:

14

Lane, Anderson, Bickers, Collins: La follia Variations

07:12

Total Runtime

51:29
Info for Le dolce sirene

Reference Recordings is proud to present a very special release! Entitled Le Dolce Sirene to represent the dynamic all-women force of Bach Aria Soloists, this exciting album includes works by Monteverdi, Handel, Mendelssohn and Bach, alongside a new transcription of Cecilia McDowall's song cycle Four Shakespeare Songs.
Hailed for producing "the most surprising and brilliantly innovative collaborations in Kansas City," Bach Aria Soloists dedicates their critically acclaimed concert series to presenting the genius and relevance of Johann Sebastian Bach, his contemporaries, and those he inspired. The ensemble's repertoire is adventurous and broad, including chamber music from Renaissance to contemporary, vocal arias, tango and new living composer commissions. BAS consists of founder/Artistic Director and violinist Elizabeth Suh Lane, GRAMMY®­-winning soprano Sarah Tannehill Anderson, Elisa Williams Bickers who plays harpsichord, organ and piano and cellist Hannah Collins. Elizabeth Suh Lane calls their new recording, "a quintessential representation of our Baroque and contemporary chamber music performance. Much of it highlights our soprano Sarah Tannehill Anderson, but because of the exposed, soloistic compositional virtuosity of Bach and Handel, and the BAS treatment that we utilize for this music that begs for improvisation, it also exposes the versatility of virtuosity of all of our soloists."
"There's no match for the ensemble's talent and creativity" (Kansas City Star)
"BAS offers music-making of striking beauty, energy, and an infectious enthusiasm for the works at hand." (Fanfare Magazine)
Bach Aria Soloists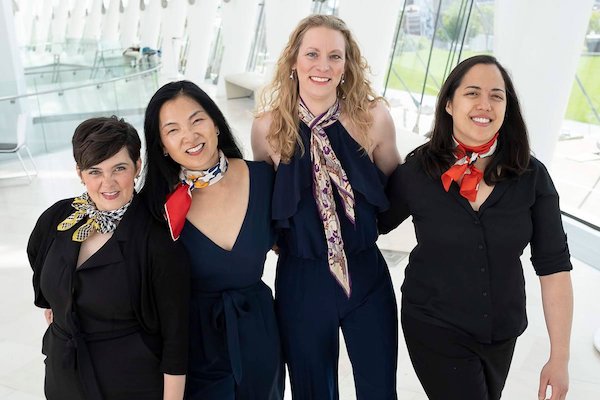 Bach Aria Soloists
Hailed for producing "the most surprising and brilliantly innovative collaborations in Kansas City," Bach Aria Soloists delivers their critically-acclaimed concert series presenting the genius and relevance of Johann Sebastian Bach, his contemporaries, and those he inspired to our community through creative collaborations and BAS' BachReach education. The ensemble's repertoire is adventurous and broad, including chamber music from Renaissance to Contemporary, vocal arias, Tango and new living composer commissions. Their signature arrangements can be heard in every concert bringing ancient and modern music to new life.
Bach Aria Soloists is led by Artistic Director-Founder-violinist Elizabeth Suh Lane. The Soloists include Grammy-winning soprano Sarah Tannehill Anderson; multi-talented Elisa Williams Bickers, harpsichord-organ-piano; and acclaimed cellist Hannah Collins. In 2022 and 2016, Bach Aria Soloists was awarded the USArtists International grant from the Mid-Atlantic Arts Foundation, National Endowment for the Arts and the Mellon Foundation. They were selected as a Finalist in the U.S. State Department's Cultural and Educational 2022 American Music Abroad program and named The Arts Organization of 2020 by the Missouri Arts Council.
Bach Aria Soloists was invited as Artist-in-Residence to the 2022 Thailand International Composition Festival. They performed the world premiere of Narong Prangcharoen's Reticence for Soprano, Violin, Cello and Harpsichord composed for BAS Founder Elizabeth Suh Lane; led a master class with composition students, and performed two concerts of diverse repertoire from Bach to Prangcharoen.
Collaboration is integral to Bach Aria Soloists' mission. Artistic partners have included internationally renowned musicians, dancers, scholars, actors, artists: Dr. Christoph Wolff; Trumpeter Rodney Marsalis; Grammy-winners- bandonéonist Héctor Del Curto and pianist Gustavo Casenave; Bobby Watson; the Grammy-winning Kansas City Chorale; Kauffman Center for the Performing Arts; Heart of America Shakespeare Festival; contemporary dance ensembles Wylliams/Henry Contemporary Dance, Elizabeth Koeppen of Parsons Dance, the Owen/Cox Dance Group, and many more!
BachReach is BAS' innovative education program that has served many thousands of students presenting exhilarating, interactive music and multi-disciplinary showcases for urban and suburban schools; Artistic Director Elizabeth Suh Lane conducts Orchestral/Chamber music clinics and masterclasses for the top high school programs in the region. BachReach is FREE to our school partners and senior centers, thanks to our benevolent BachReach sponsors.

Booklet for Le dolce sirene