---
Album info
Album including Album cover Booklet (PDF)
Krzysztof Penderecki (b. 1933):

1

Capriccio

04:23

Astor Piazzolla (1921 - 1992): L'histoire du tango:

2

L'histoire du tango: I. Bordel 1900

04:27

3

L'histoire du tango: II. Café 1930

06:44

4

L'histoire du tango: III. Nightclub 1960

05:48

Jörg Duda (b. 1968): Fantasia II, Op. 29:

5

Fantasia II, Op. 29: I. Nocturne

01:48

6

Fantasia II, Op. 29: II. Rondeau

02:25

7

Fantasia II, Op. 29: III. Valse berceuse

04:50

8

Fantasia II, Op. 29: IV. Finale

02:55

Stéphane Kregar: Concerto pour tuba:

9

Concerto pour tuba: I.

05:48

10

Concerto pour tuba: II.

07:28

11

Concerto pour tuba: III.

08:49

Total Runtime

55:25
Info for Home

The birth of this cd is due to the desire of Florian Wielgosik, solo tuba of the Monte-Carlo Philharmonic Orchestra, to make the tuba better known. Indeed, in most people's minds, this instrument occupies a role reduced either to the brass band or to limited interventions within the framework of a symphony orchestra. Florian Wielgosik therefore wanted to give an impression, through a choice of very diverse composers and works (German, Polish, Argentinean, French), of some of the music in which the tuba can express itself differently from that of the Solo tuba, the one in front, but more as a participant in chamber music, more intimate and mixed with the others in a humble and fertile exchange. All this is found in this testimony he offers us.
Florian Wielgosik, tuba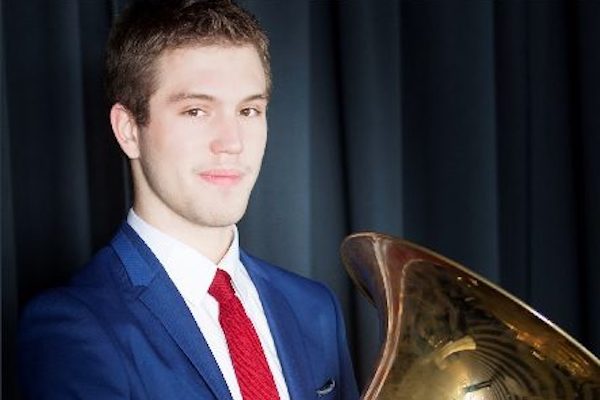 Florian Wielgosik
Tuba Solo Orchestre Philharmonique de Monte-Carlo.
Florian Wielgosik, French tuba player, became the new principal tuba of the Orchestre Philharmonique de Monte Carlo in March 2015 at the age of 19. 1st prizes of the international tuba competition "concourstubatours" in 2017
After studies of Saxhorn and Tuba with François Thuillier at the Conservatoire Régional of Amiens where he graduated in 2013, Florian continues his studies at the CNSMPD in the class of Gérard Buquet and André Gilbert. He was a summer intern at the "Académies de cuivres et percussions " of Surgères and Dieppe with Jérémie Dufort, David Maillot, Bastien Baumet et Bastien Stil. From October 2014 to July 2015 he was at the Hochschule für Musik in Karlsruhe with Dirk Hirthe as part of the Erasmus programme.
In January 2011 he won 2nd prize at the competition "Concours TubaTours". In March 2012 he participated in the international competition of the International Brass Meeting at IMEP in Namur (Belgium), where he was a finalist in the open category. He won a 1st prize at the"ConcoursTubaTours" competition class degree end study. In 2013 he was admitted to the CNSMDP and won the "prix d'excellence" by the Confédération Musicale de France. Until 2013, he was member of the Orchestre de cuivres d'Amiens (BrassBand) under the direction of Eric Brisse. During the 2014/2015 season he often played with the Ensemble Intercontemporain led by Matthias Pintscher, Orchestre de Picardie headed by Arie Van Beek and the Paris Brass Band headed by Florent Didier. In 2014 he was member of the junge deutsch-französische philharmonie headed by Nicolas Richter in Bayreuth, and the Orchestre Français des Jeunes headed by Dennis Russell Davies.

Booklet for Home