---
Album info
Album including Album cover Booklet (PDF)
Marc Migó (b. 1993): Fantasia popular:

1

Migó: Fantasia popular: I. Overture

01:17

2

Migó: Fantasia popular: II. Pastoral (El rossinyol)

03:44

3

Migó: Fantasia popular: III. Processó (La dama d'Aragó)

03:59

4

Migó: Fantasia popular: IV. Scherzo (En Pere Gallerí)

01:20

5

Migó: Fantasia popular: V. Coda

01:37

Joan Manén (1883 - 1971): Violin Concertino, Op. A-49:

6

Manén: Violin Concertino, Op. A-49: I. Moderato energico

11:35

7

Manén: Violin Concertino, Op. A-49: II. Andante espressivo

03:59

8

Manén: Violin Concertino, Op. A-49: III. Allegro

10:17

Marc Migó: Piano Concertino:

9

Migó: Piano Concertino: I. Moderato

05:37

10

Migó: Piano Concertino: II. Perpetuum mobile. Allegro

04:09

11

Migó: Epitaphium Hans Rott in memoriam

16:31

Joan Manén:

12

Manén: Rapsòdia catalana, Op. A-50

13:06

Total Runtime

01:17:11
Info for Catalan Concertinos & Fantasias

Most of the works by the two Catalan composers heard here – Joan Manén (1883–1971) and Marc Migó (b. 1993) – use material from their folk tradition, making the music fresh, immediate and direct, rather in the manner of Manuel de Falla. But there is also a loose connection with Vienna: Manén's Violin 'Concertino' – an unusually modest label for a full-scale concerto – is something of a cousin to the Korngold Concerto; and Migó's poignant Epitafi a Hans Rott was written in memory of a short-lived Austrian composer who was a close friend of Gustav Mahler.
Kalina Macuta, violin (tracks 6-8)
Sergi Pacheco, piano (tracks 9, 10)
Daniel Blanch, piano (track 12)
National Symphony Orchestra of Ukraine
Volodymyr Sirenko, conductor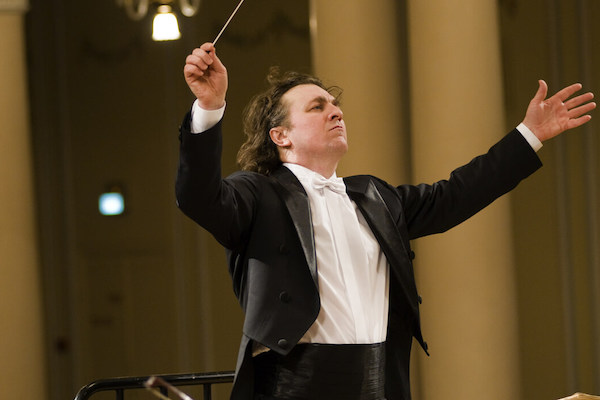 Volodymyr Sirenko
Born in the Poltava region of Ukraine, Volodymyr Sirenko has been compared by the international press to other brilliant conductors such as Esa-Pekka Salonen and Simon Rattle.
His conducting debut took place at the Kyiv Philharmonic Hall in 1983 with works by Stravinsky, Schoenberg and Boulez. In 1989 Sirenko graduated from the Kyiv Conservatoire where he studied conducting under Prof. Allin Vlasenko. In 1990, he was a finalist at the International Conducting Competition in Prague. A year later, he was appointed as Chief Conductor and Artistic Director of the Ukrainian Radio Symphony Orchestra, a position which he held until 1999. During this period he made over 300 recordings that are kept in the funds of the Ukrainian Radio and include Mozart Symphonies Nos. 38 and 41, Beethoven Symphony No. 9, Brahms A German Requiem, Rachmaninov Bells, Dvorak Symphonies Nos. 7 and 9.
From 1999 he is the Artistic Director and Chief Conductor of the National Symphony Orchestra of Ukraine. Highlights among hundreds of programmes that he has performed with the orchestra since then were cycles Gustav Mahler Complete Symphonies, Bach all four Passions and Mass in B Minor, Lyatoshynsky Complete Symphonies.
He recorded over 50 compact discs and the CD of Silvestrov's Requiem for Larissa was nominated for a Grammy Award in 2005. He premiered many works by Ukrainian composers including Silvestrov's Symphonies No. 7 and 8, Stankovych's Symphony No. 6.
Sirenko has toured Austria, Bahrain, Belgium, Bulgaria, Canada, the Czech Republic, Germany, France, Italy, Japan, Korea, Lebanon, the Netherlands, Oman, Poland, Portugal, Russia, Slovakia, Spain, the United Arab Emirates, the United Kingdom, and the United States of America. He has worked with many international orchestras including the Royal Philharmonic Orchestra, the Moscow and the St. Petersburg Philharmonic, Sinfonia Warsovia, NOSPR (Katowice), the Svetlanov Symphony Orchestra, the Bratislava Radio Symphony, the Jerusalem Symphony Orchestra, the National Philharmonic of Russia, the Brooklyn Philharmonic.
Sirenko has appeared in numerous concert halls around the world, including Concertgebouw (Amsterdam), Brucknerhaus (Linz), Barbican Hall and Cadogan Hall (London), Theatre des Champs-Elysees and Opera Comique (Paris), Seoul Art Center, Palau de la Musica in Valencia and Centro Manuel de Falla in Granada, Filharmonia Narodowa (Warsaw), the Great Hall of Moscow Conservatory and the Great Hall of St. Petersburg Philharmonia, the Roy Thomson Hall (Toronto), the Tokyo City Opera and the Osaka Symphony Hall.
Volodymyr Sirenko is a People's Artist of Ukraine and laureate of the Taras Shevchenko National Prize, Ukraine's most prestigious award. He is Professor of the opera and symphonic conducting at the National Music Academy of Ukraine.

Booklet for Catalan Concertinos & Fantasias