---
Album info
Album including Album cover
1

The Therapist

04:17

2

Under The Tree

02:17

3

Water Baby

03:24

4

Love Again

07:10

5

Dear Someone

02:21

6

Snow

02:25

7

Pixel

04:40

8

Two Of Cups

02:52

9

It's Already Better Than Ok

02:29

10

Another Step

02:33

Total Runtime

34:28
Info for Thought You Knew

Thought You Knew is the second album from Snowpoet, the London based band led by Jazz FM Vocalist of the Year (2016) Lauren Kinsella and composer and multi-instrumentalist Chris Hyson. Born out of a deep musical friendship and mutual understanding, Snowpoet's acclaimed eponymous debut released in 2016 won rave reviews and a devoted audience with its compelling sound, drawing comparisons with Bjork.
With Thought You Knew the musical collaboration and sound takes a big step up in terms of production, musical ideas and execution. Blending sweet hook-laden vocal lines with warm and lush arrangements, the music is infectious, delicate and tasteful. The sound is clear and beautifully produced while the lyrical content exhibits a deep and raw emotion.
The self-penned tunes confirm Lauren and Chris' growing sense of identity as a writing partnership, a progression that's evident in the confidence with which they approach the two covers on the album - 'Dear Someone' by Gillian Welch and 'Snow' by Emilíana Torrini. Lauren demonstrates her ability to inhabit the world of a sophisticated singer-songwriter exemplified by these two heroines.
Featuring saxophonist Josh Arcoleo, guitarist Nick Costley-White, Matt Robinson on piano and Dave Hamblett on drums Snowpoet has produced an album of songs from a full-spectrum colour palette sustained and illuminated by supreme levels of musicianship.
With a new home at Edition Records Snowpoet is set to reach new heights, and is on the verge of building an extensive international following and profile confirming its reputation as one of the most interesting and vibrant vocal led ensembles in the UK today.
Lauren Kinsella, vocals, backing vocals
Chris Hyson, electric bass, double bass, piano, synths
Nicholas Costley-White, acoustic guitar
Matthew Robinson, piano
Dave Hamblett, drums
Josh Arcoleo, saxophone
Additional musicians:
Alice Zawadski, violin
Francesca Ter-Berg, cello
Lloyd Haines, drums, percussion (on tracks 1, 2, 7)
Recorded by Alex Killpartrick at Fieldgate Studio, Cardiff in January 2017
Mixed by Alex Killpartrick
Mastered by Mandy Parnell at Black Saloon Studios, in November 2017
Produced by Chris Hyson
Executive Producer: Dave Stapleton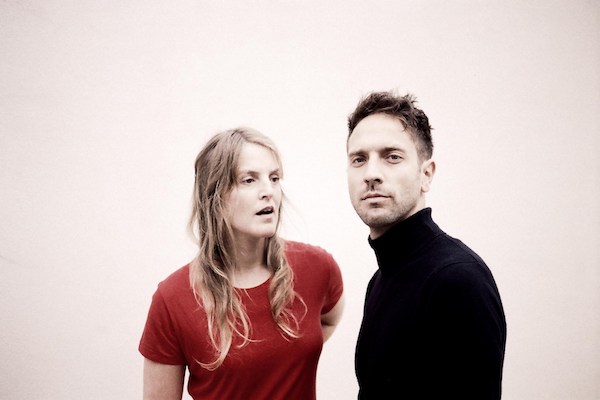 Snowpoet
London-based Snowpoet was born out of a musical friendship and understanding. Fusing together the writing duo of Lauren Kinsella and Chris Hyson, Snowpoet bring melody, form and poetry to a new setting. Inspired in equal parts by artists such as Bjork, Sylvia Plath, Joni Mitchell, Phillip Larkin, EE Cummings, Tom Waits, Ólöf Arnalds and John Cage, the group explores the beauty of the song form in all its complexity. Heavily influenced by alternative folk and indie genres, Snowpoet seek out new ways of storytelling through melody harmony and rhythm.
Lauren Kinsella
is an Irish vocalist and composer based in London working in the area of improvisation, composition and physical movement and its correlation with sound. Awarded UK Vocalist of the year at the JazzFM Awards (2016), she performs throughout the UK and Europe as a soloist, a bandleader, and within several cross-arts projects. She sings and composes in many outfits including Snowpoet with multi-instrumentalist Chris Hyson. She is a passionate educator and holds a principle lecturing post at Leeds Conservatoire. Lauren Kinsella is supported by PRS for Music Foundation and The Arts Foundation. She is the 2017 recipient of The Arts Foundation Fellowship for Jazz composition.
She is the featured vocalist in several recent projects including French saxophonist Julian Pontvianne's Abhra, Turkish composer Onur Turkmenn's 'Sailing to Byzantium', Irish composer Ian Wilson's 'I Burn for You' and 'The Last Siren' and Laura Jurd's 'Human Spirit'. Kinsella also performs in Monster Music Improv; a musical and visual theatre show for children presented by The Ark and IMC.
In the past she has been awarded the Young Musicwide Performance Award (2010), the Kenny Wheeler Prize (2013), the THSH Birmingham Jazzlines Fellowship (2015) and she was a participant on the Take 5 10th Edition with Serious. She has received commissions from BBC Radio 3 and from Marsden Jazz Festival.
Kinsella's performance and music are reviewed worldwide and she regularly features on several radio stations including BBC Radio 3 and Radio 6, RTE Lyric FM, Jazz FM, BBC Radio Scotland, Le Bande Passante, Sverigesradio and ORF Radio. To date, she has released critically acclaimed albums on Edition Records, WideEarRecords, Diatribe and Two Rivers Records.
Originally born in Dublin, she completed her masters at the Royal Academy of Music, London.

This album contains no booklet.