---
Album info
Album including Album cover
1

Forwards If Not Backwards

06:29

2

At the End of the Day

06:00

3

Note to Self

07:19

4

Intent

05:21

5

The Good Grind

05:43

6

A Journey

05:24

7

Seeing More

08:24

8

Star Crossed

04:51

9

Stasis

01:17

Total Runtime

50:48
Info for Prelude to a Scene

This is the first album that trombonist Ben Gurton has released as a leader. His previous recording and performance experience has been quite extensive and varied in nature, but he has not rushed to document his own compositions in the manner employed on this CD. As a result, the album is a carefully crafted statement of mature musicianship. Each of the nine compositions is an 'original'. As a group of pieces, they show Gurton's interest in various musical styles. The first track titled Forwards if not Backwards consists of a riff that suggests minimalism. A feature is the atmospheric piano solo woven by St Ledger around the fundamental ground. The funk rhythm of The Good Grind, at track 5 the central piece of the set, is a relief from the classical squareness of some of the other rhythms. It follows Intent, which is most earnest and contains somewhat fanfare-like material.
The sound of the trombone is an essential component of a number of musical genres. It is capable of expressing a range of emotions depending on the performance techniques applied. Because Gurton is the leader/composer featured here, the trombone is present on every track. Many of the pieces are in a contemplative mood which demands that the instrument be played to produce a timbre that is a bit doleful. The result is a pervading impression of somberness. I feel sure there are sequences in film and TV series where this music would contribute very appropriately to the atmosphere.
I was not sure whether to review this album as a jazz recording – its iTunes classification is 'electronica' – however, most of the instrumentalists are known jazz musicians and the CD contains several very fine improvised solos played by these performers. Julian Gough on tenor saxophone and Brendan St Ledger (piano) contribute good work in this regard, while bassist Brendan Clarke and drummer Hamish Stuart have long been associated with jazz.
The recording and mixing of the album is first-rate. Greg Simmons, the engineer/producer and his team deserve congratulations. The techniques employed have produced recordings that have presence and a quality of spontaneous performance appropriate for the music recorded. Acoustical properties of every instrument are captured authentically. On the sixth track, A Journey, the sound of the piano is about as good as it gets.
Ben Gurton, trombone
Julian Gough, tenor saxophone
Brendan St Ledger, piano
Brendan Clarke, bass
Hamish Stuart, drums
Mastered by Morten Lindberg of 2L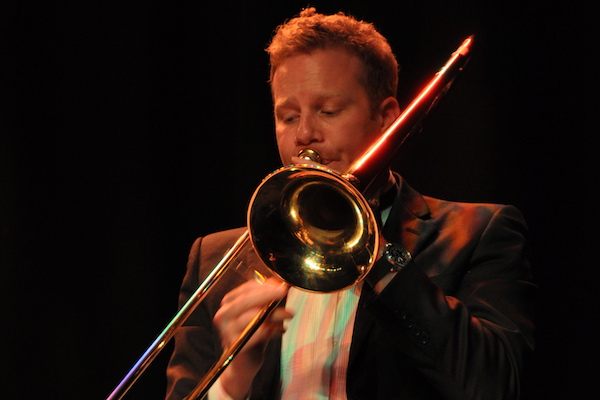 Ben Gurton
has worked in many areas of the music world. He has recorded and toured with Guy Sebastian including Australia's Eurovision entry "Tonight Again" and touring his Memphis album alongside Stax Records legends Steve Cropper and Duck Dunn.
He has recorded albums for various artists including Jimmy Barnes, UK artist Passenger, Sarah Blasko, Caroline O'Connor, Anthony Warlow, The Sleepy Jackson, the Mothership Orchestra with Bob Sheppard and Alex Sipiagin, and even David Hasselhoff!
Live Ben has performed with artists as diverse as Florence and the Machine, Bonobo, Michael Bolton, Noel Gallagher, Jane Zhang (China tour), Debbie Reynolds, Jerry Lewis, Anthony Warlow, Sufjan Stevens, Feist, Royal Crown Revue, The Four Tops, Harry Connick Jr, Michael Buble, Maria Schneider and Bob Mintzer.
In the world of television he has worked on The Voice, Australian Idol, Australia's Got Talent, Strictly Dancing and I Am A Singer (China).
In musical theatre he has played for the world premiere production of Dirty Dancing, Anything Goes, Singin' In The Rain, Fame (Australia and Asia), The Boy From Oz w. Hugh Jackman, Burn The Floor (Australia, London, China) and more.
In 2013 Ben released his first album "Prelude To A Scene" that combines inspiration from his composition work for film and theatre with the jazz quintet format. Recorded in super high-resolution in a large ambient space, "this high quality recording's mood is dreamy, quiet and pensive."
Ben studied at the Adelaide Conservatorium of Music, McGill University, Montreal and in 2001 the Henry Mancini Institute at UCLA.

This album contains no booklet.