---
Album info
Label: PentaTone
Genre: Classical
Subgenre: Instrumental
Artist: Ana de la Vega & Paul Rivinius
Composer: Claude Debussy (1862-1918), Gabriel Faure (1845-1924), Jules Massenet (1842-1912), Cecile Chaminade (1857-1944), Francis Poulenc (1899-1963), Maria Theresia von Paradis (1759-1824), Camille Saint-Saens (1835-1921), Lili Boulanger (1893-1918), Wolfgang Amadeus Mozart (1756-1791), Maurice Ravel (1875-1937), Erik Satie (1866-1925), Georges Bizet (1838-1875)
Album including Album cover
Wolfgang Amadeus Mozart (1756 - 1791): Violin Sonata No. 21 in E Minor, K. 304 (Arr. for Flute & Piano):

1

Mozart: Violin Sonata No. 21 in E Minor, K. 304 (Arr. for Flute & Piano): I. Allegro

07:07

2

Mozart: Violin Sonata No. 21 in E Minor, K. 304 (Arr. for Flute & Piano): II. Tempo di menuetto

05:41

Total Runtime

12:48
Info for Mozart: Violin Sonata No. 21 in E Minor, K. 304 (Arr. for Flute & Piano)

Flautist Ana de la Vega's fourth PENTATONE album My Paris is a declaration of love to the glorious French capital and its rich flute history, as well as a trip down memory lane, featuring some of the greatest gems of French music history, including works by Debussy, Ravel, Fauré, Massenet, Saint-Saëns, Satie, Poulenc, Mozart, Chaminade, Lili Boulanger, Von Paradis, as well as Bizet. De la Vega plays these pieces with verve and charm, full of reverence to centuries-old French flute-teaching traditions to which she still feels deeply connected and absorbed.
Ana de la Vega, flute
Paul Rivinius, piano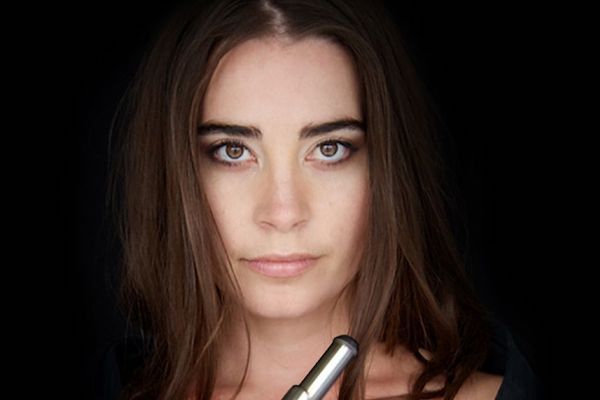 Ana de la Vega
Her debut recording of Mozart and Mysliveček flute concertos with the English Chamber Orchestra won Classic FM's 'Best Albums of 2018' No.3, reached No.1 on Amazon's Classical Best Seller chats, and won CD of the week seven times over. Now her second album of Haydn and Stamitz concertos with oboist Ramón Ortega Quero and the Trondheim Soloists, makes a similar splash with international press unanimously marvelling at their 'Perfect Harmony' (NDR) and 'grace and elegance' (WELT): 'the harmony between the two soloists… is almost dizzying' (RBB)
ARTE has now filmed a documentary called 'Ana de la Vega und die Flöte' to be aired on the 1st November.
Born to Argentinian and British parents, Ana grew up on a farm in New South Wales, Australia, as the third of four sisters. She studied flute at the University of Sydney before continuing her studies at the Conservatoire Supérieur de Paris under the tutelage of Raymond Guiot and Catherine Cantin, drawing inspiration from the famed French school of flute playing.
Ana says about her serendipitous discovery of the flute: 'When I decided to be a flautist I had never seen a flute. I was seven years old playing in the garden on our farm when Jean-Pierre Rampal's recording of the Mozart Flute and Harp Concerto came through my parents' speakers. The second movement of that concerto rendered me speechless. Every decision from that moment on led me to the flute, to Paris… to Mozart... A long way from the flies and the dust!'
Recent and forthcoming performance highlights include concerto performances with the Lucerne Festival Strings, Deutsches Kammerorchester Berlin, English Chamber Orchestra, Prague Royal Philharmonic, Bremen Philharmonic, Bayerische Kammerphilharmonie, Bochum Symphoniker, Dresden Kapellsolisten, Zagreb Soloists, Neue Philharmonie Westfalen, WKO Heilbronn, Auckland Philharmonic, and Trondheim Soloists. In the last 12 months she has made debut appearances at the Concertgebouw Amsterdam, Philharmonie Berlin, Elbphilharmonie Hamburg, Wigmore Hall & Cadogan Hall London, Essen Philharmonie and Munich Philharmonie Gasteig.

This album contains no booklet.