---
Album info
Album including Album cover Booklet (PDF)
I`m sorry!
Dear HIGHRESAUDIO Visitor,
due to territorial constraints and also different releases dates in each country you currently can`t purchase this album. We are updating our release dates twice a week. So, please feel free to check from time-to-time, if the album is available for your country.
We suggest, that you bookmark the album and use our Short List function.
Thank you for your understanding and patience.
Yours sincerely, HIGHRESAUDIO
Heiner Goebbels (b. 1952): Stein Schere Papier:

1

Goebbels: Stein Schere Papier: I. Introitus (A Response to Répons)

08:54

2

Goebbels: Stein Schere Papier: II. Immer den gleichen Stein

06:51

3

Goebbels: Stein Schere Papier: III. Under Construction

08:33

Grain de la Voix:

4

Goebbels: Grain de la Voix: I. Nu Stiri

06:50

5

Goebbels: Grain de la Voix: II. Agash Ayak

08:33

6

Goebbels: Grain de la Voix: III. 1346

06:10

7

Goebbels: Grain de la Voix: IV. Krunk

06:30

Wax and Violence:

8

Goebbels: Wax and Violence: I. Toccata (Vowels/Woven)

06:14

9

Goebbels: Wax and Violence: II. Achtung Aufnahme

03:29

10

Goebbels: Wax and Violence: III. Nun danket alle Gott

03:09

11

Goebbels: Wax and Violence: IV. Ti gu go Inîga mî (Some of them say)

07:14

When Words Gone:

12

Goebbels: When Words Gone: I. BakakI – (Diálogo)

05:00

13

Goebbels: When Words Gone: II. Schläft ein Lied in allen Dingen

04:26

14

Goebbels: When Words Gone: III. Kalimérisma

10:01

15

Goebbels: When Words Gone: IV. What When Words Gone

07:39

Total Runtime

01:39:33
Info for Heiner Goebbels: A House of Call - My Imaginary Notebook

A cycle of invocations, prayers, poems and songs for large orchestra, A House of Call incorporates recordings of sounds and voices from all over the world collected by Heiner Goebbels during his travels, research, and chance encounters. The cycle is a response to the history of these recordings and to their complexity, rawness and radiance. In this secular "responsorium", the orchestra accompanies and supports the voices, answers and challenges them. The voices call, Goebbels says, "either from the past or from my personal environment; idiosyncratic voices, traditional folk material. Rituals. Literature..."
"A House of Call is a magnificent new work," the Financial Times enthused, reviewing the premiere performance. "Goebbels understands that music is theatre and knows how to construct a taut dramaturgy. He grabs the listeners by the lapels and drags them rapidly through the changing scenery of polyglot poetry and crackling phonograph recordings."
The work's title derives from a passage, in James Joyce's associatively dense Finnegans Wake, about "a prolonged visit to a house of call". The phrase appears, Goebbels notes, "not far from the onomatopoetic 'roaratorio' that was to give John Cage's radio play its name. A radio play that left a lasting impression on me..." The stream of utterances in Cage's play finds an echo in A House of Call, where "le grain de la voix" – in Roland Barthes' famous phrase – links the elements and acknowledges the commonality of the voices that have found their way into Heiner Goebbels's "imaginary notebook."
The vocal, literary and musical frame of reference is very broad. The four part A House of Call begins with a response to Pierre Boulez's Répons, and takes off from there, along the way encompassing references to Cassiber (Goebbels' art rock band of the 1980s), to German dramatist Heiner Müller, Kazakh singer Amre Kashaubayez, Persian Sufi poet Jalaluddin Rumi, Armenian composer and folk music collector Komitas, Iranian musician Hamidreza Nourbakhsh, and much more. Songs of Georgian prisoners, taped in the First World War, belong to the sonic mosaic, as do songs and poems from Namibia, fragments of an Amazonian ritual, and the resonance of a Berlin building site. Rhymes, laments and incantations figure in the fourth section, "When Words Gone", which incorporates lines from one of Samuel Beckett's last works.
All of these components are enveloped in Heiner Goebbels's writing for the Ensemble Modern Orchestra, and integrated into the music's sense of flow. This large scale work has been developed, from the outset, in cooperation with the Ensemble Modern and reflects, the composer says, the unique nature of his 35 year collaboration with the orchestra. "I've done many projects with them that I could not have done with any other ensemble. There was this great trust from the beginning: they never resisted the risk of doing something new. As I'm not a virtuoso in dealing with large scores, I prefer to react to what I hear, so I can develop a sound that emerges during rehearsals, while working with individual musicians or the ensemble. Having this possibility is incomparable and I have made much use of it." Heiner Goebbels sums up A House of Call as "a collection of voices from different cultures - inspired of course by working with such an international ensemble. Everyone brings something else to the table here, a different approach, different ways of playing and imagining music."
Heiner Goebbels, one of the great innovators in the world of theatre, multimedia and performance art, was born in Germany in 1952. He was a member of the art rock group Cassiber from 1982 to 1992, and at the same time was writing music for theatre, film and the ballet. In the mid-1980s he began creating audio plays for radio, several of these, often based on texts by dramatist Heiner Müller, were released as Hörstücke. Müller also supplied the textual inspiration for Goebbels' Der Mann im Fahrstuhl (The Man in the Elevator), a creative encounter with improvisers including Don Cherry, George Lewis and Arto Lindsay.
Since 1988 Goebbels has composed regularly for the Ensemble Modern, the Ensemble Intercontemporain and other orchestras. In 1994 came Surrogate Cities, a response to the complexity of the modern city, scored for large orchestra and one of the composer's most far-reaching projects. In 2002, Goebbels premiered his first opera Landschaft mit entfernten Verwandten. In the same year Eislermaterial was released. It is a multi-faceted portrait of – and tribute to – one of Goebbels' heroes, the 20th-century German composer Hanns Eisler, who set many texts by Brecht.
Stifters Dinge(Stifter's Things), a "performative installation" without performers, musicians or actors was first presented in Lausanne in 2007; a CD of this extraordinary acoustic creation was subsequently released. The Guardian said of it: "It's a typical Goebbels collage and typically, too, all the elements somehow cohere. Even on disc it's mysterious and compelling."
Goebbels' previous ECM New Series recordings with Ensemble Moden include Red Run/Befreiung/La Jalousie, Eislermaterial and Landschaft mit entfernten Verwandten
The Ensemble Modern, founded in 1980, has been based in Frankfurt since 1985 and is long established as one of the world's leading contemporary music ensembles. In addition to their recordings of Heiner Goebbels' music, Ensemble Modern's ECM discography includes Heinz Holliger's Scardanelli-Zyklus and Helmut Lachenmann's Schwankungen am Rand.
On A House of Call, the Ensemble Modern Orchestra is insightfully conducted by Vimbayi Kaziboni. Born in 1988 in Zimbabwe, Kaziboni is increasingly hailed as one of his generation's foremost interpreters of modern and contemporary composition . He has worked closely with numerous composers including Helmut Lachenmann, Steve Reich, John Adams, George Lewis, George Benjamin, Olga Neuwirth and Nicolaus A. Huber.
A co-production of ECM and the Bayerischer Rundfunk, A House of Call was recorded at Munich's Prinzregententheater in September 2021.
Ensemble Modern Orchestra
Vimbayi Kaziboni, conductor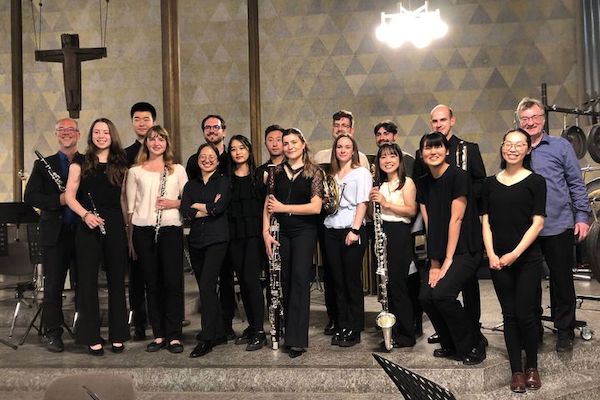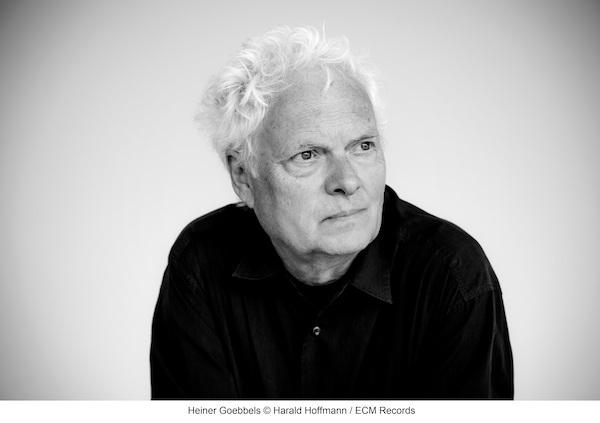 Ensemble Modern
It is one of the most well-known, leading current music formations in the world. Founded in 1980 and at home in Frankfurt am Main, 18 soloists currently determine the activities of this democratically organized ensemble. The musicians from Belgium, Bulgaria, Germany, Greece, India, Israel, Japan, Switzerland and the USA jointly decide on artistic projects, partnerships with other artists and all financial matters. Its aesthetic spectrum includes musical theatre works, dance and multimedia projects, chamber music, ensemble and orchestral concerts.
Tours and guest appearances regularly take Ensemble Modern to the most renowned festivals and distinguished performance venues, such as Acht Brücken Music for Cologne, the Festival d'Aix-en-Provence, Festival d'Automne in Paris, Festival d'Avignon, the Berliner Festspiele, Bregenzer Festspiele, the Donaueschingen Festival, Holland Festival, Klangspuren Schwaz, KunstFestSpiele Herrenhausen, ManiFeste Paris, November Music in 's-Hertogenbosch, Ruhrtriennale, steirischer herbst Graz, Transart Festival in Bolzano, Ultima Oslo, the Warsaw Autumn Festival, Wien Modern and the Witten Days of New Chamber Music. The Frankfurt-based ensemble frequently performs at major national and international venues such as Berlin's Philharmonie, the Concertgebouw and Muziekgebouw Amsterdam, Konzerthaus Berlin, Hellerau Dresden, Elbphilharmonie Hamburg, the Philharmonie in Cologne, London's Wigmore Hall and Southbank Centre and the Cité de la Musique in Paris.
In its hometown, Ensemble Modern has its own subscription series at the Alte Oper Frankfurt. It regularly produces musical theatre works in cooperation with the Frankfurt Opera, as well as a legendary series of workshop concerts entitled ›Happy New Ears‹, which began in 1993 and has taken place in cooperation with the Frankfurt University of Music and Performing Arts (HfMDK) since 2019. Together with the Frankfurt Radio Symphony Orchestra, Ensemble Modern has been presenting the festival ›cresc... Biennial for Current Modern Music Frankfurt Rhine Main‹ since 2011.
Every year, Ensemble Modern rehearses and performs approximately 70 new compositions, including about 20 world premieres, some of which it commissions itself. The ensemble strives to achieve the highest possible degree of authenticity by working closely with the composers themselves. Ensemble Modern's concept and goal is to achieve the highest possible precision in implementing a composer's ideas. Its work is characterised by extraordinary and often long-term cooperative ventures with renowned artists, such as John Adams, Mark Andre, George Benjamin, Unsuk Chin, Peter Eötvös, Brian Ferneyhough, Heiner Goebbels, Hans Werner Henze, Heinz Holliger, Mauricio Kagel, György Kurtág, Helmut Lachenmann, György Ligeti, Cathy Milliken, Brigitta Muntendorf, Olga Neuwirth, Enno Poppe, Steve Reich, Wolfgang Rihm, Rebecca Saunders, Iris ter Schiphorst, Simon Steen-Andersen, Karlheinz Stockhausen, Mark-Anthony Turnage, Frank Zappa, Hans Zender or Vito Žuraj, as well as outstanding artist personalities from other artistic genres. Among its commissions, there are also large-scale compositions written for the Ensemble Modern Orchestra, for which the ensemble expands to orchestral dimensions. The Ensemble Modern Orchestra was founded in 1998 as the first orchestra in the world dedicated exclusively to contemporary music.
Since 2000 Ensemble Modern has run its own media label, Ensemble Modern Media. Numerous productions, many created in cooperation with the public radio stations in Germany – hr2-kultur is Ensemble Modern's cultural affairs partner – have thereby been made available on a permanent basis. Further audio media, of which Ensemble Modern has produced approximately 150 so far, have been released by other established labels, including col legno, ECM Records, NEOS Music, Sony Music and Wergo.
In 2003 Ensemble Modern founded the International Ensemble Modern Academy (IEMA), bundling its existing education and further education projects under one roof. Its goal is to convey the numerous artistic movements of our times as well as an open, creative manner of dealing with artistic processes. Since its founding, IEMA has developed customized formats for various target groups: these include the Master's Degree Programme ›Contemporary Music Performance‹ for young professional musicians in cooperation with the Frankfurt University of Music and Performing Arts (HfMDK) as well as the International Composer & Conductor Seminars (ICCS) and education projects for children and teenagers.
The diverse, self-administered work of Ensemble Modern never stops questioning musical and concert conventions. Its members are indefatigable in their search for expressive, artistic sonic positions of our times, delivering authentic performances of these positions.
Ensemble Modern is funded by the German Federal Cultural Foundation, the City of Frankfurt, the German Ensemble Academy, the Hessen State Ministry for Higher Education, Research and the Arts. hr2-kultur is Ensemble Modern's cultural affairs partner.

Booklet for Heiner Goebbels: A House of Call - My Imaginary Notebook