---
Album info
Album including Album cover Booklet (PDF)
Claude Debussy (1862 - 1918): Beau soir, L. 6 (Arr. for Violin and Piano by Jascha Heifetz):

1

Debussy: Beau soir, L. 6 (Arr. for Violin and Piano by Jascha Heifetz)

02:30

Violin Sonata, L. 140:

2

Debussy: Violin Sonata, L. 140: I. Allegro vivo

05:03

3

Debussy: Violin Sonata, L. 140: II. Intermède. Fantasque et léger

04:28

4

Debussy: Violin Sonata, L. 140: III. Finale. Très animé

04:42

Maurice Ravel (1875 - 1937): Pavane pour une infante défunte, M. 19 (Arr. for Violin and Piano by Louis Fleury):

5

Ravel: Pavane pour une infante défunte, M. 19 (Arr. for Violin and Piano by Louis Fleury)

05:29

Violin Sonata No. 1, M. 12:

6

Ravel: Violin Sonata No. 1, M. 12

15:35

Francis Poulenc (1899 - 1963): Presto in B-Flat Major, FP 70 (Arr. for Violin and Piano by Jascha Heifetz):

7

Poulenc: Presto in B-Flat Major, FP 70 (Arr. for Violin and Piano by Jascha Heifetz)

01:54

Violin Sonata, FP 119:

8

Poulenc: Violin Sonata, FP 119: I. Allegro con fuoco

06:49

9

Poulenc: Violin Sonata, FP 119: II. Intermezzo

06:31

10

Poulenc: Violin Sonata, FP 119: III. Presto tragico

05:56

Darius Milhaud (1892 - 1974): Scaramouche, Op. 165b:

11

Milhaud: Scaramouche, Op. 165b: III. Brazileira (Arr. for Violin and Piano by Jascha Heifetz)

02:34

Cinéma-fantaisie, Op. 58b:

12

Milhaud: Cinéma-fantaisie, Op. 58b

17:54

Total Runtime

01:19:25
Info for Nuits parisiennes

At the beginning of the Twentieth Century, all roads led to Paris. The Exposition Universelle drew great crowds, Hemingway and Kandinsky settled there, Proust wrote À la Recherche... and Cocteau La Machine infernale, Diaghilev's Ballets Russes revolutionised dance, and Debussy, Satie and Stravinsky caused scandal.
Recording together in duo for the first time, violinist Manon Galy and pianist Jorge González Buajasán capture the flavour of that time of renewal. With this eloquent interpretation of sonatas and other pieces by Debussy, Ravel, Poulenc and Milhaud, they offer a glimpse of the audacity and modernity that characterised French music during those years.
Manon Galy, violin
Jorge González Buajasán, piano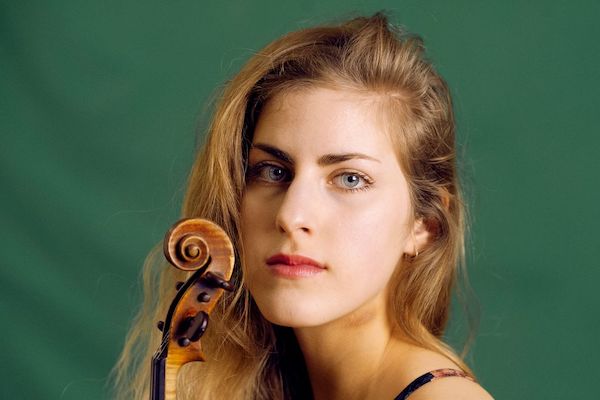 Manon Galy
Born in 1996 in Toulouse, Manon Galy began playing the violin at the age of 7 at the Cugnaux music school. At the age of 9, she entered the Toulouse Conservatory with Klaus Mühlberger and then Magali Lemettre, and continued her musical studies at the CRR in Paris with Suzanne Gessner. At the age of 16 she entered the CNSMDP in the class of Roland Daugareil and finished her Master's degree this year.
Manon is a laureate of several international competitions, including the UFAM (first prize first name) in Paris in 2009 and Andrea Postacchini in 2010. Tetiana Zolozova noticed her during an audition and invited her to participate in the international competition of the Moscow Conservatory for which she obtained the 2nd prize. During this competition, the Vladimir Spivakov Foundation awarded her a special prize and invited her to Moscow for a recital. In 2013, she won the prize for the best interpretation of contemporary works at the Ginette Neveux competition in Avignon and in December 2014 she won the soloist competition of the CRR in Paris, which led her to perform at the CRR auditorium, accompanied by the CRR symphony orchestra. In July 2017, she won the Marie Cantagrill international competition in St-Girons, for which she was awarded the 3rd prize as well as the prize for the best interpretation of a contemporary work.
Manon performs regularly in recital, at the festival "Les soirées des bords de Louge" in Muret, for "Le Brulhois musical" in the Church of Saint-Sixte, at the Salon Michelin in Paris on several occasions as well as at the Chapelle Royale in Rodez and at the Paul Eluard theatre in Cugnaux. She also performed at the Palais des Congrès in Marseille in August 2014 and at the Mariahilfer Kirche in Vienna in August 2015 as part of the summer festival of the International Music Academy Orpheus, of which she is a prizewinner. She regularly participates in music academies and in July 2016 was invited by the Modigliani Quartet
to be part of the workshop of the "Rencontres Musicales d'Evian" festival.
Her taste for chamber music developed during her studies at the CNSM through various formations (string quartets, piano quartets, sonatas, trios...) and she has been invited to perform several times in concerts with different groups.

Booklet for Nuits parisiennes