---
Album info
Album including Album cover Booklet (PDF)
Ludwig van Beethoven (1770 - 1827): Piano Concerto No. 3 in C Minor, Op. 37:

1

Beethoven: Piano Concerto No. 3 in C Minor, Op. 37: I. Allegro con brio

16:30

2

Beethoven: Piano Concerto No. 3 in C Minor, Op. 37: II. Largo

09:48

3

Beethoven: Piano Concerto No. 3 in C Minor, Op. 37: III. Rondo. Allegro

09:06

Piano Concerto No. 4 in G Major, Op. 58:

4

Beethoven: Piano Concerto No. 4 in G Major, Op. 58: I. Allegro moderato

19:25

5

Beethoven: Piano Concerto No. 4 in G Major, Op. 58: II. Andante con moto

05:06

6

Beethoven: Piano Concerto No. 4 in G Major, Op. 58: III. Rondo. Vivace

09:45

Total Runtime

01:09:40
Info for Beethoven: Piano Concertos Nos. 3 & 4, Opp. 37 & 58

For 19th-century audiences Beethoven's Piano Concerto No. 3 was the most loved of all his piano concertos, a work in which the balancing of high drama, tenderness, lyricism and humour is most pronounced and in which a coda resolves inner tensions with brilliance and triumphant grandeur. Piano Concerto No. 4 is the most introspective and poetic of the concertos. The simplicity of its opening piano statement gives way to an unprecedented dialogue in the central movement between a heartfelt piano and an austere unison string orchestra, before the infectious energy of the dramatic finale.
Of all Beethoven's piano concertos, it was No. 3 in C minor, Op. 37 that left the strongest and most immediate impression on me as a child. The tangible tension of the dark, taut opening was electrifying, the inevitable fortissimo explosions awesome, the irresistible energy of the tutti passages exhilarating, and the sepulchral entrance of the orchestra at the end of the first movement mesmerising and chilling. Add to this the addictive nature of the finale's almost dance-like tune, and I was totally lost under the music's spell. In this, I later learned, I was close to 19th-century audiences, who loved this concerto above all others by Beethoven, including our present-day favourite, the Emperor.
The Fourth Concerto is the most poetic and possibly the least extrovert of the five. While hardly lacking in pianistic brilliance – in fact, I would rank it as the most challenging of Beethoven's concertos in terms of sheer technical difficulty – it is the poetry, subtle and breathing, suffusing every note, which seems to me to leave the biggest mark on both listeners and performers.
The very opening is a moment of pure magic. The piano starts on its own with a phrase of ineffable simplicity. It seems almost improvised on the spot, a moment of inspiration trustingly shared with us, but its construction and balance are utter perfection. The opening G major chord – at once dense, soft and luminous – organically continues with the main rhythmic motif of the movement (the same note repeated four times in a short–short–short–long pattern). The third repeat of the motif stops on a syncopated A minor chord – a touch of colour and emotion – before a light-fingered ascending passage leads to the end of the phrase – a caressing appoggiatura alighting on an invitingly open D major chord. For me, this is possibly the single most beautiful phrase Beethoven composed for the piano, which may – I hope! – excuse the over-the-top description. And the magic does not stop there: the orchestra repeats the same phrase in the relatively distant key of B major – a dream within a dream – before returning to the home key and the full opening tutti.
Boris Giltburg, piano
Royal Liverpool Philharmonic Orchestra
Vasily Petrenko, conductor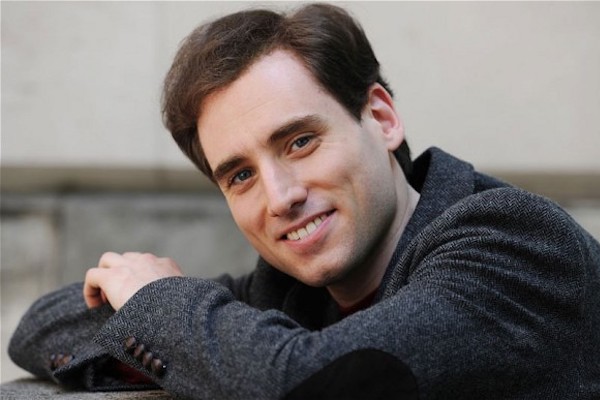 Boris Giltburg
Born in 1984 in Moscow, Boris Giltburg moved to Tel Aviv at an early age, studying with his mother and then with Arie Vardi. In 2013 he won first prize at the Queen Elisabeth Competition, catapulting his career to a new level. In 2015 he began a long-term recording plan with Naxos Records.
Having taken the second (and audience) prize at the Rubinstein in 2011, Giltburg has appeared with many leading orchestras such as Philharmonia Orchestra, Israel Philharmonic, DSO Berlin, Frankfurt Radio Symphony, London Philharmonic Orchestra, Swedish Radio Symphony, Danish Radio Symphony, St Petersburg Philharmonic and Baltimore Symphony. He made his BBC Proms debut in 2010 and has toured regularly to South America and China, and has also toured Germany with the Orchestre National du Capitole de Toulouse. He has played recitals in leading venues such as Leipzig Gewandhaus, Tokyo Toppan Hall, Bozar Brussels, London Southbank Centre, Louvre, and Amsterdam Concertgebouw.
Last season's highlights included several appearances at Rotterdam De Doelen (beginning with a return to the Rotterdam Philharmonic under Jukka-Pekka Saraste), debut with Monte-Carlo Philharmonic with Krivine, and chamber music with the Takács Quartet and Pavel Haas Quartet. He was re-invited to Seattle Symphony (Dausgaard), Brussels Philharmonic (Denève), Royal Liverpool Philharmonic (Petrenko), and Royal Scottish National Orchestra (Prieto) – with whom he played 7 concerts as part of their Rachmaninov series. He has also worked with conductors such as Alsop, Belohlávek, Brabbins, De Waart, Dohnanyi, Fedoseyev, Gimeno, Neeme Jaervi, Karabits, Lintu, Shelley, Sinaisky, Skrowaczewski, Sokhiev and Tortelier.
In 2016/17, Giltburg appears for the first time with Nashville Symphony (under Music Director Giancarlo Guerrero), Oslo Philharmonic and Helsinki Philharmonic, and makes his Australian debut in Spring 17 with Adelaide Symphony and Tasmanian Symphony. He returns to Orchestre National de Belgique this season, and plays the AIDS gala with Munich Chamber Orchestra. Recital highlights include Carnegie Hall, Amsterdam Muziekgebouw, Wigmore Hall, Hamburg Laeiszhalle and Beijing Forbidden City Concert Hall.
Having initially appeared on the EMI Debut label some years ago, in 2012 Giltburg released an acclaimed CD of Prokofiev War Sonatas on Orchid Classics, earning him a place on the shortlist for the critics' award at the Classical Brits. His Romantic Sonatas disc (Rachmaninov, Liszt, Grieg) followed in 2013. His first solo releases on Naxos (Schumann and Beethoven) prompted enthusiastic reviews, and his latest Rachmaninov CD was named Gramophone's Disc of the Month:
"this vision will place him among the truly memorable Rachmaninov interpreters, an elect including Moiseiwitsch, Horowitz, Kappel, Richter and Cliburn. His originality stems from a convergence of heart and mind, served by immaculate technique and motivated by a deep and abiding love for one of the 20th century's greatest composerpianists." (Gramophone, May 2016)
Boris is an avid amateur photographer and blogger, writing about classical music for a non-specialist audience.

Booklet for Beethoven: Piano Concertos Nos. 3 & 4, Opp. 37 & 58